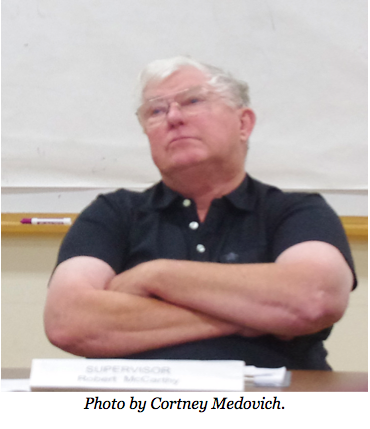 The problems surrounding the Sidney, NY Town Supervisor who tried to force a local Muslim community to dig up its cemetery seem to be deepening instead of fading away.
The town's October Town Board meeting ended in an uproar after the Board abruptly closed the meeting and walked out in the face of stinging criticism leveled at Town Supervisor Bob McCarthy.
Since then, hostilities have broken into the open between town citizens for and against Mr. McCarthy -- hostilities clearly on display at a surly Town Meeting Nov. 4th; after it ended one anti-McCarthyite, Kimberley Ayres, was standing on a chair shouting "Shame". Ms. Ayres serves on the local school board.
The lead-up to last week's meeting almost guaranteed that the town's divisions couldn't be papered over.
Town Clerk Lisa French responded to an extensive Freedom of Information request filed October 21st by the citizen group formed around the Muslims with news that, contrary to law, most of the requested documents had never been filed with her office; as of this writing, those files have not been delivered;
The group, Concerned Citizens for Responsible Sidney Government, petitioned the Town Board for Mr. McCarthy's resignation;
Concerned Citizens also sent formal complaints about Mr. McCarthy's management of the town to both the New York Attorney General and New York's Comptroller, and are following them up with signed petitions;
An Oct. 22nd Town budget workshop included news that the town's finances had fallen into such disarray under Mr. McCarthy that Sidney has been bouncing checks;
Other news at the same budget workshop: A total of $370,000 -- the Town budget is about $2 million -- is somehow lost in the Town's books, the result being that said books needed to be re-created for all of 2010;
Despite the fact that drilling for natural gas in Sidney is in the offing and that resulting compliance demands from the Susquehanna River Basin Commission are a certainty, the Town Planning Board can't fill a vacancy -the Planning Board has five members -- because the Board can't find anybody who wants to work with Mr. McCarthy.
No allegations of theft or embezzlement are being made by anybody in Sidney: The uproar, which began this spring when Mr. McCarthy directed Town Attorney Joseph A. Ermeti to force the Muslim group, the Osmanli Naksibendi Hakkani Dergahi, to dig up two graves on its property, is mainly about the results of Mr. McCarthy's personality and management style.
His enemies say that Mr. McCarthy, who ran on a platform of transparency and a business-like approach to running a government, is anything but transparent, bullying people who question his methods or motives, acting on his own authority without observing the formalities of government, and running the Town like it was his own business.
And the fact that he promised to cut Sidney's taxes, and will be raising them this year as part of a plan to balance the Town budget, isn't helping Mr. McCarthy in a town filled with people struggling to make ends meet.
Neither are rumors that he and his stepson, Eric Wilson, are negotiating important town business without officially consulting the Town Board; evidence that Mr. McCarthy hasn't really paid all that much attention to the Sidney government's nuts and bolts; or Mr. McCarthy's habit of denying everything, even in the face of direct evidence to the contrary.
For instance, at the October budget workshop meeting, Mr. McCarthy speculated that bank fees the Town has been paying were coming from the Town's many separate checking accounts; he had to be told by Meg Hungerford, the town's former bookkeeper, and C. Peter Cordes, a Town Councilman and former budget chairman, that the Town checking accounts are free -- that the fees were all bounced check fees.
But when someone in the audience brought up that fact at the most recent Town Meeting, Mr. McCarthy immediately denied the Town had ever bounced a check: When the audience reminded Mr. McCarthy he's on an Internet videotape being told otherwise, he insisted it was only one check. The audience didn't buy it.
Likewise, Mr. McCarthy and his allies on the Town Board have a habit of bungling potentially dangerous questions. One example: At the recent meeting the current Town bookkeeper, Deb Sickler -- there have been three since Mr. McCarthy took office in January -- said the reason she's never filed the Town's monthly financial reports is because she knew they were wrong, and figured it made no sense to file incorrect reports.
When someone in the crowd pointed out that Ms. Sickler took the job in August, and no reports have been filed all year, the Board said nothing -- and probably raised more questions.
Also unhelpful is the fact that Mr. McCarthy's supporters are strident, angry, and belligerent and tend to make unsupported assertions he's done a lot of good for Sidney -- while personally insulting reporters, insisting they should hew to the official line, and refusing to answer questions because the "liberal media" will only twist and spin what they say. This includes Sidney's Republican chairman, Bob Hunt, who referred this reporter to a letter he'd published last month in the local weekly -- though he was polite about it.
In fairness to Mr. McCarthy, his troubles may be partly caused by the fact that he's been a businessman all his life -- he ran printing and manufacturing businesses in nearby Unadilla -- plus the fact that he's had little government experience.
Throw in a personality his enemies call arrogant but his friends call self-confident, and it's likely people don't correct him when he makes mistakes, even if those mistakes are the innocent result of the fact that he's run businesses, but not a government. Those people are probably guilty of being happy to let Mr. McCarthy make big mistakes, and suffer the consequences.
Another plum in the pie: One of the planks Mr.McCarthy ran on was that he's not a politician -- a promise people in Sidney would say he's kept. But that's been working against him. If he'd been open to being told in the first place that he had no power to force the Muslims to dig up their cemetery, or if he'd done what any politician would have done when it was clear he'd goofed -- confess the mistake and apologize -- it would have blown over long ago.
Instead, he dug in his heels. The result? He's facing pitchforks, torches, and a bunch of Sufi Muslims who say they're going to take this all the way. The Sufis say they want to live in peace with their neighbors, but won't let people push them around. This, from people widely considered to be Islamic mystics -- hippies, even.
But angry citizens and Sufis may turn out to be the least of Mr. McCarthy's problems, now that New York's Attorney General and Comptroller have been dragged into the hoo-hah. Some of the allegations pressed in the petitions now being circulated by his enemies may not be important by themselves, but they add up.
Among them:
In October, the Town awarded a $34,000 contract to repair the roof of the unused Sidney Hospital, said contract having been awarded with no competitive bidding, in violation of General Municipal Law 103.
The Supervisor is supposed to file monthly financial statements in the Town Clerk's office, but never has, even though NYS Town Law 125 requires it;
The quarterly reports required by the state Comptroller's Office have never been filed;
No code of ethics, required by General Municipal Law Article 18, is filed in the Town Clerk's office;
Sidney apparently has no official procurement policy;
Mr. McCarty apparently doesn't sign town checks; instead he's alleged to have given the town bookkeeper a stamp with his signature to do the job.
Whether the state will take up the complaints in the petition, and acts on them, is unknown. The Comptroller's Office, for instance, says it received a complaining letter from Hans Hass, who's the Sufis' spokesman, but apparently didn't realize it was intended to be a petition. The petitions now being circulated by Mr. McCarthy's enemies may correct that. The Attorney General's Office, as a matter of policy, says it never comments on anything until it issues statements about something.
If and when the state does move, the Sidney drama will move to a more serious plane. The state's mill grinds slow, but exceeding fine. And set in motion, it often keeps in motion. Looked at from a military perspective, the hub-bub in town can be considered a strong demonstration across Mr. McCarthy's front, while the main, flanking attack comes from Albany -- where the big guns are.
We called Mr. McCarthy and asked him if he had anything to say about the recent developments. His response? "You're going to write what you want to write anyway. It's a Sunday and I'm here with my family. Bye."