Even though we haven't heard the last of Twilight (at least not in theaters), the publishing industry and Hollywood have been hard at work looking for something to replace teenage vampires. And they've settled on...more teenage vampires.
Richelle Mead's Vampire Academy saga is set to be the next young adult paranormal series to become a household name. Spirit Bound, Mead's fifth Vampire Academy book, debuted at #1 on the New York Times and USA Today bestseller lists in May; Preger Entertainment has just optioned the books and is teaming with Transformers producer Don Murphy for a series of films.
Do we really need more teenage vampire movies? Yes, says Murphy. "The joy of these books is that in the wake of Twilight they offer a chance to create a movie franchise that guys will want to see as well as girls," the veteran Hollywood producer said in a press release. "We want the young male audience onboard with this project and we believe Mead has offered up a universe with which to accomplish that."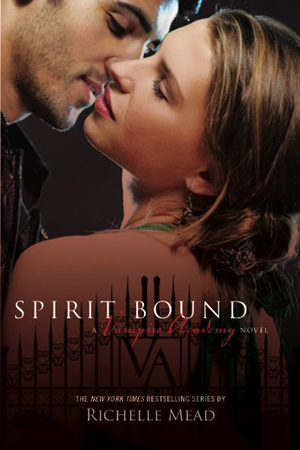 Attracting men isn't going to be an easy task. Mead's current audience is overwhelmingly female, although they're not strictly young adults -- a good sign for movie producers.
At the RT Booklovers' Book Fair author signing in Columbus, Ohio earlier this year, women of all ages waited in line for hours for Mead's signature. Many of them were sporting homemade "Team Dimitri" and "Team Adrian" t-shirts; some even had Vampire Academy tattoos. The same pandemonium occurred at a publishing tradeshow in May ... except the women going gaga this time were industry professionals.
After meeting Richelle at her May signing and telling her how much I loved her work, I decided it was finally time for me to sit down and read Vampire Academy.
(Don't be alarmed: it is common practice in the publishing industry for one author to tell another author that they "enjoy" their writing, even if the only thing that they've actually read is their Twitter feed.)
Here's what I learned from reading the first book in the series: Rose, the 17-year-old half-human/half-vampire heroine, is training at St. Vladimir's Academy to be a royal guardian for Lissa, a mortal vampire princess who also happens to be her best friend. The vampire mythology that Mead spins is a little bewildering at first, but she paints a vivid fantasy world that rewards patient readers.
How had I missed out on reading the series earlier? Simple: I was blinded by the Twilight. I was under the impression that if you've read one vampire series for young adults, you've read them all. Now I know better.
Unlike that Other Vampire Series, Vampire Academy goes to some very dark places: death, sex, depression, and drug use, to name a few. Mead doesn't talk down to her young adult readers, and has a knack for smart, witty dialogue that livens the mood.
Potential male readers have nothing to fear. If you've ever gone through, are going through, or plan on going to high school, you should be able to identify with Rose's trials and tribulations. The closest pop culture comparison is the Buffy the Vampire Slayer TV series, which garnered its fair share of fans across the gender and age spectrums despite its high school setting.
There's still plenty of time to hop on the Vampire Academy bandwagon. Last Sacrifice, the sixth and final book in the Vampire Academy series, will be published in December.
SUBSCRIBE TO & FOLLOW CULTURE SHIFT
Level up. Read THIS and be the most interesting person at your dinner party. Learn more