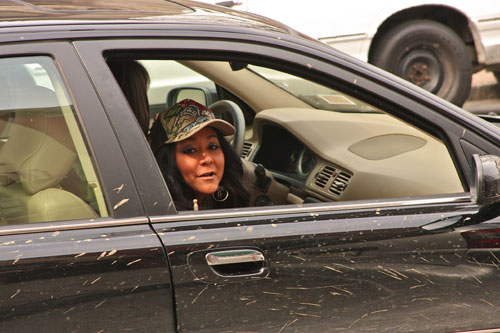 There was a veritable summit of two memorably nicknamed New Jersey reality TV stars today in Hoboken, NJ. Nicole "Snooki" Polizzi stopped by Buddy "Cake Boss" Valastro's bakery to shoot a scene for the hit TLC series Cake Boss. With the rise of Cake Boss, Jersey Shore and Real Housewives, New Jersey has recently become ground zero for Italian-American reality TV stars--or people playing Italian-Americans on reality TV, as is the case with Polizzi, who's actually of Chilean descent. Polizzi, of course, was catapulted to fame (and infamy) on MTV's hit series Jersey Shore. In a show of vintage Jersey Shore class, she pulled up to Valastro's bakery riding shotgun in a mud-splattered Volvo.
Producers of the series managed to keep a tight lid on the "consultation" scene featuring Polizzi and Valastro, but were unable to hide shooting multiple takes of Polizzi walking into the now-famous bakery. Presumably, today's scene will air during the third season of Cake Boss, which is currently in production.
After shooting her scene with Valastro, Polizzi divulged that she'd ordered a three-tiered strawberry vanilla cake for her mom as a Mother's Day gift. She and Valastro were mobbed by adoring fans, many of whom knew to be at the bakery thanks to following Polizzi's oft-updated Twitter feed.
While live-Tweeting the experience via her smart phone, the 22-year-old Polizzi told me that she loves Hoboken and implied that she'd been frequenting the bar scene there since well before she was of legal drinking age. "I always used to come and party in Hoboken in the bars and stuff," she said. When asked if she sampled any of Valastro's famed baked goods, she said, "I had a cannoli and it was beyond amazing."
"Cake Boss is one of my favorite shows of all-time," Polizzi continued. "I met P. Diddy and all these celebrities at the Grammys, but I was shaking when I met him [Valastro]." Afterwards, on her Twitter feed, the Jersey Shore star Tweeted, "Today is the best day of my life!! :D."
What did the Cake Boss think of Snooki? "She's awesome," Valastro said. "We had a great time."