The mere thought of Venezia always sends a shiver up my spine. There's that perpetual gasp (and subsequent re-gasp) when I walk out of the train terminal. It always feels like I'm seeing Venice for the very first time.
It's curious. It's dark. Its night and day are as different as, well, night and day. Jaw-dropping, movie set scenery, poetic history, magnetic atmosphere and alluring dining make this island city a constant stop for me when I'm based in Milan, which is just two and a half hours away by train.
On this jaunt, I was on a twenty-three-hour dash to see my best friend for dinner as she wedded her fabulous new beau before I flew out to Athens the next morning.
It was Venice at full throttle, like The Tourist, but more coherent.
Scene One:
Although it's über-touristy and pricey to speedboat into Venice, to me, it's the only way to arrive. My Venetian friends cringe at me for spending 70 Euro, but I love the thrill as we wind through the canals watching water taxis and gondoliers fight for pole position. It's such a rush; I wouldn't have it any other way.
Scene Two:
Gorgeous palace hotels on the Grand Canal are de rigueur here, but we decided to live like a local and bed down at the intimate, boutique hotel, I Qs. This darling four-room spot offers plush and private living in the heart of Venice. Little sister to equally fabulous DD724 hotel, its individually designed rooms blend comfort with impeccably executed contemporary tastes. Peppered with modern art, photography and sculpture, and flavored with architectural hints of its Gothic past, I Qs blends urban hideaway with glossy style.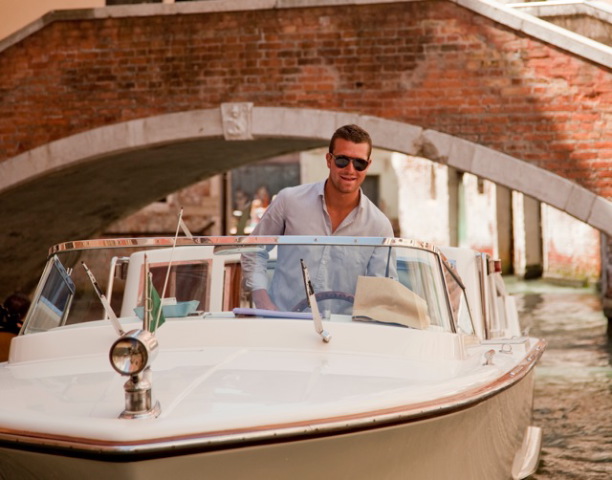 Scene Three:
After a quick settling in, we were off! Since we had set dinner plans already, we decided to do an aperitivo crawl and hit our favorite spots. They became favorites because of my dear friend Giada who grew up in Veneto. She's like the inside travel guide to Venice, and now, so am I.
Typically, La Vedova in Ca D'Oro is the first stop in the city for aperitivo if you're arriving to Venice by train, as it's located just off the Strada Nuova, the main street near the station. The must-haves here are the polpette (meat balls) and ombra (glass of house wine).
Then it's off to Ai Rusteghi, which is just near Rialto and has a great wine list. The cicchetti (the typical food for aperitivo in Venice) are incredible here. They have small paninos full of everything. Such gorgeous food.
Al Timon is the stop for over-the-top-to-die-for crostini with chicken livers...trust me; you don't want to miss it. And finally, Naranzaria, located in Rialto, is a must. For aperitivo, enjoy a ciccheto and a glass of wine while standing outside with friends, or end your happy hour here with dinner along the Grand Canal.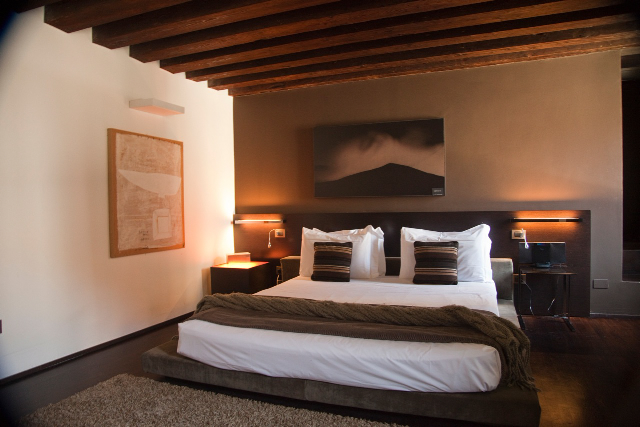 Scene Four:
Satiated by wine and cicchetti, it was time for dinner. We hopped on our speedboat and off we went.
Photos by Peter Wesley Brown.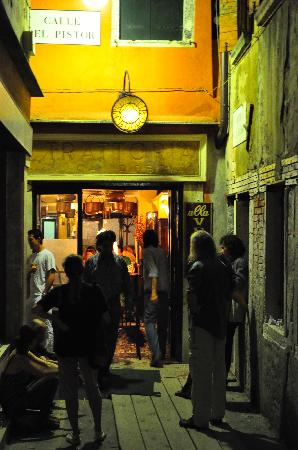 Follow Andria Mitsakos on Twitter: www.twitter.com/wanderlista