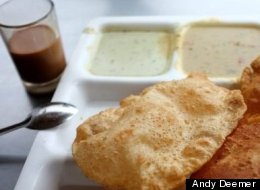 Bangalore's cafes and sagars are crowded in the mornings. Old men sipping at small glasses of sweet milky coffee, foamed up to perfection by pouring it from one cup to another. They stand at tables, balancing a Gold Flake cigarette and the Deccan Herald newspaper, and eating Khara Bath, Kesari Bath, Chow Chow Bath, Pongal, Pakoda Bajji, Mysore Buns, Idly Vada Samhar, and so many other breakfasts...
But I didn't know what any of these were at the time.
So I decided to try them all.
12 Amazing South Indian Breakfasts
This peppery rice and dal stew looks like jailyard slop and tastes a lot like heaven and home. It's filled with mustard seeds, red chillies, curry leaves and peppercorns. Add a hint of lime, maybe some cashews, a heck of a lot of spice, and a splash of raita on the side, and you're really cooking! Feeling beat down? A cold coming on? This is the place to go.

Apart they are glorious. On the left is savory Khara Bath (maybe also known as Upma), a fistful of spiced semolina, coriander, ghee, chillies, awesomeness. On the right sits the sweet, sweet twin: Kesari Bath. My god is it sweet. One recipe I have calls for 1 cup ghee, 1 cup semolina, and 2 cups of sugar. Together, they're served with coconut chutney, and called Chow Chow Bath. My lord is it good. "If you eat that every day," Varun warned, "You'll be so fat." I'm on my way, pal, on my way!

You may have had poori alongside a curry for dinner. Well, this tasty breakfast alternative ain't too different at all. The deep fried paper-thin bread is served up with a tasty coconut-vegetable curry — the sagu — and if you're lucky some coconut chutney as well. Because everything goes better with coconut.

What can you say about an idli? It's steamed, it's light, it's spongey, it's rice and semolina and dal, packed together in a fluffy patty. At Brahmin's Coffee Bar, off Bull Temple Road, you can find something so light it literally melts in your mouth. Sometimes served with a thimble of ghee oil, which should be drizzled on top. Wow.

Here's one great way to beat any hint of bland from the idly: add more dal and spices to the mix, drop the rice, and add a hell of a lot more semolina. Still steamed, still spongey, but twice as tasty.

If the Rava Idli isn't flavorful enough, try your idlis doused in sambar, a spicy red stew of tomatoes, dal, onions, and whatever else the kitchen has lying around. You'll need to brush your teeth after — it's a wonderfully pungent broth — but don't skip this version. Jeez is it good.

This small savory donut has no end of pronunciations and spellings, and includes more or less the same ingredients as everything else here. Some dal, maybe some flour, some peppercorns and spices, and a whole lot of love. Try the deep-fried-but-fluffy-inside ones at Mavalli Tiffin Rooms, which serves the Krispy Kreme of vadai, and smile.

The name says it all: yogurt ("dahi") vada. After deep-frying, the doughey wada is tossed in a bucket of thick sweet yogurt, and then doused in crunch and spice. Sprinkle on some chili powder, a touch of cumin powder, a little coriander, and you're set. It's like a South Indian French Toast & Rice Krispies combo, if you ask me.

One idli, one vada, and a huge gorgeous slop of sambhar splashed all over. Uttam called it the Bangalore classic. Uttam was telling it right.

You know, to me a good rice bath is just a solid pongal: a spicy mix of rice, vegetables, curry leaves and black peppercorns, something that can close in on perfection. It's filling and tasty, and I'm always ending up with bits in my teeth. And that's the way a good meal should be, yes?

Chickpea-battered, deep fried vegetable fritters may be a standard appetizer in Indian restaurants, but for breakfast? Even with the chilli powder, turmeric and coriander it's a little strange. Now maybe if they'd start using bacon… then we could talk!

Apparently the true Mangalore treat, these buns are now found everywhere in Bangalore. Slightly sweet, banana-hinted rolls. Perfectly crispy on the outside, and oh so fluffy inside. Rip off a tear of bread, scoop up the spiced sagu vegetable curry, and know happiness. Is there anything better than this? For breakfast, for dinner, alongside a double-order of Chow Chow Bath, the Mangalore Bun is the way to go.
Of course, once I'd finished these, I decided to start on the dosas...
Follow Andy Deemer on Twitter: www.twitter.com/AsiaObscura