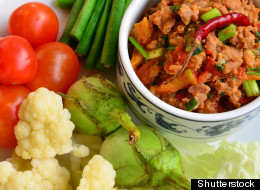 It's no big secret: the Standard American Diet (S.A.D.) is bad for us. It's made up of refined and processed foods, lots of meat and lots of high-fat dairy. It's also severely lacking in vegetables.
In my last post, I talked a bit about how easy it was to "veganize" familiar favorites. Many of us grew up with S.A.D., and it can be hard to walk away from the comfort foods we loved. Vegan versions of these dishes are certainly healthier for us but could still use some improvement, nonetheless.
When I first went vegan, I missed many of the foods I used to eat and I'd spend a lot of time recreating them. They were delicious, but I was still eating the vegan versions of high-fat foods like mayo, cheese and other processed treats. My dad, a doctor and another vegetarian, advised me not to focus on what I was cutting out, but rather, what I was adding in. I began to work vegetables into every meal and soon, my diet evolved naturally. Instead of craving the junk food I thought I loved, I started to crave vegetables, legumes and other clean, unprocessed foods.
The slideshow below is what my diet started to look like after I had been vegan for about a year. Instead of trying to replace foods I remembered like meat tacos or bologna sandwiches, I discovered a whole new array of foods that were just as delicious (if not more) and better for me in every way.
Check it out, below!
A Healthier Diet: Stepping Away From S.A.D.
My husband and I discovered a great vegetarian restaurant in upstate New York called Geka's. This dish was one of the best -- it's called a Caribbean role and is made with potatoes, peas, chickpeas and a curry sauce, all inside a whole wheat wrap.

This is one of my favorite recipes from Alicia Silverstone's The Kind Diet. The greens are sautéed with a bit of olive oil, garlic and balsamic vinegar. In her book, Alicia tosses in pine nuts and raisins as well, which makes for a delicious, multi-dimensional dish.

Indian food is quite vegan-friendly already because of the emphasis on vegetables, lentils and legumes. This is a dish made by my mom -- it's curried mushrooms cooked with a variety of spices and served with traditional Indian flatbread, roti.

This is another Indian dish courtesy of my mom. It's called poha and is made of flattened rice. My mom's variety includes potatoes, onions, curry leaves and spices.

Miso is fermented soybean paste and a food I was never introduced to before going vegan. Ditto for sea vegetables. This simple miso soup is made with just seaweed and tofu.

This is one of those great salads for a hot summer's day -- I made this for a Fourth of July picnic. The reason it's so much better for you than a traditional potato salad is because it's made with a touch of dijon mustard, instead of the heavy fat mayo that you might usually find.

I may be a little biased, but this is one of my favorite meals from my husband's NYC restaurant, Terri. The wrap is filled with hummus, avocado and smoked tofu and has a delicious kick with hot peppers added in the mix.

Another great dish from Geka's. These are curried mixed vegetables. They had a spicy kick, and the featured vegetables were broccoli and zucchini.

Thai food has always been one of my favorites -- and that didn't need to change after I went vegan. This dish is noodle-based and is called Pad Kee Mao. The way I get it is to skip the fried tofu and add extra, extra vegetables.

Who doesn't love Thai curries? This one is a red curry made with steamed tofu.

This bean burrito is from a Mexican restaurant on Captiva Island, near where I grew up in Florida. Instead of just boring beans, I asked them to add brown rice, loads of bell peppers and some extra veggies.

Forget the standard American meatloaf, which can be bad for your heart and your waistline. This dish is made with tempeh and oats. The tempeh is protein rich without adding any of the bad cholesterol of meat. Pair with a bunch of vegetables and it's an easy and healthy dinner.

South India dosa is made from rice and lentils. The inside can be basically anything you desire, but I like to get it with aloo masala, or spicy potatoes.

Super simple! Made with lots and lots of tomatoes, I often add peas and cilantro to mine. This is from Pongal restaurant in NYC.

Much, much better for you than regular potato chips, these kale chips are baked, not fried and (as I like them) covered in nutritional yeast.

This was a simple side dish I made for Thanksgiving last year from my favorite Everyday Happy Herbivore cookbook by Lindsay Nixon. They're super easy to make and super healthy: Sprinkle with some dry spices (whichever you like), salt and pepper and pop them in the oven.

Another great idea from Lindsay Nixon. These portobello mushrooms can be served as the main part of the meal. They are cooked in a delicious mix of garlic and onions with a tangy sauce.

This super healthy side dish is made with simple ingredients: green beans, Kalamata olives, tomatoes, zucchini, cucumbers, onions and a little red wine vinegar. I happen to love all kinds of vinegary/pickled dishes, so this one of my faves.

These are from Gobo in NYC, an all-vegetarian gourmet restaurant with some deliciously creative entrées.

Risotto is always great in my book, and this butternut squash risotto also from Gobo NYC takes it to another level. Topped with toasted almonds, it's a great, healthy, filling meal.

From the mind of Lindsay Nixon, this stew is incredibly healthy, packed with tons of vegetables and nutrients and has a nice smoky flavor to it. Lindsay makes it with sweet potatoes, but I'm not a huge of fan of them, so I substituted regular potatoes and it was still a great dish!

These amazing carrots and parsnips cooked in a maple-glaze satisfy my craving for something sweet and crunchy when I don't feel like sabotaging my whole diet. Forget the cookies -- these are made with no oil and are great as a side dish to anything!

A "kadhai" in Hindi is basically a wok -- a large, deep pan. This dish can be made spicy or not and has every vegetable you can imagine!

I threw this recipe together one cold day when my husband and I had no idea what to eat. Besides the potatoes and leeks, I pureed spinach to give it a little more depth of flavor and add some more nutrients!

My husband is a huge fan of balsamic vinegar, and I'm a huge fan of brussels sprouts, so this recipe was made for us. It's super easy: Just drizzle the vinegar over the veggies and pop them in the oven.

This kale quiche is another recipe from Lindsay Nixon, and she advises that any greens can be substituted for kale. I once tried it with spinach and both versions were incredible.

I picked broccoli, but any veggie will do in this dish. The tempeh is cut into strips and easily cooked in a skillet. Add the veggies and you have a heart-healthy meal.

Also from Gobo NYC, this dish is tofu wrapped in nori, served on a bed of green vegetables in a Thai red curry sauce. It's a little spicy but super delicious!

Don't like beans? No problem! This is another recipe from the brilliant mind of Lindsay Nixon. These chickpea tenders are mixed together and then baked in the oven. Lindsay adds dried spices to give it that extra pop of flavor.

This is from a favorite blog of mine, The Gluten-Free Vegan. The dish is made with garam masala, an Indian all-spice that gives it a great curry taste with a spicy note.

From Everyday Happy Herbivore, this casserole is anything but traditional. It's filled with spicy, smoky veggies at the bottom and topped with a simple cornbread.

Cashew and spinach are two foods I could eat all day. This dish, from Gobo NYC, is served with diced mixed vegetables and mashed potatoes.

This sandwich is from Peacefood Cafe on NYC's Upper West Side. It's filled with delicious vegetables, cooked in a panini press and served hot.

Simple stir-fry! Anyone can make this, and it can be filled with whatever vegetables you like. I really like bell peppers, so I usually put them in every stir-fry I make. The liquid I use is just a little soy sauce with some dried spices.

Unfortunately, my sweet tooth may never die, so I have to find ways to combat it instead. This is a blueberry crumble. The bottom is fresh berries, and it's topped with oats and a little sweetener -- I use agave nectar. It's definitely better than reaching for a brownie!
Follow Anjali Sareen on Twitter: www.twitter.com/AnjaliSareen