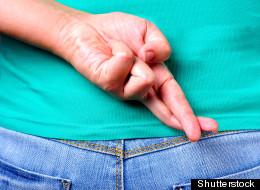 "Lies" is such a harsh word. But every day we utter words that we know aren't true. Sometimes we do it to make someone else feel better. Other times, it's ourselves we are hoping to protect. Here are a few of our favorite examples.
Let us know if you've told any one of these little white lies and feel free to add some of your own in the comments!
10 Lies Boomers Tell Themselves
Midlifers struggle with staying asleep. We fall asleep easily enough, but staying asleep is an entirely different matter. And come morning, we plead with the alarm clock to say it isn't so.

This is usually said by someone trying to convince you that she doesn't care what others say behind her back. Leg exposure is a tricky thing post 50. Varicose veins and cellulite on the thighs are just not attractive looks. Then again, if you really don't care what others say...

Little known fact of aging: Your eyebrows disappear. They even have eyebrow transplants now for when penciling in what's no longer there isn't enough. And then there are lovely wispy bangs, which you can see being sported increasingly.

This isn't actually a lie. While who doesn't love a discount, the idea of going to an early-bird special is way too dated for anyone we know. But the truth is, eating a heavy meal late in the evening isn't so great for you. Your body needs more time to digest your food before you pass out asleep. Reservations for two at 6:30 p.m., please?

Aging feet hurt. They sprout bunions, their arches fall. Heels are the enemy and much time is spent finding not just comfortable flats, but also clothing you don't need to wear heels with. No, not even for just one evening.

Memory issues plague us all. Each time the TV remote winds up in the laundry room, we wonder whether this is the Big A -- Alzheimer's.

Don't we wish? Mid-lifers who lost their jobs in the Great Recession are still struggling. And unlike others who are younger, they don't have as much time left in their working lives to recoup what they lost in savings.

Of course it is. They are living back under your roof and you are still supporting them because they can't find jobs. He who controls the pursestrings controls the kingdom.

Can we all just admit right here and now that we post to Facebook, send tweets and have spent several evenings trying to figure out Pinterest to little avail? Now fess up: what we'd really like is an occasional hour spent on the phone chatting with our friends -- our brick-and-mortar, real-life friends. Just because we can connect to strangers in more ways doesn't make us more connected.

We make time for the things and people we think are important. It's called setting priorities and we've never met a post-heart attack patient who still didn't have time to exercise.
Follow Ann Brenoff on Twitter: www.twitter.com/AnnBrenoff