Rampant in the news are photos of Teri Hatcher frowning, yet smiling, camera focused intently on her forehead wrinkles, dark undereye circles and crow's feet. Clearly, she's not a proponent for Botox.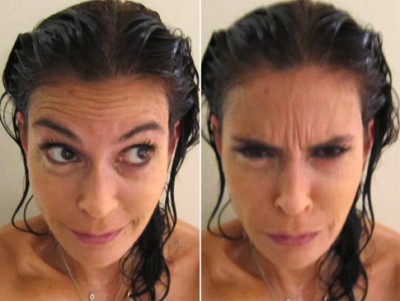 Scrutinize also the frenzy caused by Lisa Rinna's decision to deflate her collagen-rich mega pout after 20 years. How about Kim Kardashian's public declaration against injectables? Add to that Heidi Montag's latest surgical move:
I'm desperate to go back to normal. I'm downgrading and going a little smaller, to a D or a double D... I feel trapped in my own body. It's impossible to work out with these boobs. It's heartbreaking. I can't live an everyday life.
Perhaps there's a new conversation, optimistically begun by Hollywood itself, about true and perceived beauty, the nudging away of the shiny slicked back brows and the strange age / body disconnect women are experiencing.
This conversation even landed a spot on Oprah's couch during her 25th anniversary season series led by Teri Hatcher and Cybill Shepherd. Hatcher has used Botox, but not for years, she claims, and can easily "make all the fabulous facial features that anyone would want to see."
"We're writing all these books about how to live to be 100," Hatcher adds. "Are we going to be 100 because we can live to be 100 and still look 30?"
So it's true -- there really is a strange mind/age/body disconnect, and Hollywood is finally talking.
Iconic stars have typically been quick to discount their own beauty (i.e. Cybill Shepherd claimed her airbrushed Glamour cover shots never aligned with how she saw herself in the mirror), but now this body detachment syndrome is also extending to stars revising and reversing their cosmetic surgeries, and vowing off Botox for good.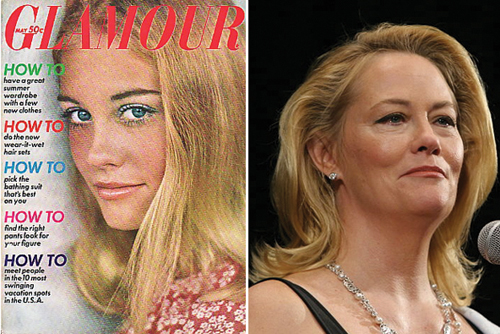 But why the shift? Perhaps we are finally experiencing the ultimate self-awareness trifecta:
Age and Body Disconnect: In the same way a heavier-set person may never see themselves as thin, stars may be starting to feel like surgeries and in-office procedures muddles their mind, age, and body continuum.
Supermodel Beverly Johnson experienced this disconnect during a golf outing where a teenage boy began catcalling to her.
"I'm sorry ma'am. From behind I thought you were a teenager," he explained. Johnson thought to herself, "Why the heck am I trying to have a teenager's body. Get over it."
It might be safe to conclude that we, as a population, don't know what a 30, 40, 50 and 60 year old should look like, so upon arrival at that particular juncture in our lives, we don't know how we should be looking or acting.
Depreciation of Cookie-Cutter Beauty: Interestingly, though the modeling business certainly has its fair share of industry demons, perhaps high-couture peddling runway models and their agents might be more forward thinking than we thought.
Outrageous eating disorders and airbrushing that's been known to remove entire body parts aside, consider this: Fashion models are encouraged to show at up at go-sees with no makeup. Surgically enhanced features are certainly frowned upon and natural and unusual features like a wide gap between front teeth and big ears are sometimes enough to catapult a model to superstardom. Same goes for casting agents who are now forced to specify they are seeking actors with no Botox, lip and breast enhancements, et al.
Lastly, and most fascinating -- the actresses performing face altering surgeries aren't your typical A-listers. Julia Roberts, Drew Barrymore, Kate Winslet, Cate Blanchett and Halle Berry -- some of Hollywood's leading ladies - reportedly shun plastic surgery and injectables. There might be two reasons for this:
1. They've always felt secure enough with their looks and this confidence and feeling of well-being propelled their career.
2. Or perhaps, due to their success, they don't feel compelled to go under the knife, feeling it would be a hindrance to their career (hello, Jennifer Grey) or take away from their typical "gal next door" appeal altogether.
Intense Media Scrutiny on Plastic Surgery Gone Wrong: The press has not been shy to "out" actors who have gone under the knife. "Plastic Surgery Gone Wrong" specials all share an alarming trend: waxy features, breasts so big the taut skin surrounding it looks painful, veneers resembling Chiclets and tight overstretched eyelids.
People are no longer looking like people and while this strange display is laid out in countless magazine editorials for countless years now, could it be that this increasingly peculiar parade of bizarrely enhanced features is finally striking a cord with the public and celebrities?
Refreshingly, this trend indicates that these actors are finally taking note, and it's slowly permeating through to the general public. According to the American Society for Aesthetic Plastic Surgery, last year cosmetic procedures in the U.S. decreased nine percent from 2008.
SUBSCRIBE TO & FOLLOW LIFESTYLE
HuffPost Lifestyle is a daily newsletter that will make you happier and healthier — one email at a time. Learn more