One of the more brilliant aspects of my job as Editor in Chief of Coco Eco is meeting amazing and inspiring people who are out there actively engaged in changing the world. And don't hate me, but sometimes it involves the boys and some great ones too! The truth is there are many phenomenal men who are passionately fighting Global Warming, protecting Planet Earth, and infusing a sense of fun in an effort to engage their audience. These six global eco warriors are all utilizing the medium of entertainment to bring a new and refreshed energy in promoting the all-too serious and urgent message of sustainability. There are many wonderful guys out there doing their bit, but as we begin 2011 we choose these as amongst our favorites for being easy on the eye, easy on the heart, but most importantly, easy on the planet!
Justin Berfield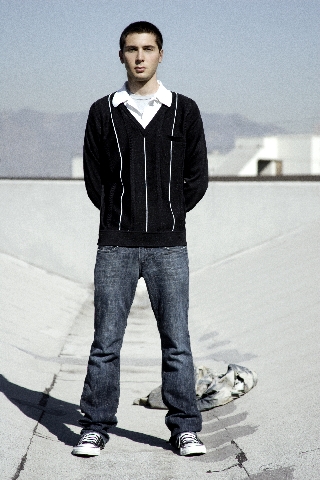 Image Courtesy of Tyler Shields
An award winning actor/producer, a TV veteran with over 2 decades in front of the camera, and best known for playing the big-bully, wise-cracking 'Reese' on FOX'S Emmy winning series Malcolm in the Middle, Justin Berfield stepped behind the camera in 2004 founding J2 Pictures/J2TV with his partner, Jason Felts. In 2010, Justin was named Chief Creative Officer of Virgin Produced, the LA based film and TV production arm of the Virgin Group, where he uses his influence and experience in production to represent the socially responsible views that are at the brand's core. True to Virgin's integrity, Virgin Produced doesn't preach instead choosing to lead by example, and some eco initiatives include an anti-paper policy with a commitment to saving in excess of 125,000 sheets a year (no small feat for a film company dealing with a daily mountain of scripts), and a veto on gas-powered golf carts on set. In addition, VP supports socially minded platforms such as Virgin Unite and Daryl Hannah's Rebels. Justin has also chosen to infuse sustainability into his daily life.
"I ditched the SUV, sold my 7000 sq ft energy sucking house on the hill for a partially solar powered home, and implemented solutions which utilize renewable energy both at home and in film/TV production."
When asked what's next, Justin replies,
"Creating content that entertains and inspires, and hopefully continuing to make people laugh along the way."
http://www.virginproduced.com
http://www.virginunite.com
Jeff Corwin
Best known as the enthusiastic wildlife and conversation warrior on Animal Planet, Jeff Corwin's zest for life has taken him on many global adventures. Exploring a multitude of topics from ecological to travel and cuisine, his experiences have resulted in a variety of award-winning TV shows, on-camera appearances, and earned him a position as the Wildlife and Science Expert for NBC/MSNBC. Far beyond being your typical TV "personality," this love for the earth and its species has always been in his blood. Becoming active in wildlife rehab work with his family at the tender age of 9, he was soon traveling to give lectures on conservation. His big lightening bolt came at the age of 16 when visiting a rainforest for the first time.
"From that point on I knew I would find a career as a communicator, conservationist and biologist."
The author of two books, Living on the Edge; Amazing Relationships in the Natural World, and 100 Heartbeats, Jeff is now focusing on an upcoming 3D film about tigers that he is producing, directing and narrating, as well as his new multi-media brand, JeffCorwinConnect. JCC's mission is to be a bridge connecting people around the world to critical issues and information regarding wildlife, the environment, and conservation.
"Our goal is to build a global community of diverse environmental stewards, each doing their share to protect the planet for future generations."
http://www.facebook.com/jeffcorwinconnect
Reid Scott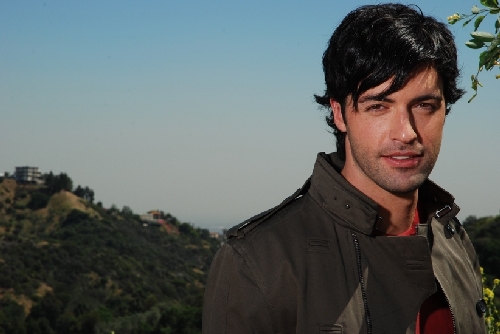 Image Courtesy of Marc Cartwright
Living the American dream, having landed multiple roles on hit TV shows including Hawthorne, CSI, That 70's Show, What I Like About You, The Ex-List, and now playing the coveted role of Laura Linney's oncologist Dr Todd on Showtime's The Big C, Reid Scott's focus is on more than being just another Hollywood heartthrob. With his feet on the ground and his heart entrenched in the planet, Reid is an actor committed to using his celebrity to inspire and educate.
"The last series I worked on, My Boys, the entire production was very eco-friendly. It was a small step, but we put a ban on plastic water bottles and instead the entire cast, crew and production team were given Sigg water bottles to refill as needed."
An LA native, his next goal is to reinvent the WWII concept of a Victory Garden, in an effort to inspire our course from a society of consumers to a society of providers. When asked his personal thoughts on Global Warming,
"We've got to get off oil. And it's possible. It'll take a dramatic shift in the way we think and how our infrastructure works, but we as Americans have proven time and again that we can tackle change head on. Yeah, it's a challenge, but it doesn't have to be a painful one. We just have to recalibrate our thinking on the subject."
http://www.sho.com/site/thebigc/
Tom Szaky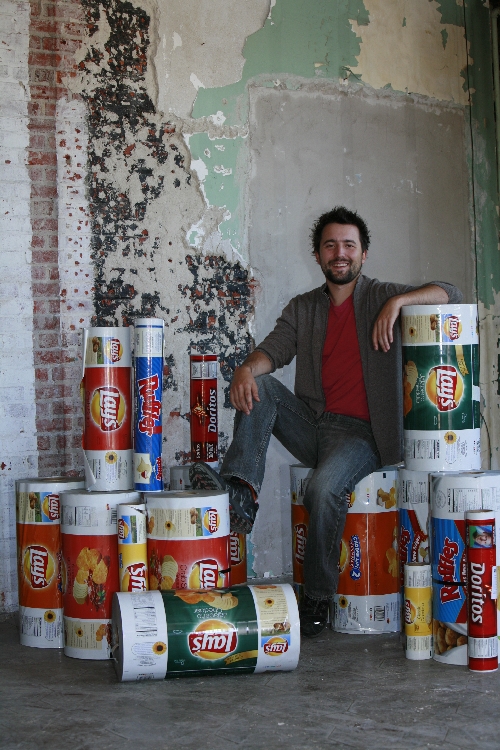 Image Courtesy of Christopher Crane
Founder and CEO of TerraCycle, Tom Szaky has been collecting and upcycling refuse since childhood, starting with discarded TVs and computer monitors.
"Even at a very young age, the excess and waste I saw surprised and intrigued me."
Inspired by seeing waste as a great opportunity, the landfill as a poorly organized factory, and that with a little innovation he could run a profitable business that was also good for the planet, Tom dropped out of Princeton and TerraCycle was born. Starting with sales of the brand's worm-converted waste fertilizer to the Home Depot and Walmart in 2004, TerraCycle has continued to flourish now working with major brands such as Kraft Foods, Frito-Lay, Mars, CLIF BAR and others, in sponsoring the collection of post-consumer packaging that pays schools and non-profits 2 cents for every piece they collect. Today over 50,000 organizations have helped collect over 1 billion pre- and post-consumer wrappers that have been made into affordable eco-friendly products, such as totes and backpacks. In 2009, Tom released his first book, Revolution in a Bottle, and starred in 3 episodes on the National Geographic Channel series, Garbage Moguls. When asked what lasting impression he wants to leave on the planet?
"I want to 'Eliminate the Idea of Waste.' Waste does not exist in nature. The output from one eco-system is the fuel or energy for another eco-system. I want to use this ancient natural solution to address the waste issues in our consumer-driven society. "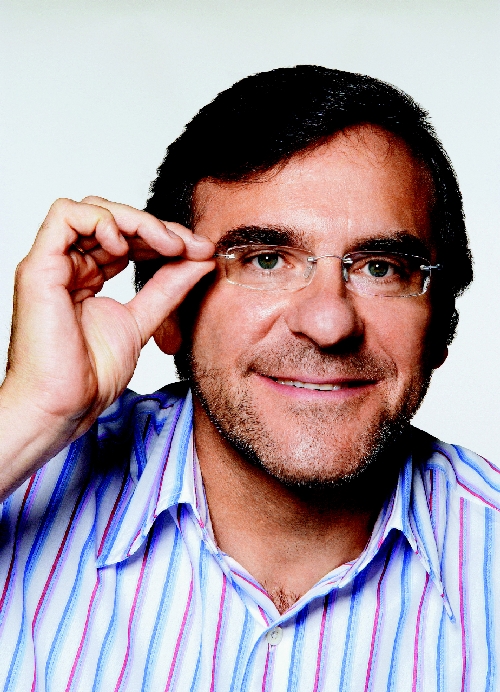 One of the most distinguished and important advertising men in Brazil and the Chairman of Totalcom Group, Eduardo Fischer pioneered the practice of integrated communication in Latin America, and is responsible for creating several important marketing campaigns in recent years. In addition to his impressive career, he has been active in community affairs, counseling the Albert Einstein Hospital, and as a collaborator with Ação Comunitária, a non-profit that develops education programs for poor children and teenagers in Brazil. In October 2010, Eduardo launched the SWU brand that incorporated a 3-day music and arts festival, held near Sao Paulo that infused the brand's core message of global and local sustainability. From conception to execution in only 7 months, and featuring over 74 global musical acts that played to more than165, 000 people, whilst presenting the Global Sustainability Symposium with over 40 international and local speakers, Eduardo and his team delivered a powerful, global message that it can be done, and It Starts With You.
"We must realize that our life on earth depends on new attitudes, and there must be a willingness of nations and of every one, individually, to adopt these new practices."
When asked what's next for the SWU brand Eduardo responds,
"Within the objectives of SWU, I see many possibilities for action. The movement is just beginning and we have multiple initiatives still ahead in the areas of content and entertainment, globally."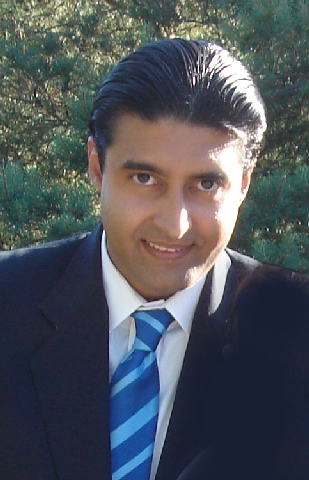 Media entrepreneur, creator and producer, Sharad Devarajan is the Co-Founder, CEO & Publisher of Liquid Comics, a digital comic book company whose mission is to bridge global audiences through the power of great story telling. With characters such as ANI-MAX, a boy who gains the power to absorb the abilities and physical characteristics of animals and protects the planet and its creatures; the Econauts, a covert group of gifted international teenagers that fight crimes against the environment by exposing the greedy perpetrators; and the soon to be released SILVER SCORPIAN, one of the first superheroes with a significant physical disability, Sharad is redefining the typical superhero into a modern day super-warrior.
"Great superhero characters transcend race, religion and nationalistic borders by connecting with people through the primal art of storytelling and shared human experiences. The hope is that we will be able to integrate environmental and sustainable messages and themes into our stories without being preachy about it."
With plans to develop their comics into films, TV, and games, and working with creative's like John Woo, Shekhar Kapur, Deepak Chopra, Guy Ritchie, and Wes Craven, Sharad believes its time to start telling a different story,
"Instead of emphasizing a post-apocalyptic world where global warming has doomed us all, I believe we should create equally powerful fiction that shows an optimistic view of the future where sustainability has prevailed. In the end, giving people hope of building a utopia is much more empowering than making them run in fear of an Armageddon."
http://www.liquidcomics.com