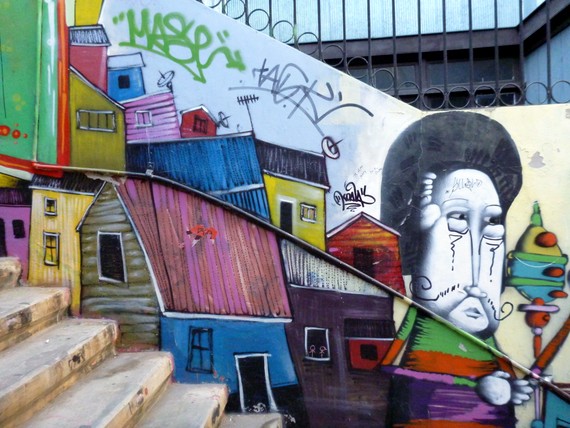 Walking through the neighborhoods of Valparaíso, Chile is like a look at centuries of European architecture painted in a rainbow of hues and graffitied everywhere in between. Until the Panama Canal sliced through Latin America, this central Chilean city was the most important port town on the Pacific -- with every powerful country looking to set up shop on its shores. French, Germans, English, you name it, built here in their own style but today the Chileans have reclaimed the "Jewel of the Pacific" with a flair that's irresistibly their own.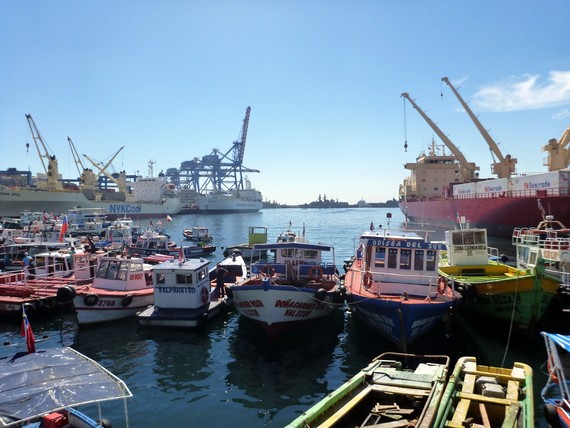 Port life is still central to the culture of Valparaíso, with boats pulling in fresh fish for some of the best seafood in Chile.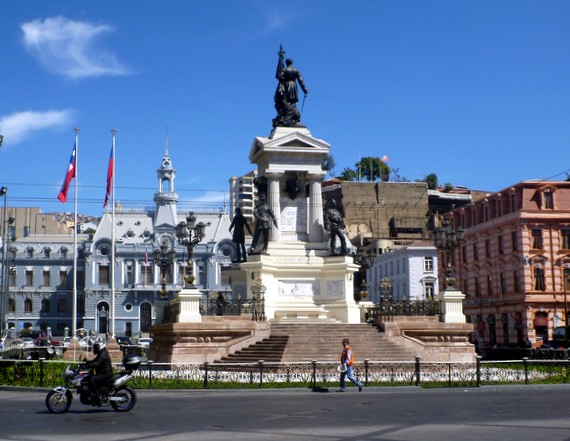 Plaza Sotomayor holds some of the grandest buildings in town including the British-built Queen Victoria Hotel, the American Fire Company, and the Chilean Naval Command Building -- quiet the cultural mix.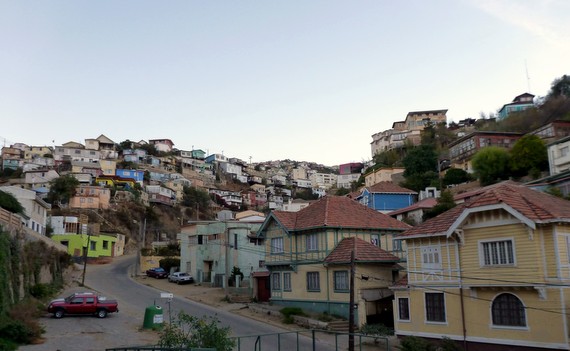 Though originally for the working folk, today's real heart of the town is the neighborhoods stacked up the mountain.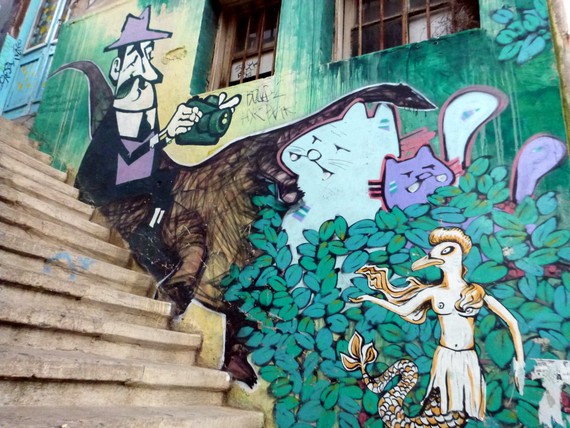 There are few funiculars to get people up the hill in a hurry, but even more fun are the hundreds of staircases that connect uptown and downtown.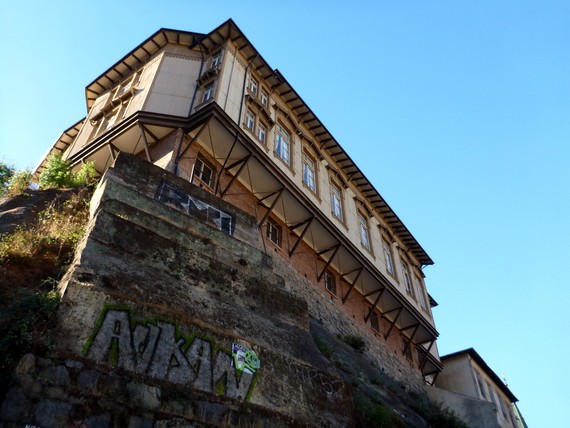 Grand houses like this German-style chalet neighbor with French Mansard mansions, make walking tours (we took a great one with "Tours for Tips") a design feast.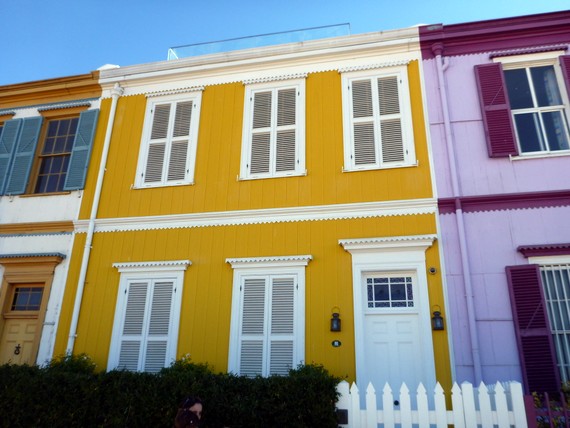 Though if we had to pick one signature style, that is pure Valpo, it would have to be these corrugated-metal cuties. The working class would bring this excess shipping material home from the docks to build homes on the cheap. With so many houses made out of scrap metal you would think the city would look like a shanty town but with a bright coat of paint and scalloped trim, it's resourcefully charming.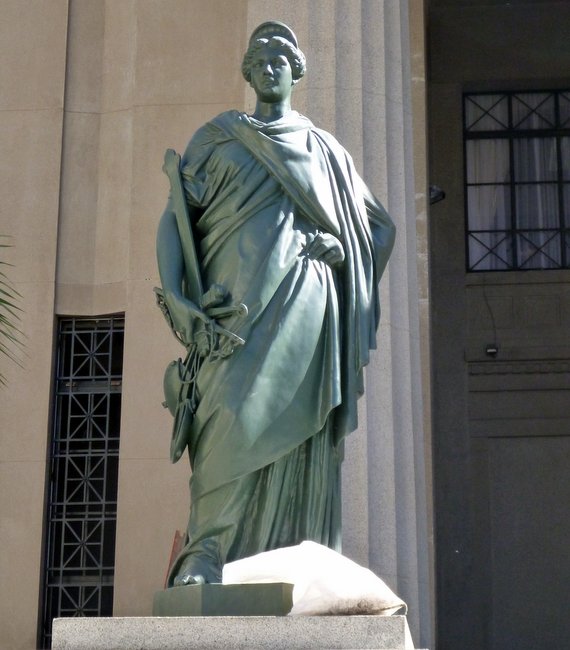 If you ever stroll by the Valparaíso courthouse, make sure to give this "Lady of Justice" a closer look. As the story goes, when a Frenchman slept with the wife of the Chilean judge, he was expelled from the country. For revenge, the Frenchman sent this statue of a lady with her scales in a knot and sword sloppily at her side, but it wasn't until decades later when someone recognized the irony of this prominently displayed statue. So embarrassed the town didn't want to admit their naïveté -- instead they explained the Lady of Injustice's presence outside as a contrasting reminder of the fairness within.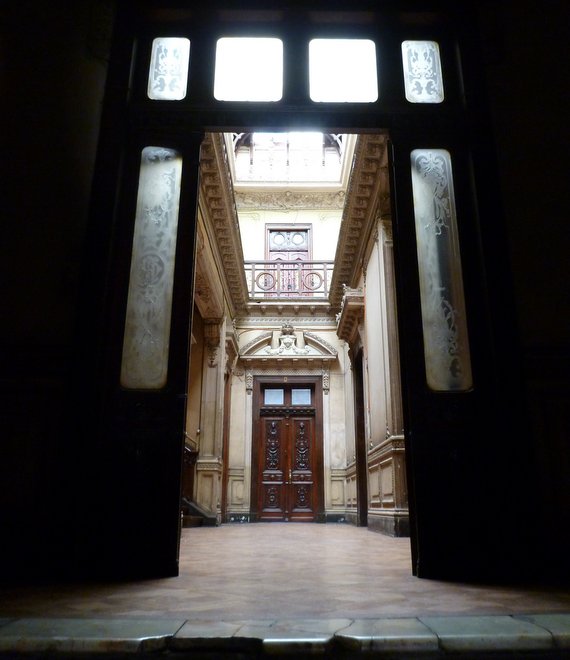 After the Canal opened in 1914 Valparaíso slipped into decline and until the 1990s, drug dealers had their run of even the nicest part of town. This former mansion was looted for its marble floors, gold fixtures and crystal chandeliers. Today safety in the neighborhood has been "mostly" restored but buildings like this serve as a reminder of their rough-and-tumble times.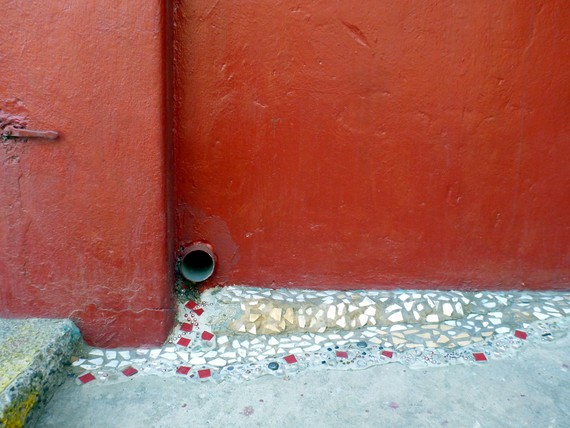 Graffiti and bad neighborhoods usually go hand-in-hand but Valpo turned these scars on the town into a mark of pride. Instead of cracking down on taggers, the town decided to outshine them instead. They commissioned artists to cover the city's walls with inspiring and insightful imagery that has stood the test of time (which in graffiti land is a few short months). Now the art goes well beyond the walls -- even gutters get glorified like in the mosaic above.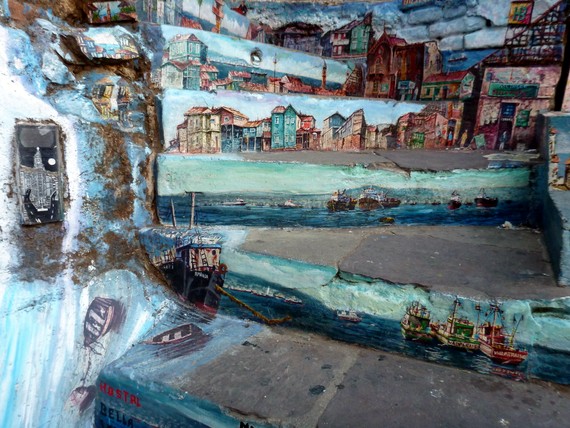 Pushing the limits of the canvas, this artist uses stairs to paint a port scene and the storm drain for a its ocean reflection.
QUICK GUIDE: Valparaíso
Walking Tour: Tours for Tips was such fun and so informative -- a must do!
Unique Eats: Bijoux Restobar does not have a menu but a chef ready to satisfy your every craving. A truly unique dining experience.
Coffee House: Brighton Cafe is set in charming cliff-side house for the best views in town.
Bar Scene: Sabor Calor is the chic source for creative cocktails.
For more views of Valparaíso, check out our around-the-world travel blog, HoneyTrek.com
SUBSCRIBE AND FOLLOW
Get top stories and blog posts emailed to me each day. Newsletters may offer personalized content or advertisements.
Learn more