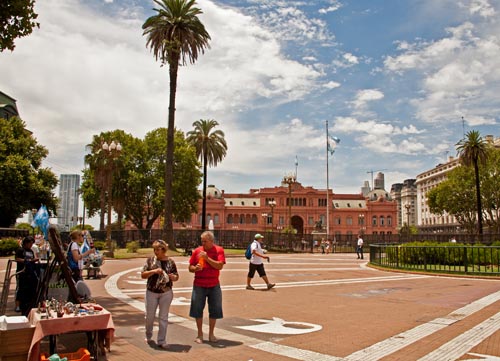 If you've been to Buenos Aires, capital of Argentina, raise your hand. Nobody? Then it's high time for an eye-opening adventure. But first, reserve a place in the sun at the Sheraton Libertador Hotel, in the heart of Tango City. Bear in mind that the recently renovated Libertador, now Sheraton-branded and Starwood-affiliated, isn't what I'd call "deluxe."
Instead, the hotel is something much better, a smart hotel, updated by smart people who know what travelers actually need. And the Libertador has them all: Fast wi-fi connections, multiple elevators, windows that open, hair dryers, ironing boards, a fitness center, sauna, swimming pool, LCD-flat-screen TVs, an inviting lobby and bar and two quality restaurants serving Argentinian dishes, plus home-raised Argentinian beef. As in big juicy grilled steaks. Sheraton Club members (go ahead, be a sport and join -- it's free), can take advantage of the 19th floor Sheraton Club Lounge conveniences, including sandwiches, pastries and hors d'oeuvres served all day, every day.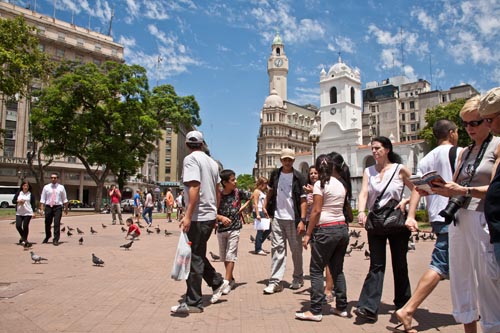 But my warmest memories are the welcome we got from the Libertador's wonderful staff, who couldn't do enough to make us comfortable. They spoke English and Spanish and provided suggestions on sightseeing, where to shop, changing money and bus routes. I suppose that's because most of the hotel's guests are foreign tourists (like us) or with a tour group. For us, the location was absolutely primo, on the corner of Avenida Cordoba and Maipu Street, a block from Buenos Aires' most famous pedestrian promenade, Florida Calle (street).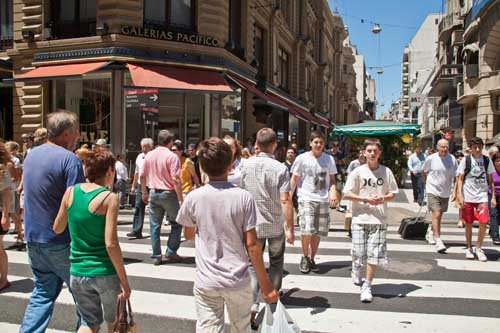 Florida Street, about ten long blocks from end to end, is where people of all shapes, sizes and origins flock to stroll the pavement and to gawk at the shops, galleries, flower stalls, coffee houses, cafes, hawkers, buskers and other people. Allow a couple of hours for this phenomenon, then wind down the afternoon at the Libertador's elegant rooftop pool, the Neptune Pool, which is large enough for a good 100-lap workout.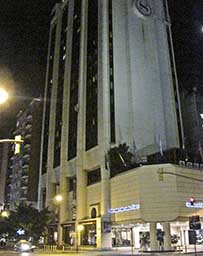 As for the guest rooms, I'd call the new décor a variety of "retro minimalist tour-group contemporary." This is a a long way to describe a soothing blend of dark wood furniture, pale oyster linens, new mattresses, TV, desk and an armchair. It's a clean, comfortable place for a nap, or a terrific night's sleep, but not the sort of place to encourage silent meditation. The idea is that you're in Buenos Aires to sightsee, shop or to take tango lessons, but not to sleep. When I read the labels on the impressively-silky sheets, I noticed that they were made in Argentina. What a surprise! It's a serious letdown when finely crafted local flavor says "made in China" on it. Nice, too, because "Argentinian made" means those jobs stayed home.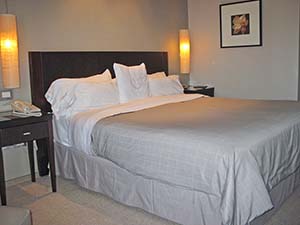 How did I find the Sheraton Libertador? I searched the Internet, found a list of hotels, compared prices and was drawn to the word "Sheraton." So much for the power of advertising. Now and always, the devil you know is better than the devil you don't know. But I did check the details and consulted the reviews before booking a room. And the Sheraton Libertador scored high on my top five "inner city" categories: (1) Super central location, near historic sites; (2) On-site restaurants for convenience; (3) Moderate room rates, starting at $125 per night and up; (4) Affordable or free Wi-Fi connections; and (5) Friendly, informed concierge and desk staff.
And now I have to ask. Do you know Buenos Aires? What's your favorite hotel?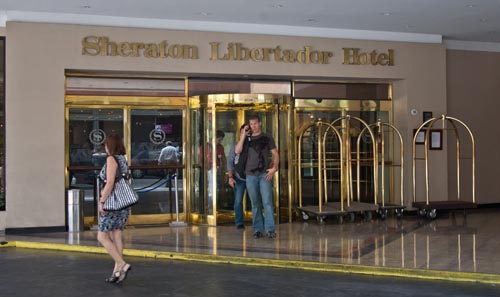 Story photos (c) Steve Haggerty/ColorWorld.
SUBSCRIBE TO & FOLLOW LIFESTYLE
HuffPost Lifestyle is a daily newsletter that will make you happier and healthier — one email at a time. Learn more