Nominees have just been announced for the third annual Taste Awards, and it looks like Gordon Ramsay Alton Brown, and Jamie Oliver might have to slug it out.
Kitchen Nightmares, Good Eats
and
Jamie Oliver's Food Revolution
are vying for victory in the Best TV Food Program category, as are
Top Chef, No Reservations
, and
The Science & Art of Cheese.
Also known as the Tasty Awards, the competition honors food, drink and fashion programs on TV and online in many different categories. Up for the Best New Series prize are GastroLab, The Fire House Chef, Ludo Bites America, Originals with Emeril, Extra Virgin, and Too Fat for 15. Up for the Best Online Beverage Program prize are Thirsty Girl TV, Wine Spectator, Andrea Wine, the Naked Wine Show, Drinks with Alie & Georgia, and Raising the Bar with Jamie Boudreau. Winners will be announced at Hollywood's Egyptian Theatre on January 12. Celebrity presenters include Top Chef's Fabio Viviani, Cook Yourself Thin's Candice Kumai, Brian Boitano of What Would Brian Boitano Make? ... and many more.
Being nominated in the Best Online Food Program category "feels great," says "Chef John" Mitzewich, the video blogger and former California Culinary Academy instructor whose Food Wishes series is a YouTube phenomenon. Mitzewich's friendly instructional videos on how to make such comfort-food classics as sloppy joes, mac-and-cheese, and potato chips are immensely popular. His onion-rings video has scored nearly two million views; a grilled-cheese sandwich tutorial has scored over 600,000.
"When you look down the list of Tasty Award judges, it's literally a who's who of culinary movers and shakers, so to be recognized by that group is a special honor."
Other competitors in his category include Bitchin' Kitchen, Average Betty, The Fire House Chef, Without Borders, WTF (What's This Food), and Jolene Sugarbaker the Trailer Park Queen.
What's Mitzewich cooking while he waits to find out whether or not he won?
"Right now I'm doing a lot of classic cool-weather dishes. Lamb braised in pomegranate, to be served over roasted pumpkin. I'm also just about to start a beef-short-ribs-stewed-with-kimchee experiment. And of course I'm filming lots of holiday recipes."
Michael-Ann Rowe is an actor/reporter/producer whose program Off the Beaten Palate is one of five competing in the Best Online Food Travel Series category.
"The Taste Awards have given me the opportunity to be nominated and I am so thankful. What a list of great shows and talent," says Rowe, who travels the world to visit restaurants, markets, wineries, fisheries, and farms.
News of Rowe's nomination arrived shortly before a visit to New York City's Tocqueville Restaurant, on whose menu she encountered Truffled Creamy Parmesan Grits and Sunny Side Up Country Egg. As if its basic components weren't comforting enough, the repast also includes cured veal bacon.
"This dish is something I am going to dream about for days," says Rowe, who calls it "an inspiration for me to replicate over the holidays."
The dozens of other Taste Awards nominees include Cupcake Wars, Man v. Food, Eat Street, Cake Boss, En La Cocina Para Mi Amor, Al Sabor del Chef, Ani's Raw Food Kitchen, and Throwdown with Bobby Flay.
Food-based reality programming -- which the Taste Awards celebrate -- has transformed the way the American public eats, cooks and even talks about food, expanding our culinary vocabularies exponentially. Twenty years ago, your average Joe couldn't tell caponata from confit. But the rise of food-based reality shows has made us all into experts, creating a perfect business climate for places where part of the pleasure of eating and drinking derives from feeling exceptionally smart.
At Daniel Patterson's new Plum Bar -- which opens Friday, November 11 in Oakland, California -- mixologist Scott Beattie creates artisanal cocktails from components that span the world and stretch the brain: Hangar 1 citron vodka, Maraska maraschino liqueur, saffron-rosewater syrup, Tempus Fugit liqueur de violette, Germain-Robin craft-method brandy, freshly pickled fennel, kaffir-lime leaves, huckleberries, five-spice syrup, pineapple guavas, sandalwood powder, lapsang-souchong tea foam. Accompanying bar bites include braised lamb brioche dumplings, quinoa fritters, and chocolate pudding made with coconut, dates and olive oil. The bar's walls are entirely papered with pages torn from poetry books.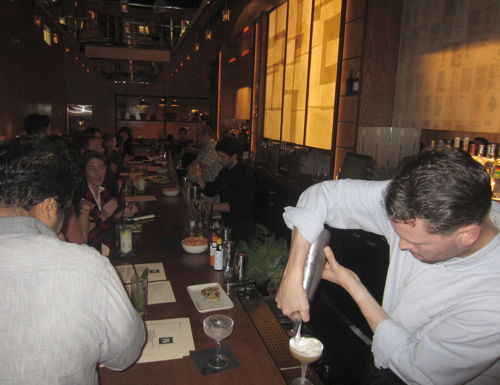 Anyone can wander in off the streets of Oakland and order the Bad Radish: a mixture of gin, lemon, pickling liquid, pickled black radishes and pickled watermelon radishes, soda and Italian parsley.
Could this place even have existed before food-and-drink reality TV?
Images courtesy of Kristan Lawson.
SUBSCRIBE TO & FOLLOW THE MORNING EMAIL
Get top stories and blog posts emailed to me each day. Newsletters may offer personalized content or advertisements. Learn more