How do you get the world to start rejoicing in your new fruit?
When your new fruit looks and tastes a lot like familiar fruits, and the fruit-eating public thinks it already knows every fruit -- except maybe crazy weird foreign ones, which this isn't -- then how do you get the world to start rejoicing in your new fruit?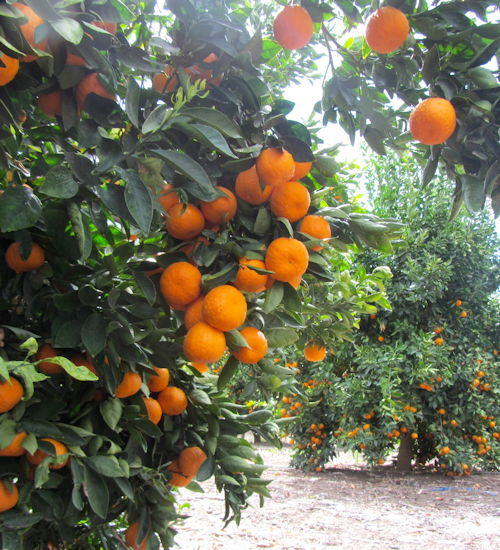 You could persuade prominent chefs to cook with it. You could prompt people to fall in love with its adorable name. You could say: Yes, it's a tangerine, but it's neatly seedless, sugary-sweeter, pocket-sizedly smaller, simpler to peel and enticingly more acid-free than its fellow tangerines! And it's in season from March to June, so that if you crave tangerines after all the other types of tangerine have gone out of season, these tangerines are like, "Hey, I'm here, I'm ripe. Happy Easter. Happy Mother's Day. Happy birthday, James Franco and Jet Li. Eat me."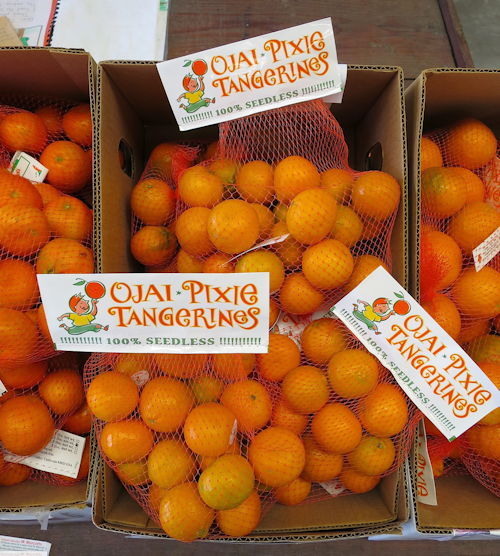 That's why this month is Ojai's first-ever Pixie Month.
Storybook sunshine, equestrian elegance, rumors of avatars, shady-lane serenity and its status as an alleged spiritual vortex have for over a century lured countless soul-seekers, celebrity-spotters and actual celebrities to the citrus-studded, spa-spurting Southern California town of Ojai. Nestled in a fertile, folded-gold valley 65 miles north of LA whose lingering sunsets locals lovingly call "the pink moment," it's kind of like Malibu without the waves. Reese Witherspoon sold her Ojai spread last year for just under $5 million.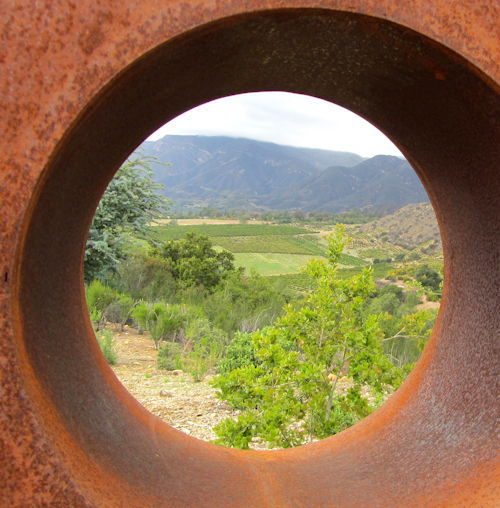 What the Napa Valley is to wines, the Ojai Valley is to citrus: Its fertility and frost-free Mediterranean microclimates fine-tune this east-west, sun-catching cleft from whose byways you can see orchards rambling clear to the horizon, heavy with brilliant spheres.
While many types of citrus have flourished here for well over a century, Ojai Pixies first became a commercial crop here -- and nowhere else -- after local farmer Jim Churchill randomly sampled a few at his friend Tony Thacher's farm one day in the late seventies and asked what they were. Thacher said they were Pixies -- first developed in 1927 at UC Riverside -- but that he personally grew only a few Pixie trees, from which his kids devoured nearly all the fruit.
Churchill and his wife Lisa Brenneis got serious about Pixies which, ten years later, first hit supermarket shelves. Today the Ojai Pixie Growers Association boasts over 40 members -- including Churchill and Thacher, whose UC Davis-grad daughter Emily Thacher-Ayala offers tours of her family's Friend's Ranch. On a good year, Ojai's Pixie crop weighs well over a million pounds.
They're so cute. But no, they're not Cuties' cuter cousins, because Cuties aren't a specific type of fruit and Pixies are. "Cuties" is merely a brand name applied to assemblages of various types of citrus fruits. Botanically speaking, there's no such thing as "a Cutie." Pixie, on the other hand, is the official name of an official fruit. And what a name. Doesn't it just make you want to draw an adorable face on the first Pixie you see? Sure it does.
So this is Pixie Month. Pixie flags flutter along Ojai's tiny, tony main street. Friendly, fitness-forward Oaks of Ojai resort is marking the moment with Pixie marmalade on its breakfast muffins...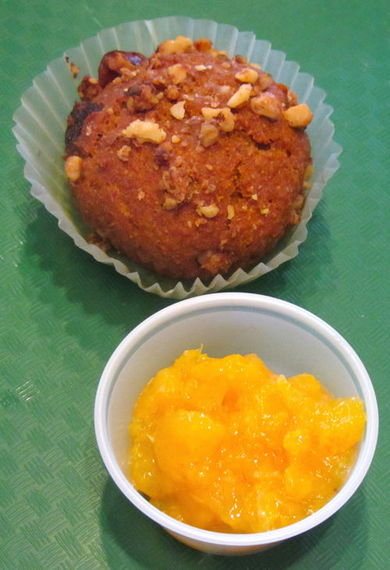 ... and with Ojai Pixie Treat Salad (see recipe below) and other dishes. Cozy, dog-friendly Lavender Inn mixes magnificent Pixie mimosas.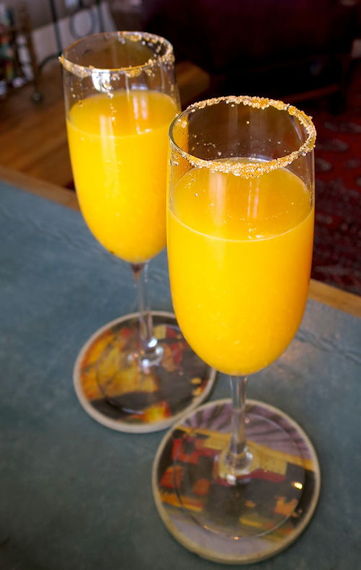 At downtown Ojai's Feast Bistro, Dumas-Père-trained executive chef Susan Coulter, who co-owns Feast with her partner Beryl Schwartz, makes a Pixie flatbread which -- come on, let's call it a Pixxa: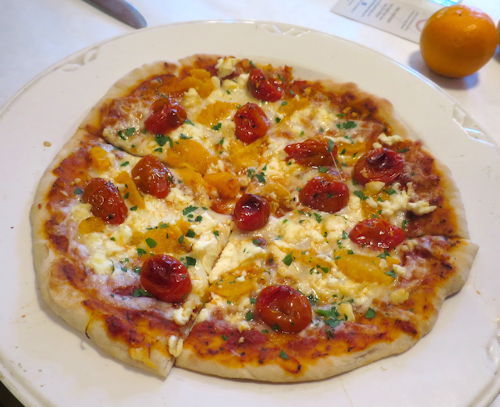 "Pixies can really stand up to some good heat," said Coulter, who tests its limits with a hot Pixie-chile jam.
At Azu tapas bar, also downtown, chef Laurel Moore serves Pixie chutney with salmon belly, Pixie-chile emulsion with scallop ceviche and Pixie tapenade with goat-cheese-roasted-beet bruschetta. Azu's house-made Pixiecello makes limoncello seem so last millennium.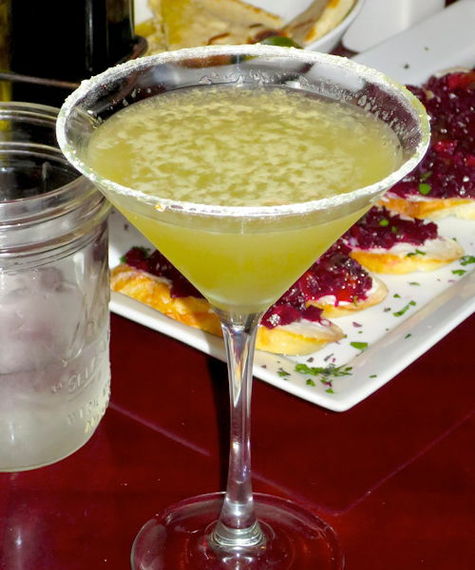 Knead Bakery's Pixie syrup cakes are Pixture-perfect: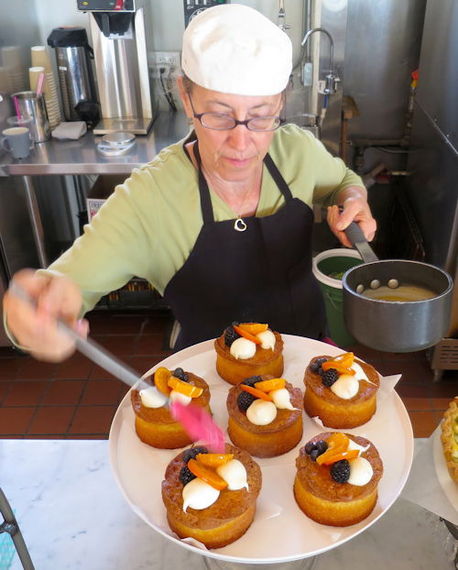 At the über-deluxe Ojai Valley Inn & Spa, seasonal cocktails include Pixie martinis and the exquisitely infantile Pixie creamsicle, comprising vanilla rum, peach schnapps, cream and fresh Pixie juice.
Executive chef Georg Paulussen at the resort's Maravilla restaurant created a monumental dessert whose many components include Pixie-peel confit, fresh Pixie "filets," and a gelled Pixie-juice disk:
When I asked him its name, Paulussen said "Pixie Concussion," then hastily backpedaled and said it didn't really have a name... yet.
"Pixies come straight to the point," said Paulussen, who loves their assertive sweetness and also serves Pixie ice cream, Pixie-mango coulis and Pixie-flavored roasted celeriac. The resort is staging a Pixie recipe contest, Pixie orchard tours, limited-edition Pixie-lookalike golf balls and Pixie mani-pedis.
"It's a very simple fruit, but it has so many applications," Paulussen said.
Rhys Keck, who is among the select local chefs who teach cooking classes at the Lavender Inn, shared with me her recipe for Pixie Crème Brulée (see below). Ojai's not the kind of town to host Pixie Parades and crown Miss Pixie and six Pixie Princesses. But to amp up the Pixitude during this and future Pixie Months, here are some Pixieriffic suggestions for Pixtastic, ePixcurian Pixie fare. (And no, these suggestions are not the result of Googling. They came straight from the imagination.)
Pixie upside-down cake. Pixie meringue pie. Pixie-que sauce. Pixie vinegar. Earl Pixie tea. Pixie punch. Pixie slaw. Pixie sorbet. Pixie pancakes. Chinese chicken-Pixie salad. Pixie biscotti. Pixie-pork sausage. Pixie-sirloin stew. Duck à la Pixie. Pixie pudding. Pixie butter. Pixie bisque, aka Pisque.
Peel away.
Ojai Pixie Treat Salad (serves six)
courtesy of The Oaks at Ojai
6 cups fresh greens, such as kale or arugula, torn or cut into small pieces
1/4 small red onion, slivered
3 Ojai Pixie tangerines, peeled and sectioned
2 avocados, sliced'1/2 cup sliced or slivered almonds, toasted
Toss greens with dressing (a Pixie-based dressing is recommended) and onion. Divide dressed greens on plates; arrange tangerines and avocados in a swirl pattern; sprinkle with almonds.
Pixie Crème Brulée (makes 12)
courtesy of Chef Rhys Keck
1 qt. heavy cream
zest of 3 Pixies
8 egg yolks
1 c sugar
1 t. orange oil
2 T. Cointreau
1 t. vanilla
extra sugar for caramelizing
Preheat oven to 325 degrees. Heat cream and zest over medium heat until bubbles form at edge of pan. Let steep about ten minutes in pan off heat. Whisk yolks and sugar together in large bowl. Pour a little hot cream/zest into yolk/sugar mixture and mix well. Add remaining cream in a steady stream. Add vanilla, orange oil and Cointreau. Strain custard into pouring vessel. Pour custard into 6 oz. ramekins. Place ramekins in baking pan. Place pan in preheated oven with edge close to front of oven. Immediately pour hot water from a pitcher into the pan up to around 1 inch high around the ramekins. Gently push the pan into the middle of the bottom rack. Bake for about forty minutes until, when gently shaken, they no longer jiggle. Let cool in pan. Remove from pan. Chill at least four hours. When ready to serve, sprinkle sugar on custard and caramelize until desired topping is achieved.
All photographs by Kristan Lawson, used with permission.