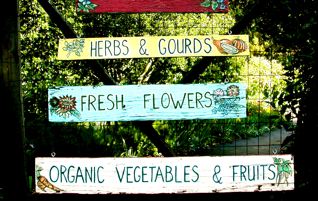 Excerpted from TALKING DIRT: The Dirt Diva's Down-to-Earth Guide to Organic Gardening by Annie Spiegelman (Penguin Group, 2010)

Autumn
If You Build it They Will Come
What you do in the fall will help make your spring and summer flower dreams come true, so get those kids off to their first day of school and get to work in your yard. Fall is a critical time to clean up the garden. This way you'll have fewer pests spending the winter huddling under piles of debris and less chance of disease spreading from old plants. Pick up fallen branches, pots and rubble you've been eying all summer saying to yourself, "I'll pick that up when I'm good and ready or, maybe in the fall." Fall is here. Pick it up so snails, slugs, insects and fungal spores find a new skate park to hang out at and use swear words. Here are some other fall chores that your garden will thank you for later:
• Pull up dying annuals, weeds and vegetables. Rake up leaves and add all of this to your compost pile.
• Walk around your yard and look for diseased plants; white powdery mildew, orange rust or black spot. Pull out diseased plants or if you must keep them, prune them back hard, aiming to give them better air circulation and more sunlight. Toss all parts into the garbage, not your compost pile which may not be hot enough to handle those evil spores. Rake the area around infected plants and toss infected debris into the rubbish as well.
• Rake lawns and toss the leaves into your compost pile or into your flowerbeds. Or, mow them down and scatter them on your lawn as a slow release fertilizer. Make sure to lightly scatter only a very thin layer of leaves there. Too much can harm the grass. Please, please, please, stop putting leaves in plastic bags and sending them to our overcrowded landfills. Whoever came up with that idea should be so fired! Plastic?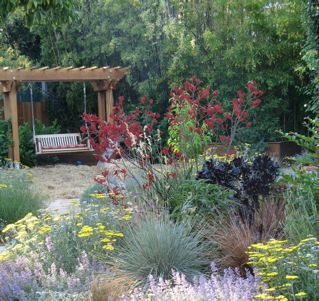 • Once your yard is raked and cleaned up, add a 2 or 3-inch layer of compost to your flowerbeds, and then add a 2-inch layer of mulch on top of that. This way, the millions of soil organisms underground will keep amending your soil all winter while you don't do a thing but sit indoors at your window sipping hot chocolate, dreaming about how next summer's tomato plants will surpass your evil twin sister's homegrown tomatoes. (She's not even a bona-fide gardener!) Not that you're bitter . . .
• Plant 'cover crops' to naturally add nutrients to your soil and make your winter garden look healthy and busy. Especially plant these where you'll be growing your spring and summer vegetable garden.
• In colder climates, dig up tender summer bulbs and store them in a bag of wood shavings or peat moss in the garage for the winter.
• Add new grass seed to bare patches of lawn. Or, get rid of that whiny lawn and plant groundcovers now or plant an "eco-lawn" from www.wildflowerfarm.com. See Chapter 21 to learn how to 'sheet mulch' for an economical and ecological way to remove your lawn.
• In warmer climates, you can divide most spring and summer blooming perennials now. In colder climates (zones 3,4,5) wait till early spring.
• Plant spring flowering bulbs and garlic.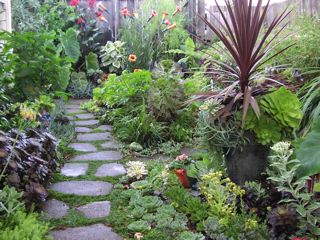 • If you live above zones 6 or 7, you probably have a cool-season grass so you can fertilize your lawn in the fall and the spring with an organic fertilizer high in nitrogen. (Warm season grasses growing in warmer climates will need to be fertilized only in the spring and a few weeks later.) You can also fertilize with sifted compost instead of a store bought fertilizer; spread evenly over the lawn just before rain is expected. Mow the grass a week after you fertilize, if the weather is dry. Rake the nitrogen-rich clippings around your lawn and walk away.
• Rose growers in zones 4 and 5 should protect their roses by tying pruned canes together and building a one-foot tall cone of soil around each rosebush and holding it together with a mesh hardware cloth. Because I have grown to be a climate wimp living in sunny California, I haven't done this but my Vermont rosarian pals swear by it. Check with your local nursery if you live in area that goes below 15 degrees Fahrenheit for extended periods of time.
• Rinse garden tools in a solution of one part bleach to three parts water. Then coat them lightly with oil so they don't rust. You can also wipe them in a bucket of oiled sand that you keep in your shed, and then keep them in the shed. Don't leave them outdoors next to your putrefying garden gloves. Wash and dry putrefied garden gloves and put them in the shed as well.
For specific fall garden questions in your 'hood, contact your local Master Gardeners. You can find my fellow garden geeks at the American Horticultural Society's website at www.ahs.org There you can type in your zip code to find the local Master Gardening group.
Now get out there and get dirty!
This Blogger's Books and Other Items from...
FOLLOW HUFFPOST