Eight years ago, a group of Bay Area filmmakers, who were used to working on Hollywood productions with A-List actors, petty entourages and dueling motorhomes, created a documentary film company entitled Citizen Film where they could tell personal stories with care and dignity. Their mission: To work with community institutions to make and distribute films that foster active participation in civic and cultural life. Say what? What about the free Starbucks run, on the set, after the free gourmet catered lunch? And the tall director's chairs that make you look important?
Citizen Film founders Sophie Constantinou, Sam Ball, Kate Stilley and Lauren Lezin found their latest independent film project close to home. They teamed up with director Helen De Michiel of Thirty Leaves Productions to produce a one-hour documentary about the history and implementation of the groundbreaking food and nutrition policy that was created in Berkeley, California in 1999. The goal of the Berkeley School Lunch Initiative was to serve nutritious, fresh, tasty and locally grown food for 5,000 children in the Berkeley Unified School District. Although it was considered "extreme" and somewhat "impossible" at the time, the program is now being emulated around the world as the movement to reform injurious school lunches gathers momentum and urgency. "The long road to the implementation of the lunch program took almost a decade. It took a cast of characters from parent volunteers to high profile public figures like Alice Waters and a lot of community organizing," says producer and director of photography, Sophie Constantinou. "It wasn't easy. Over the years, it had many stops and starts."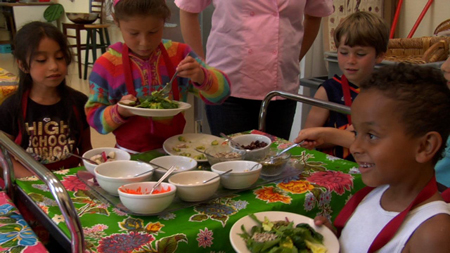 The film, tentatively called Open Mouths, Open Minds, looks at how a diverse community (where over 50 percent of the children qualify for federally-funded low-income school lunch assistance funds) has achieved the inconceivable. They stopped feeding students, from elementary school to high school, donuts for breakfast and frozen pizza or microwaveable chicken nuggets for lunch. Instead the students are served a hot entree cooked from scratch, a salad featuring locally grown greens and all the organic milk they can drink. The filmmakers hope to change deep-seated school institutional behaviors and develop a toolkit for use by other communities, no matter their budget or funding, so that American children can eat healthy, local and organic food, significantly opening up their quality of life, health and thinking.
"I decided to make this film because the story is so rich and nuanced, filled with victories and dilemmas. By no means is it pure and simple. Underlying it all though, it is a story of a vision, of passion, and of action," says the film's director, Helen De Michiel. "It's a story of community .... of people coming together despite their differences and over many years, working together to change the way the children of Berkeley eat and think about food, and how food fits into the whole of their communities, histories and health."
The filmmakers follow Anne Cooper, chef, author and Director of Nutritional Services for the Berkeley Unified School District, as she works with a determined group of parents, cooks, administrators, teachers, community activists, public health advocates and local food purveyors. They all come together, literally, at the table. These foodies, movers and shakers are now leading the national movement to eliminate childhood obesity and change the way our children eat. "You want your kids to be able to learn better? You want them to be able to think? You want less behavioral problems? You HAVE to feed your kids well," says Cooper. "We have kids entering kindergarten with Type 2 Diabetes, 10-year-olds with kidney stones, 14-year-olds with clogged arteries. We need to change the way we feed our children." Trust me. After watching Anne Cooper in the school kitchen, rattling off alarming childhood-obesity-stats with an extremely large spatula in her hand -- you will sit up straight, swallow your gum and pay attention!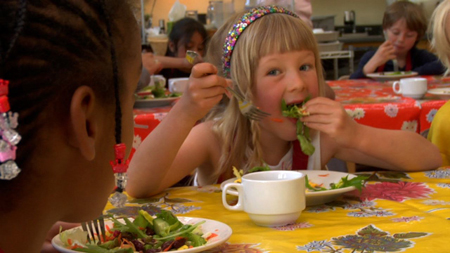 Along with the one-hour documentary, these determined filmmakers are also launching Lunch Love Community, a 'social media campaign' consisting of (eight) short webisodes they'll share online. (http://www.facebook.com/.../Lunch-Love-Community/10150121706645501) "We hope to inspire viewers of the webisodes to consider ways that they too can work towards changing the way their children eat and relate to food, in their own locales, neighborhoods and school districts, " says De Michiel. She continues:
The film and the webisodes will tell the amazing story of the power of community and the deliberate and persistent creation of change over time. It has not been easy or safe, and the program (given the economy) is always vulnerable. Yet, I still love the idea of exploring the relationship of food to children, to community action, and to making a dream a reality, even when it is imperfect.
The producers also credit the Center for EcoLiteracy who helped develop and implement curriculum that could be used throughout the school district K-12. The Ecolieteracy website (ecoliteracy.org/change/school-food) has a downloadable 175-page guide entitled "Rethinking School Lunch" to help lead the change nationally.
So, that's the good news. Here's the bad: Twenty billion dollars are spent every year marketing junk food to children. There always seems to be so much money when it comes to 'polluting' the world and so few funds available when you're trying to 'save' it? How did we go so wrong as a society? Whoever took our brains better give them back ... /em> So, as usual, these heroic filmmakers will only be able to complete their film about these heroic community leaders, cooks and educators if they have the financial backing necessary for production, editing and distribution. Get involved and you will earn a gold star and a pink pony from me. Really.
.
"For me making documentaries is part activism, part art," says Constantinou. "If good storytelling can be connected with important change then we're doing something right."
Photos by and courtesy of Sophie Constantinou
SUBSCRIBE TO & FOLLOW THE MORNING EMAIL
The Morning Email helps you start your workday with everything you need to know: breaking news, entertainment and a dash of fun. Learn more