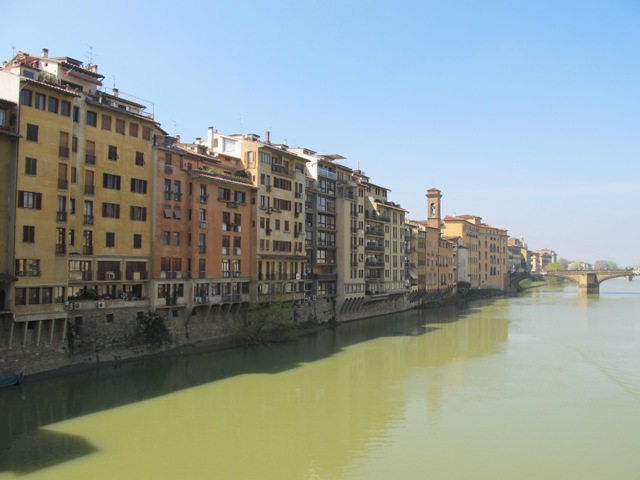 As opposed to Rome, the first weekend of April is not traditionally sunbathing weather for Florence. However, I was there on Friday and Saturday and enjoyed surprising temperatures of 24°C. The trees were blooming, the sun was shining; everything was beautiful which, of course, meant the tourists were out in droves.
That is the trade-off in Florence. You get wonderful museums, wonderful art and an amazingly colorful city, but the downside is the tourist-clogged streets which, at times, beggar belief. There is an importance, almost an art form in itself, to being able to enjoy the city without letting it get to you. So really what one must work out is how to avoid the crowds.
Firstly, for restaurant recommendations, never listen to a hotel concierge, particularly an Italian one! Many restaurants in Florence seem to be 85% tourist, and yet, because obviously the locals still want to eat out, some are tourist-free and very good -- you just need to know about them. One restaurant I like is Buca dell'Orafo, which serves authentic Tuscan food and is very popular with Florentines (I usually order the meatballs, with a nice bottle from Chianti, but they do everything well). It has an unassuming entrance, a stone's throw away from the Ponte Vecchio, proving you don't have to skirt the city to find something good; you just have to look for it.
Take advantage of some of the museums which open later. Rather than going in the middle of the day like everyone else, go early evening. For example, the Palazzo Strozzi, currently showing an exhibition of Picasso, Dali and Miro, is open until 8 pm (11 pm on Thursdays) and is a gallery that needs no more than 45 minutes. The same with viewing the city, an ideal time is either first thing in the morning or last thing at night, particularly now that the days are much longer. So my advice is, don't be a sheep and follow the hordes at peak times. Choose your times carefully and you can get the best out of Florence.