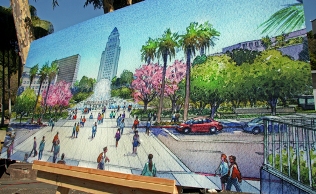 On this sizzling Thursday morning, I witnessed the beginning of the transformation of LA's urban space, as we broke ground on the new downtown Civic Park. The site of this new urban oasis has been underused for years --buried in concrete parking lots, sidewalks, and streets. Now, it will offer 12 acres of trees, grass and boundless green space for residents and visitors to our City.
Slated to be completed in 2012, the park will extend from the plaza of the Music Center to the steps of City Hall. That's five city blocks--and we're talking about LA blocks here, not New York blocks--of concrete that will bloom into connected, open green space.
This new space will unify Los Angeles, creating a beautiful community space in the heart of LA's cultural center, near both public transit and freeways, that will draw Angelenos from every corner of our city. Civic Park will be a place of relaxation and recreation, where residents can enjoy free festivals, children's activities and performances.
Also, the park will provide an economic boost by helping make the Grand Avenue Project a reality. Construction of the entire Grand Avenue Project--an ambitious vision that sees Civic Park as a hub for connected housing units, retail stores, and cultural institutions--will create 29,000 construction jobs. I sometimes joke that I'd like the official bird of Los Angeles to be the crane, because nothing thrills me more than the sight of hard hats and shovels, symbolizing the growth and development of our City.
Today, we took a major step towards realizing our vision of a greener, cleaner Los Angeles, and we reinforced our commitment to building a better economy that will improve the quality of life for all Angelenos.
Our miraculous downtown renaissance has already brought great nightlife, food, music and art to our urban center. Now we'll have a world-class park to tie it all together.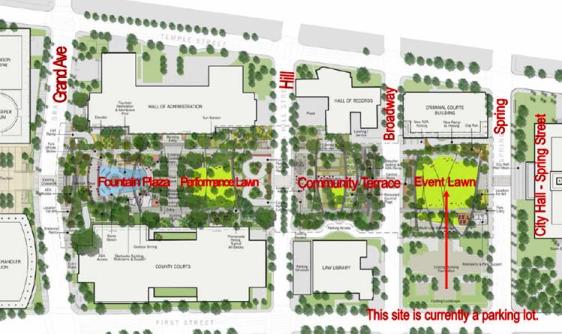 SUBSCRIBE TO & FOLLOW THE MORNING EMAIL
Start your workday the right way with the news that matters most. Learn more