I was obsessed--obsessed!--with coverage of the Chilean miners' rescue yesterday. The survival, the reunions, the Oakleys, the mistresses...and the ponchos.
Is it just me, or does this waiting family member look kind of hipster?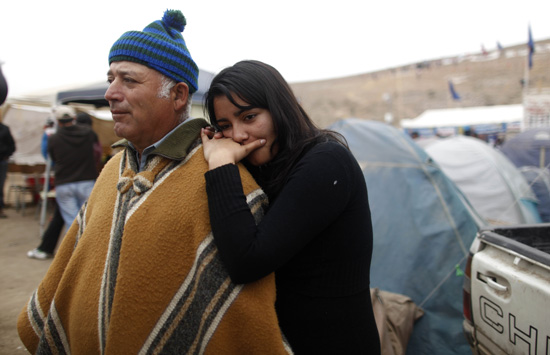 Carlos Galleguillos and Tabita Galleguillos, relatives of trapped miner Jorge Galleguillos stand at the camp where relatives wait for news outside the San Jose mine near Copiapo, Chile, Monday Oct. 11, 2010.
So now I'm inspired. I'd like to use this opportunity to suggest that ponchos become one of this fall's raddest wraps. You can buy them here, here, and here.
P.S. We also really like the traditional Chilean hat, as worn by future President Sebastian Pinera below.