*Scroll all the way down to skip my account and see a slideshow of the show*
Here's what it's like to lose your Marc Jacobs virginity: you walk out of the show feeling dizzy, clammy, heart pounding, a little nauseous, and slightly feverish. In fact, I think I literally had a fever--as I'm suffering from the cold that the rest of New York has right now--but I also know that the feeling was a result of my excitement at having scored a spot at Fashion Week's most coveted show.
I approached The Armory about 20 minutes before showtime, unsure of whether I even had a seat at all since my invitation never did arrive in the mail (just via email). I had also grabbed a snack on the way, as Marc Jacobs infamously left his audience waiting for two hours in 2007. Granted, he's been outrageously punctual ever since, but I didn't want to cloud my first Marc Jacobs experience with "hanger" (a friend's brilliant conjunction for what happens when hunger meets anger). But the trepidation was for naught: the publicist politely checked my name off on her clipboard, wrote out my seat number, and next thing I knew I was at the Marc Jacobs show.
I should point out that the Huffington Post has never scored a seat--not for lack of trying!--at a Marc Jacobs show before. Despite page views, Newsweek articles and whatever else supports the rise of so-called new media, the front row--and most other rows, for that matter--still goes to publications like Vogue, Elle, Harper's Bazaar and The New York Times.
But not this time! Here's physical proof of my seat: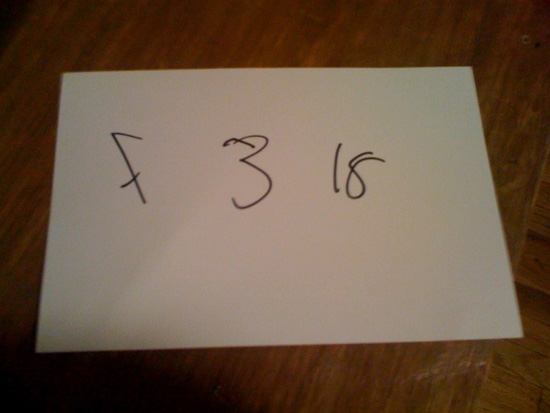 I walked into the grand room with a gold Frank Gehry-esque monument in the center and scanned the crowd. I spotted nary a celebrity among the famous fashion editors (Andre, Anna, Corinne...), but once I sat down, I spied non-editor Alexa Chung in front of me. (I was in the third and final row, by the way. But it was still a seat, in a row!)
As I was settling in and trying to write my first tweet from the boiling hot room (it had trouble sending because I think the whole room was doing the same), who should sit beside me but Brad Goreski from "The Rachel Zoe Project." I won't irritate you with a tired "I die!" joke right now, but I was freaking out. Forget Marc Jacobs--I'm on a crazy "Zoe Project" bender right now. He smiled brightly and adorably and we introduced ourselves. He informed me that he has the Huffington Post bookmarked on his computer for "the entertainment and fashion" (See! We are influential, KCD).
Here we are, sweating in our seats: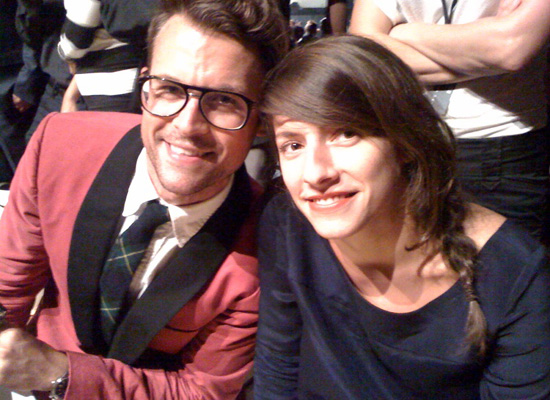 I then spotted a straight-haired blonde getting photographed two rows in front of us, and confirmed that that was his boss, Rachel Zoe. I inquired about the new 'do that I'd been seeing around Fashion Week, and he said it was her new look, that "she's doing a Brigitte Bardot thing."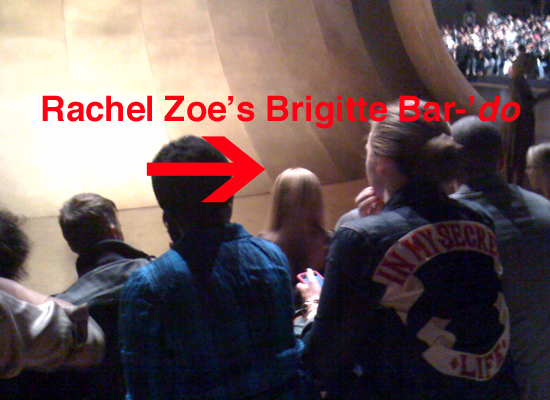 I should mention that at 7:50, a guy on the loudspeaker announced "Please take your seats. The show will begin in 10 minutes."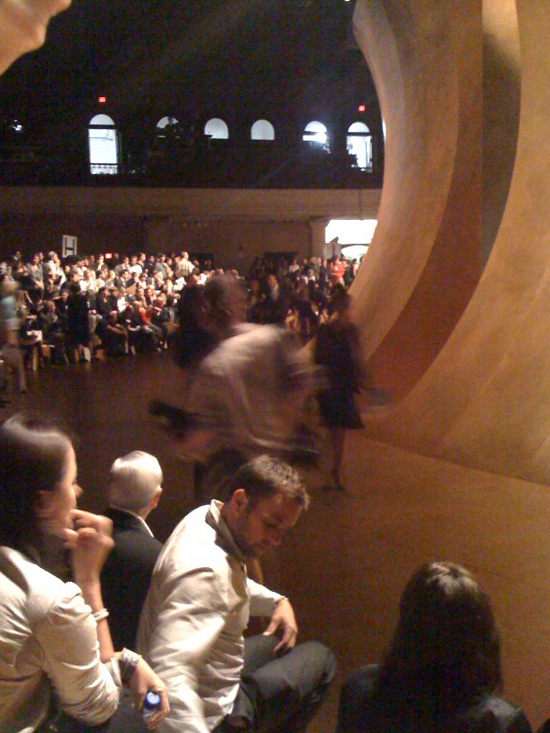 And sure enough, at 8:00:00, the lights dropped, the people still entering sprinted for their seats, the music blasted and the models emerged from that golden monument.
Oh yeah, so the clothes: as someone who was born in the '70s (at the very end of it), I have a special affinity for that decade--the hedonism, the frizzy natural hair, the Led Zeppelin, and the gold lamé (see the dress I commissioned my mom to make for my piano recital, age 6). So the Marc Jacobs Spring Summer 2011 collection was right up my alley, with clothes that glistened like they were from Studio 54, classical music that rang as though we were in the halls of Versailles, and hair and makeup that came straight out of the '20s (another decade I have an affinity for, minus a personal connection). And, as commenter hottingers points out, it was a big homage to Jodie Foster in "Taxi Driver."
Throughout the show my new friend Brad (Hi Brad!) and I glanced at each other and shook our heads and uttered a few "Oh My God"s. (He repeated the same ritual with his boss immediately following the show.) At one point, as an eager stander inched her way in front of me, I almost fell off the end of the bench trying to get a view. Brad caught me and said "There's plenty of room. You can sit in my lap." I didn't, but thank you for the offer, Brad Goreski.
The show wraps up (and you can see that stander's elbow on the left):
(And scroll down for a proper slideshow of the show.)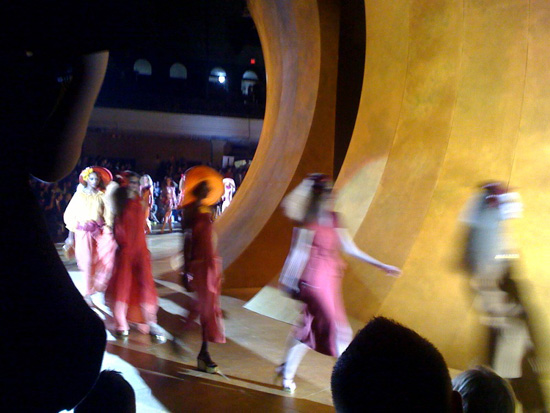 At the end of the show, Marc Jacobs emerged and walked (nay, floated) around the circle, regally acknowledging his attendants. As I clapped and shot this shaky photo, Brad delivered his review: "So major."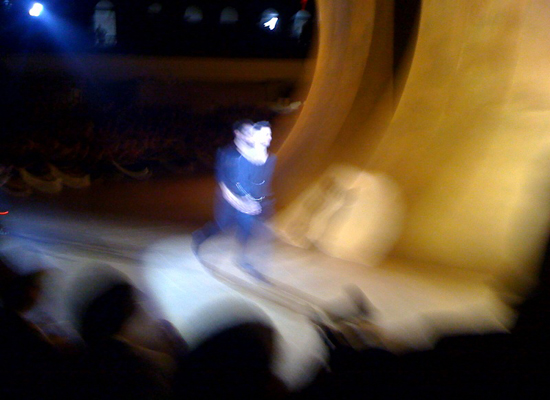 And then it was over: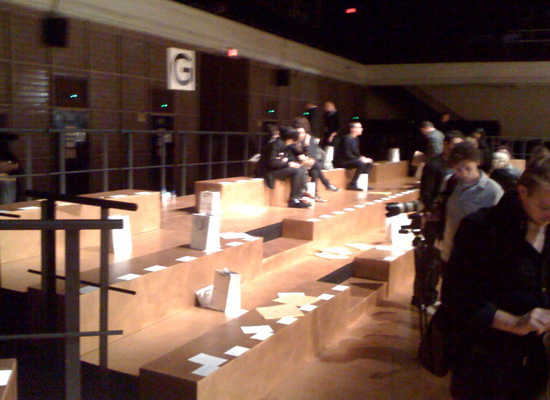 And since you might be wondering, here's what was in the gift bag: Marc Jacobs Bang eau de toilette, a Bang t-shirt, and a two-page thank you list that included Hillary Clinton, Kim Gordon, Sofia Coppola and absolutely no Lorenzo Martone.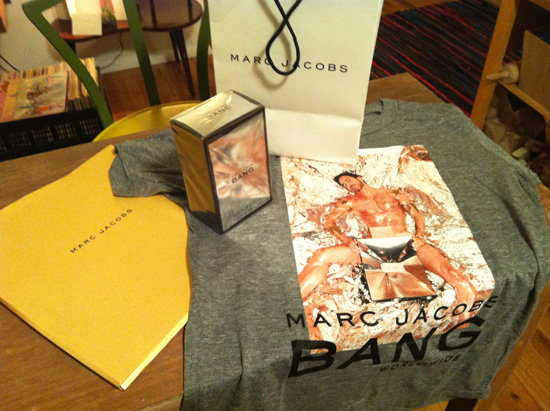 Here's a good chunk of the show. What do you think?
(Speaking of thank yous, a special thanks to Verena von Pfetten of Styleite.com for being a true pal and meeting me for a much-needed post-show drink around the corner, where we imbibed among a few of the show's models and Michael Pitt.)