New HuffPost Features: More of What You Come Here For
From the beginning, HuffPost has worked to bring our users the most dynamic mix of breaking news and opinion possible -- and to use the latest technology available to improve the user experience, and to bring you more of what you come here for.
With this goal in mind, we are rolling out a number of new features that will continue to make HuffPost a go-to web destination for up-to-the-minute news and fresh takes on the stories everyone is talking about.
For starters, we know that our readers have always loved the rapid updates on HuffPost's front page, so we've switched over to an Ajax interface that lets our stories and images load faster -- making the site more vibrant, and the updates more seamless. No more clicking and waiting for the site to refresh; the latest news stories, blog posts, and comments now automatically appear on the page.
We've also upgraded our Quick Read feature, which allows you to get the gist of a story without clicking to a new page. Now, when you open a Quick Read box, you are also shown four other stories that your fellow HuffPost readers have been drawn to -- and you can rapidly check out each of those stories without ever leaving the Quick Read box you initially opened. If you've never used the Quick Read feature, give it a try.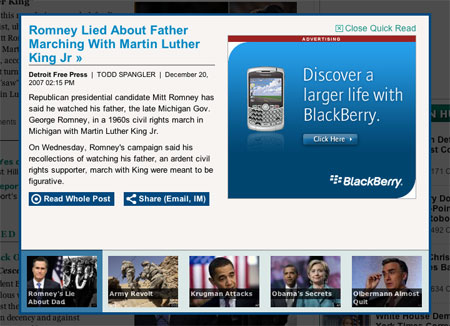 HuffPost's upgraded Quick Read feature
And we've added a "Most Popular on HuffPost" feature on the right hand side of every section's home page that allows you, at a glance, to see the hottest stories and blog posts from the last few days. It's continually updated and showcases a rotation of the top 12 HuffPost pieces at any given moment. And if you have your own blog site, you can add our Most Popular widget to it.
Of course, since these changes have been made with you in mind, we want to hear what you think of them -- good and bad. Let us know by sending an email to updates@huffingtonpost.com.
Thanks again for reading, posting, talking back, and being such an integral part of what we do. And if you haven't made HuffPost your home page, you can do so by clicking here.
Follow Arianna Huffington on Twitter: www.twitter.com/ariannahuff