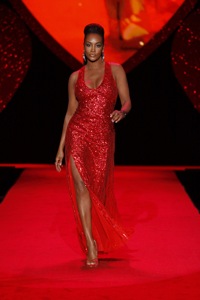 "I'm breathless at being backstage with more stars than I can remember," Tim Gunn said at the start of the Heart Truth's Red Dress Collection 2009, which opened New York fashion week Friday morning. The show is not your typical fashion show, with celebrities from the likes of Hilary Duff to Susan Lucci donning red dresses from 20 different designers. "Being healthy never goes out of style," said Gunn of the show, which promotes raising awareness about heart disease, the number one killer of women.
"It's a great way to kick off fashion week by reminding women about having a healthy heart and what the symptoms of heart disease are, and how to prevent them," says Fern Mallis, Sr. VP, IMG Fashion. "Because without healthy customers, there are no customers. You can't look beautiful on the outside without being healthy on the inside." The Heart Truth raises awareness that heart disease is largely preventable, and risk can be greatly reduced through healthy eating, getting at least 30 minutes of exercise a day, being at a healthy weight, not smoking, and reducing stress.
"The symbol of the red dress is that you care about the heart," says Vivica A. Fox, who dazzled in a gown by Jenny Packham. "And especially because in the African American community, heart disease is prevalent." In fact, not only do women of color have higher risk factors for heart disease, but they are also more likely to die of the disease. "I'm working the runway for my sisters," says Fox.
For Katie Couric, who donned a floor length Carmen Marc Valvo gown, told us backstage she was thrilled that heart disease, which wasn't seen as a particularly glamorous topic, is getting the attention it needs. "And as someone who talks about colon cancer," she says, "I can totally relate to that."
If you need any motivation for getting active, just imagine Couric's busy schedule. "I sometimes have a hard time doing that myself," she says. "But I think you just have to carve it out. And whether it's getting up a little bit earlier, which is hard for me, as someone who got up early for 15 years, or feeling like you just have to get it in your schedule, I think everybody just has to make it work for them."
With a quickly revolving soundtrack and an enthusiastic crowd, the show is one of the best shows of fashion week by far. For these stars, walking the catwalk was a piece of cake. "Everyone keeps telling me that if you can walk on a beam, then you can probably do this," says Olympic champion Nastia Liukin, dressed in a very gymnastic Max Azria dress.
Lynda Carter, in a gorgeous Carolina Herrera gown that revealed her wonder curves, had the most fun on the runway, shaking her hips and singing along to Chicago's"When You're Good to Mama." Cicely Tyson tiptoed down the runway, showing off the ballon sleeves of her B. Michael gown in royal fashion. Gerry Butler, sitting next to David Meister, cheered "Good one!" when Samantha Harris, dressed in his pal's gown, walked past.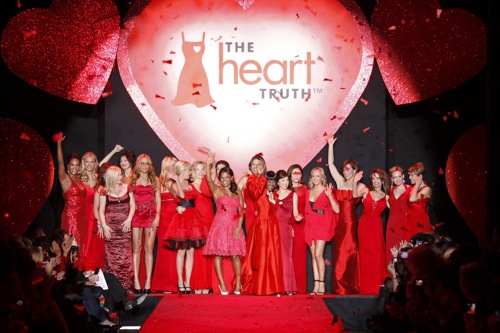 The show ended in a shower of red dress confetti as the ladies walked onstage in an army of red. This is the sixth year the show has been produced, and it's clear women are taking notice. Deaths from heart disease have gone down in each of the seven years since 1999, a decrease of more than 15%, according to the National Institutes of Health. However one in four women still die from the disease each year. To find out more ways to protect yourself, visit Heart Truth.