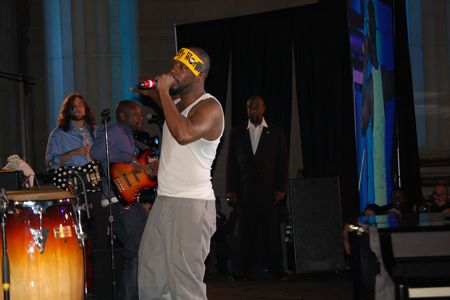 via CGG
"Obama Day should be every day!" Wyclef Jean declared in the VIP room before taking the stage at last night's Green Inaugural Ball at the Andrew W. Mellon Auditorium. "I've been his biggest supporter from the start!"
The Grammy winner lived up to that self-proclaimed title again and again during his hour-long set. Sporting a yellow bumper sticker across his forehead that read "BaRack My World," Wyclef energized a rather subdued crowd of environmentalists by injecting almost every song with chants like "Barack Obama in the White House." He even rhymed the chorus of "Gone Till November" with "Obama."
The President-elect was not in the audience, although Wyclef said Obama himself had told him he was a fan. Upon meeting him, Wyclef says: "Obama was like, 'Michelle, tell Wyclef what's in our car right now,' and she said, '[Wyclef's CD] The Carnival'."
Named one of Treehugger.com's "Top 5 Most Buzzworthy Green Musicians," Wyclef is famous for his work with the Fugees, and with Shakira on his song "Hips Don't Lie," which is one of the most successful radio singles ever. Yet the Haiti native gets major props for his dedication to improving the lives of the Haitian people via his charities, the Yele Haiti Foundation and Together for Haiti. The former supports projects that are advancing education, health, environment, and community development on the island. (Fast fact: Wyclef said backstage that although he's an island boy, he can't swim and is terrified of the sea!)
He told us that he's hoping Obama might help Haiti out by coming up "with a situation where we can create jobs for the population. In order to do that, you have to have infrastructure. I would love for Congress to engage in a plan and monitor how [Haiti's] money is being spent."
Tomorrow, Wyclef says he'll be participating in America's National Day of Service by talking to D.C. school kids with the civil rights activist Rev. Al Sharpton: "It's very important with this new administration that we engage [with] the actual community."
As for Tuesday's inauguration ceremony, Wyclef says nothing will keep him from his assigned seat in front of the U.S. Capitol: neither his super-hectic schedule, nor the frigid temperatures -- even if he has to layer up with seven sweaters!
From CelebsGoneGood.com.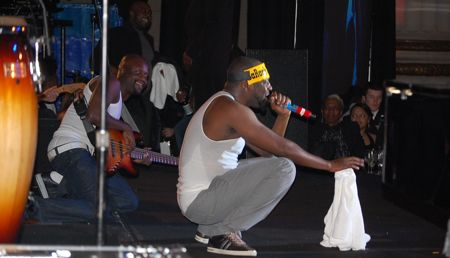 SUBSCRIBE TO & FOLLOW ENTERTAINMENT
THE spot for your favorite fan theories and the best movie recs. Learn more