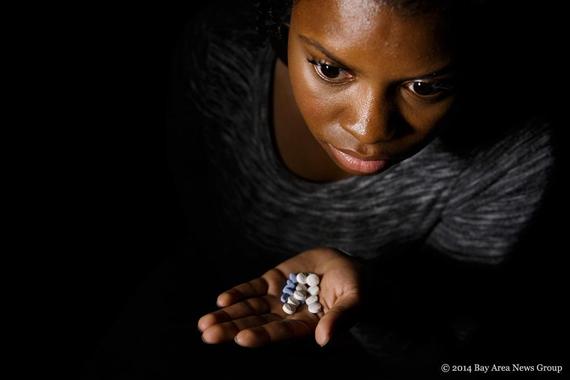 Photo credit: Dai Sugano/The San Jose Mercury News/Bay Area News Group
A University of Texas Health Science Center resident moonlighting on a weekend shift prescribed Rodriguez a 1-milligram dose of Risperdal, another antipsychotic. When Rodriguez refused to take the pill, [the resident] gave her a 20-milligram shot of Geodon instead.

Three hours later, nurses found Rodriguez in her bed, unable to speak or move, with "shallow and labored" breathing. Due to a stunning breakdown in communication, as evidenced by facility records detailed in court, it took nearly two hours for an ambulance to show. When paramedics arrived, Rodriguez couldn't move her limbs and had cold, clammy skin. She gasped for air. Her lips were pale, and her blood pressure had tanked so low the paramedic couldn't get a reading.

Emergency room doctors later determined Rodriguez suffered from a cardiac arrhythmia that triggered a full-blown heart attack. She slipped into a coma and died the next day.
Patient 4 was a patient at the Austin State Hospital in 2004. Respondent [Fischer] was treating Patient 4 for psychological issue including past sexual abuse by a family member. At the time of his admission Patient 4 was approximately 15 years of age. During counseling sessions with Patient 4, conducted in Respondent's office behind a closed door, Respondent forced Patient 4 to perform oral sex on him. Respondent also performed oral sex on Patient 4.
[He was] a professor and member of the TMAP advisory panel in the mid-1990s when he "cultivated a financial relationship with J&J, accepting substantial fees and honoraria and soliciting research grants from the company," according to Rothman's report. "As a result, Dr. Crismon subverted the scientific integrity of his research and educational presentations, and biased his decision-making capacity as a member of TMAP."
In yet another egregious example of ghostwriting outlined by Rothman, Excepta Medica drafted a study purportedly showing that Risperdal was the established treatment in children and adolescents with severe behavioral disorders and then went looking for some key opinion leaders (KOLs) to attach their names to the article. They finally found Dr. Peter Jensen, a pediatric psychiatrist (who was paid more than $80,000 by J&J in consulting and speaking fees between 2002 and 2004) to attach his name to the study, which was published in The European Journal of Child and Adolescent Psychiatry in 2007, again with no acknowledgement of the ghostwriter's role. Rothman cites example after example of overlap between the ghostwriter's draft and the published piece and concludes that "the authors improperly put their name on it and failed to credit EM's work."
SUBSCRIBE AND FOLLOW
Get top stories and blog posts emailed to me each day. Newsletters may offer personalized content or advertisements.
Learn more