Those raucous MoMA PS1's summer Warm Up sessions are always a mess in the best way, but this year's edition is on a mission to do more than entertain. This morning MoMA announced the winning design in its Young Architects Program, destined to stand temporarily in the PS1 courtyard and provide museum-goers with shade, seating, and sweet hydration during those sweltering parties. It's a doozy, a mass of fabric spikes christened "Wendy" and designed to do more than provide a backdrop for dancing -- it also cleans the air. Over the course of the summer (starting it June), the pop-up work of green engineering will have made the same impact as having taken 260 cars off the road.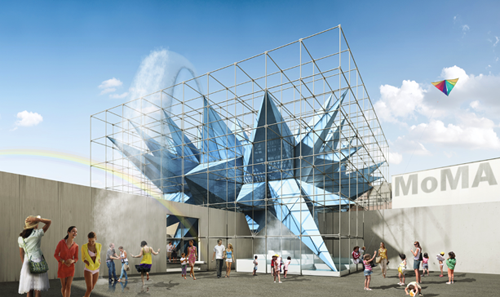 Rendering of HWKN's "Wendy," the winning design of Young Architect's Program 2012 / Courtesy HWKN

Designed by New York architects HWKN, Wendy is a 70-foot-tall mass of environmentally-friendly fabric stretched by a framework of scaffolding that will spill over the different sections of the outdoor space. More so than any of the other 12 temporary structures PS1 has erected in the past, it serves as a kind of architectural Swiss Army Knife: it's part pool, part hydrant, part soundsystem, part sculpture, and -- yes -- part air purifier. This morning, ARTINFO asked the architects behind HWKN, Matthias Hollwich and Mark Kushner, exactly how it's all supposed to work.
So, tell me exactly what we're looking at with this design.

MK: Wendy is basically a sculpture made of fabric made of nanoparticles that clean the air. It made us realize a very simple equation: the more surface area we create, the more air we can clean.
And how does the process work?
MH: The fabric will be coated with Titania nanoparticles, or TiO2. In short, when TiO2 is hit by sun, it triggers a catalytic and chemical reaction that neutralizes nitrodgen dioxide. Inside of Wendy you will have a micro climate that is triggered by the sun exposure from outside. The heat generated creates an internal convection that enhances the flow of air inside out and outside in, further intensifying the air-cleaning effect.
MK: The budget is not disclosed, but it's not big. It's tight. What that meant for us is that we needed to find the most efficient way to get the most fabric on the site as possible. What we did was start with the scaffolding, which is a quintessential New York construction technique, and with the scaffolding we made the biggest outline we possible could and operated within that structure, and that's sort of how the playground for Wendy became established. We started pulling at this fabric form to increase surface area. The payoff is that the arm, the pipes that come out, are able to shoot air and water and music on partygoers at PS1. That's the evolution of the thinking of the form. The overriding idea of the form is that it does all this ecological work. We wanted to give people an icon to associate with the potential of architecture.
It looks like you've achieved that, since MoMA design and architecture curator Pedro Gadanho described it as "iconic, but with a twist." Did you want to reference New York?
MK: I think that we're New Yorkers. In a way, it's in our blood. What we love about using the scaffolding is that it's everywhere. New Yorkers pass under it, they see it, it blocks their views, it covers their buildings. The opportunity here is to say that even scaffolding, with some thought, can actually become supercharged. It can be proactive about facing environmental and social issues that face the city as a whole.
MoMA Chief Curator of Architecture and Design curator Barry Bergdoll described this design competition as a "zany quest for a space that is simply good fun." How do you expect it's going to be received by museum-goers? How are people who go to Warm-Up going to interact with it?
MK: In a few different ways. They're going to get blasted with air from Wendy. They'll get doused with water dripping out of her arms. They're going to wade into her pools. We're really excited. I actually think that the full potential is using social media and kind of showing off. We know that when people go to PS1, they're psyched to be somewhere packed with people. They're excited to tell people where they're at. That icon that Pedro described is going to incite curiosity at a grassroots level at what Wendy is and what she does ecologically.
I noticed you're referring to Wendy as a lady. Where did the name Wendy come from?

MK: We think of Wendy as a storm. All powerful storms have names. In a video that we'll release shortly, we use that song by the Association called "Everyone Knows It's Windy." The storm kind of started to have a personality about it. We're trying to change the game of architecture and be more proactive about speaking to people who use architecture but aren't architects. Trying to change the game of architecture and being more proactive really speaks to people who use architecture who aren't architects. We didn't want to revert to traditional architectural naming devices, which tend to be an insider game, so we went the total opposite direction, to choosing one that anyone could say and start to fall in love with.
And what can we look forward to from you in the future?
MH: We're working on a hotel in New Jersey, where construction starts in the next two months. We're working on the Pines Pavilion in Fire Island, designing a temporary pavilion for this year and a permanent one for next year. And there's our retirement community for Palm Springs. We're continuing work on that in our office, and we're going to do the groundbreaking in two years. It's one of our projects we've been working on for quite a while. And then there are a couple of other things, but we can't talk about those yet.
More of Today's News from BLOUIN ARTINFO:
SUBSCRIBE TO & FOLLOW CULTURE SHIFT
Every Friday, HuffPost's Culture Shift newsletter helps you figure out which books you should read, art you should check out, movies you should watch and music should listen to. Learn more