America Online, the latest international company to throw its financial heft behind the arts, has chosen not to fund an art fair (UBS) or stamp its logo on a museum by funding an exhibition (YouTube/Google). Instead, the Internet giant has decided to water its money directly into the creative soil, inaugurating a "Project on Creativity" -- overseen by the renowned artist Chuck Close -- that just today announced its first round of $25,000 grants for 25 innovators from a variety of artistic fields.
Called "25 for 25," the grant program sifted through applications from over 9,000 artists, writers, and creative professionals, with the winners selected by a prestigious panel of judges that included Whitney Museum director Adam Weinberg, curator Chrissie Iles, and writers Christian Viveros-Fauné and Glenn O'Brien.
Visit ARTINFO to see a slideshow of the "25 for 25" recipients's work.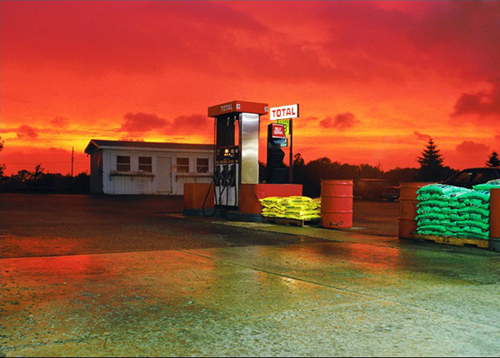 Tema Stauffer's "Gas Station," 2003, from her series "American Stills / Courtesy of the artist, AOL
This year's recipients (whose work is featured on aolartists.com) include architect Julio F. Torres-Santana, who has created portable shelters for the homeless in New York; Jason Polan, who has taken on the rather daunting project of drawing every citizen of the city of New York; and artist Coke O'Neal, who photographs people in a 28-foot-tall structure of his devising -- called the "Box" -- to play with the scale of image, documenting subjects from all walks of life in the disorienting neutral space.
After last year's executive turnover and separation from Time Warner, AOL has set itself on a campaign to rebrand its' image in the company of artists and creative minds. With plans to use artists' work as backdrops for its services -- and for personalized homepage décor -- AOL hopes to display the company's dedication to creativity and original content, as well as "showcase the brand visually," according to AOL's Nicole Malacuso.
Visit ARTINFO to see a slideshow of the "25 for 25" recipients's work.
- Natalie Shutler, ARTINFO
Sign up for ARTINFO's Daily Arts Digest: http://www.artinfo.com/newsletter/
Follow ARTINFO on Foursquare: http://foursquare.com/artinfo
SUBSCRIBE TO & FOLLOW CULTURE SHIFT
Level up. Read THIS and be the most interesting person at your dinner party. Learn more