After two years of renovations, the historic Royal Monceau Raffles Hotel reopened its doors on October 18. Located near the Champs-Elysées, the hotel has hosted such historic guests as Josephine Baker, Coco Chanel, Madonna, and Robert de Niro. Dwight D. Eisenhower even stayed there after the liberation of Paris. The hotel's refurbishment, meanwhile, gives pride of place to artistic endeavors, both in its design and its programming.
Visit ARTINFO for a visual tour of the renovations at the historic Royal Monceau Raffles.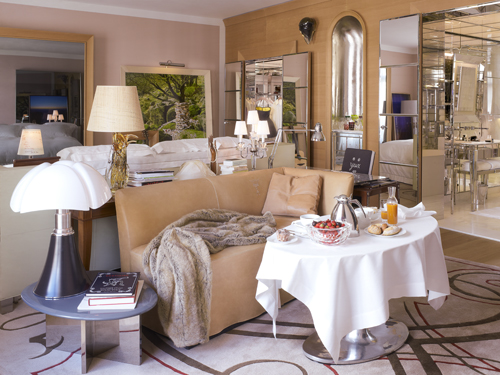 A suite at the Royal Monceau hotel in Paris, which has hosted luminaries from André Malraux to Ray Charles. Photo by Philippe Garcia / La Société Anonyme.
The décor features original works of art -- such as the Stéphane Calais mural on the ceiling of hotel restaurant La Cuisine and Russian artist Nicola Polissky's "Hunting Painting" above the main staircase. Local gallery Art District will present four annual shows in the hotel and Christie's auctions will be streamed live in the bookstore, which is stocked with art books and prints provided by Bookstorming. The fashion shop Eclaireur will present a show of 50 drawings by Jean-Michel Basquiat from Enrico Navarra's collection at the end of October.
Philippe Starck has completely redone the hotel's interior. "I wanted to reinvent the French spirit with this palace, by adding modernity, without falling into the trap of trying to please everyone," the architect said at a press preview at the hotel. Although it has been renovated from top to bottom, the Royal Monceau has stayed in touch with its past, naming rooms for important figures who once stayed there, such as French author and politician André Malraux and musician Ray Charles.
The hotel, which is owned by Gahanim Bin Sahad al Sahad, of real estate investment company Qatari Diar, is already booked solid, even though the renovations are not yet entirely complete. In addition to the amenities expected from a luxury hotel -- an interior courtyard with garden, a 100-seat movie theater, a swimming pool, and a smokers' lounge -- each suite will be equipped with specially designed acoustic guitars. Just in case any guests are truly moved by the creative spirit, a mobile recording studio is available at the front desk.
And such devotion to the arts is not just evident in the final product. When demolition began in June 2008, artistic advisor and curator Hervé Mikaeloff organized a "demolition party" in which guests could sledgehammer walls and visit temporary art installations, including "Rebirth," an elaborate red construction by Belgian artist Arne Quinze that can be seen in a time-lapse video in the original article on ARTINFO.
Visit ARTINFO for a visual tour of the renovations at the historic Royal Monceau Raffles.
-Juliette Soulez, ARTINFO France
Follow ARTINFO on Foursquare: http://foursquare.com/artinfo
Follow ARTINFO on Twitter: www.twitter.com/artinfodotcom