In a new introduction to his 1971 book The Autobiography and Sex Life of Andy Warhol, author John Wilcock writes that the tantalizing title led to "initial enthusiasm" among publishers when he first approached them in 1970. This enthusiasm turned to disappointment, however, when they learned that Warhol himself had actually contributed nothing to the book. Rather, Wilcock, one of the co-founders of the Village Voice, had interviewed more than 20 associates of the Pop artist to assemble a socially constructed portrait of his life in the late 1960s. It was the artist's then-manager, Paul Morrissey, who suggested the rather misleading title.
At the time, Warhol was recovering from SCUM gunwoman Valerie Solanas' murder attempt while also filming movies at a prodigious rate and embarking on road trips to show them at universities across the United States. The image of the artist that emerges in Wilcock's book is fascinating, but partial and occasionally contradictory. Notoriously private, Warhol has never been easy to pin down. "It's more elegant to be a mystery," one of his managers, Fred Hughes, tells Wilcock in the book. "So he promotes a very sophisticated mystery, and people read a lot of fantasies into it." This spurious autobiography seems likely to spark even more.
Out of print for decades, the book is today little known beyond circles of Warhol obsessives and scholars. However, In 1991, editor Christopher Trela found a copy at a street fair and became fascinated with the material, setting out to reissue it. Almost 20 years after that chance encounter, he has re-released it with a handsome selection of photographs that show Warhol, his associates, and life at Warhol's studio (a.k.a. the Factory). ARTINFO gave the book a read, digesting it down to yield eight bite-size nuggets of wisdom about the seminal Pop artist.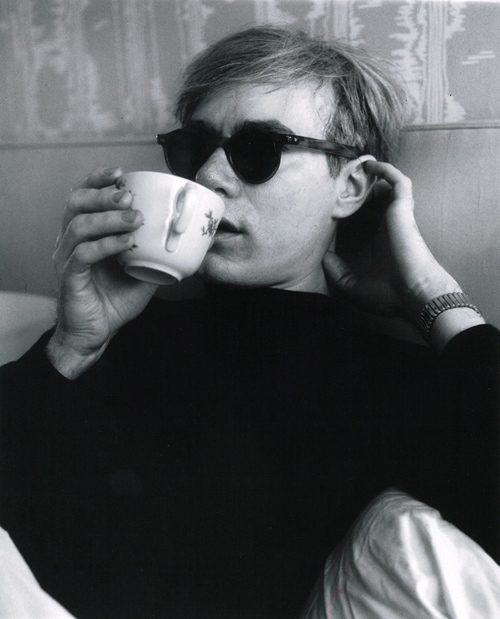 "He is an F.A.O. Schwartz toy store that never closes," superstar Brigid Polk relates, describing the caring, fun-loving side that many of Warhol's friends saw in him -- a side of his personality that was rarely shown in public, where he adopted an impassive, ironical facade. In the book, interview subjects again and again describe an artist who provided them with a formative education on art and life. "He was very sweet," actress Naomi Levine says. He could literally be sugary. At a dinner party for Warhol hosted by Dennis Hopper, Levine recalls, "Andy was sitting beside me. I had my arms out like this on the table, and he took a bag of sugar... and poured it down my arm." Curator Sam Green sums it simply: "I just adore him," echoing a feeling expressed in many of the interviews.
Warhol's dark side is also given plenty of space in the book. His longtime assistant Gerard Malanga, a central figure in the artist's work from his silkscreens to his films to his management of the Velvet Underground, recalls being stuck in Rome and asking Warhol for help getting back to New York: "He didn't send me a plane ticket." Writer Ronnie Tavel relates a more sinister story relating to the suicide of a dancer, Freddy Herko, who made a running leap out of a window in mid-dance: "Some of his responses that he made to the deaths at the Factory I could not believe. A statement like -- and he really made it -- 'It's too bad we didn't have our cameras when he jumped out the window. It would have made a great film.'"
The portrait of Warhol has a manipulative exploiter is added to by curator Sam Green, who recalls Warhol asking him, "Oh Sam, do you think think you could arrange for us to go social climbing? ... Oh, you know so many people with terrific houses and with lots of servants, and we could come down for the weekend and can do a movie in the stables and maybe Baby [Jane Holzer] can fuck with the horse." Critic David Bourdon also shares this choice nugget about Warhol's long-suffering mother, who lived with him: "Andy said that his mother was an alcoholic, and he kept her locked in the basement and provided her with a case of scotch."
Curator Mario Amaya was at the Factory during Valerie Solanas's assassination attempt and recounts it in brutal detail. "Oh, blood was all over him. It was just awful, just horrible," he says. "[T]he police were half an hour getting there, and the whole thing was chaos." Everyone has an opinion about what led to the incident. "It was done out of love, and I understand her perfectly," photojournalist Gretchen Berg tells Wilcock. "You have great emotion about someone, but for some reason you can't get close to them; they're not giving you what you want. I went away; she shot him." Musician Lou Reed offers an even more unusual interpretation: Warhol brought the shooting on himself. "He deserves every bit that he gets, including all the animosity and being shot, all the really horrible, awful things," Reed says. "I think he knows how to stop that, but he hasn't quite figured out what he wants to do."
The second half of the book's title is only marginally more accurate than the first, since interviewees generally prove unwilling or unable to divulge much about the artist's sexual habits, but Wilcock occasionally elicits some tabloid fodder. "Everything is sexual to Andy without the sex act actually taking place," writer Charles Henri Ford says. "He doesn't like to take his pants off or for anybody to touch him." Superstar Ultra Violet offers this rather politically-incorrect comment: "I think a very creative homosexual has a ... very necrophilic sort of tendency. Some of his Flowers are very beautiful, but I've seen some that are sort of mauve and blue and almost poisonous." (Bizarrely, Polk states, "I definitely do not think Andy is a fag.) Amaya says that he first heard about Warhol when the artist was working on a "cock book," in the late 1950s, at the start of Warhol's career as a fine artist, when he was "going around town drawing everybody's cock." He concludes, "[H]e was very ahead of things."
The award for the weirdest anecdote in the book goes to Leo Castelli's virtuoso assistant, Ivan Karp, who describes a visit that he and Metropolitan Museum of Art curatorial assistant Henry Geldzahler made to Warhol's home in the early 1960s. "I remember that Andy offered us masks to wear when we came in, and all three of us, when we were talking and looking at his works, were obliged to wear theatrical masks," he says. "It was very dark, and it seemed to me that Andy didn't want to be seen." This was apparently not a onetime occurrence. "I was there once with five or six people, and we were all wearing masks," Karp explains non-judgmentally.
Warhol was fond of asking people who were visiting the Factory for advice about his work, and, unsurprisingly, there is no shortage of people willing to take credit for his results. Geldzahler, for example: "I brought him the first newspaper that he did, the 129 Die in Jet." He claims that he told Warhol, "That's enough life; it's time for some death." (Actor Taylor Mead says that Warhol and Geldzahler "would plan what Andy was going to paint next year. I mean, talk about cold-blooded art.") Malanga says that a friend of Warhol's provided all of the imagery for the "Death and Disaster" series: "This friend of his was working for his girlie magazine that went out of business, and he turned-over to Andy these huge files -- photographs from news syndicates of car crashes and people's limbs ripped off, incredible photographs -- that he used as source material." Warhol's infamous cow wallpaper? Karp says that he sparked that idea, telling Warhol that he thought a cow "was a wonderfully poignant and pungent image." However, Amaya says that this ability to ask for and absorb ideas was part of Warhol's genius, noting that, no matter what, "he was going to make his own decisions."
Lost and Little-Known Projects
"When we didn't have anything to do, we thought of these machines that make snow and rain and wind," remembers Warhol manager Fred Hughes. (A fully working version of the rain machine was eventually produced through LACMA's Art & Technology project. A newer version of it is on view at Nicholas Robinson gallery right now.) In addition, interviewing Karp, Wilcock tells him that Warhol "is into this funny thing now of putting his head into a Xerox machine [laughs]. It's really fantastic the way that he does that." These Xerox prints appear in exhibitions very rarely.
Warhol's love for candy and sweets has been well known for some time. (Upper East Side dessert heaven/tourist trap Serendipity 3 was one of his favorite haunts, and his fondness for collecting cookie jars is legend.) However, it seems that the artist had a particular love for ice cream. "He's very involved in having a good life," Levine comments in her interview with Wilcock. "You know, like going to expensive restaurants and buying the most expensive ice cream." Asked about Warhol's eating habits, Malanga also shares, "He loves chocolate and ice cream."
SUBSCRIBE TO & FOLLOW CULTURE SHIFT
Every Friday, HuffPost's Culture Shift newsletter helps you figure out which books you should read, art you should check out, movies you should watch and music should listen to. Learn more