Art Basel, the grand dame of all art fairs, has released its exhibitor list for the 44th edition. The 304 exhibitors hail from 39 countries and include many familiar names, including Gagosian Gallery, Blum & Poe, Galerie Perrotin, and Marian Goodman Gallery, among others. Some less-than-brand-name galleries that showed at the fair last year are not returning, including L.A. Louver, Galeria Milan of Sao Paolo, Galerie Anhava of Helsinki, and Regina Gallery of London and Moscow.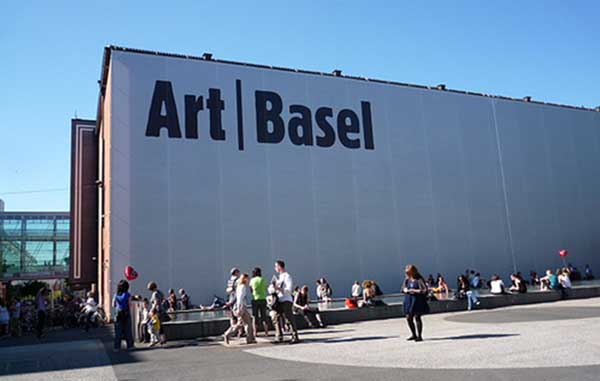 Organizers are quick to note that this year features the strongest representation of galleries with exhibition spaces in Asia and the Asia-Pacific region ever to exhibit at the Swiss fair -- 33 in total. This bump may be due in part to Art Basel's increased presence in Asia -- the fair will launch Art Basel Hong Kong in May -- as well as the growing number of international galleries launching outposts in the region. It doesn't necessarily mean there are radically more home grown Asian galleries on Art Basel's roster. In fact, the main Galleries section boasts no first-timers from the region, though new names like Take Ninagawa of Tokyo and Silverlens of the Philippines will be debuting in smaller sections of the fair.
Dealers returning to Art Basel after an absence include Maureen Paley and Alison Jacques of London and PKM Gallery of Seoul. Among the all-new inclusions are photography specialist Howard Greenberg Gallery and Dominique Levy Gallery, a soon-to-launch dealership in New York founded by the former partner at L&M Arts. Perhaps unsurprisingly, Tony Shafrazi Gallery, also of New York, is not returning. Though the dealer has participated in the fair on and off for more than a decade, he ruffled some feathers last year when he chose to canvas his entire booth to his own paintings.
The Feature section, devoted to galleries with precise curatorial projects, will be larger than in previous years, featuring 24 galleries from 16 countries. One highlight is sure to be Herald Street of London, which is presenting a performance piece by Pablo Bronstein featuring four dancers dressed as famous figures from the French Revolution lying motionless on camp beds. Performance will also have a presence in the Statements section, where South African artist Wa Lehulere will present a wall drawing and live performance in the booth of Cape Town's Stevenson Gallery.
The fair will enjoy new and roomier digs this year, as the Statements and Magazines sectors move into an expanded hall designed by starchitect Basel natives Herzog & de Meuron.
Art Basel runs from June 13 to 16, with two full days devoted to VIP viewing beforehand. See the full list of participating dealers below.
Miguel Abreu Gallery New York
Acquavella Galleries New York
Galería Juana de Aizpuru Madrid
Alexander and Bonin New York
Galería Helga de Alvear Madrid
Thomas Ammann Fine Art Zurich
Andréhn-Schiptjenko Stockholm
von Bartha Basel, S-chanf
Galerie Guido W. Baudach Berlin
Ruth Benzacar Galería de Arte Buenos Aires
Galerie Jacques de la Béraudière Geneva
Gallery Bernier/Eliades Athens
Daniel Blau Munich, London
BFAS Blondeau Fine Art Services Geneva
Peter Blum Gallery, Blumarts New York, Zurich
Marianne Boesky Gallery New York
Tanya Bonakdar Gallery New York
Galerie Isabella Bortolozzi Berlin
Gavin Brown's enterprise New York
Galerie Buchholz Cologne, Berlin
Buchmann Galerie Agra/Lugano, Berlin
Galerie Gisela Capitain Cologne
Chemould Prescott Road Mumbai
Contemporary Fine Arts Berlin
Galleria Continua San Gimignano, Beijing, Boissy-le-Châtel
Paula Cooper Gallery New York
Galerie Chantal Crousel Paris
Stephen Daiter Gallery Chicago
Thomas Dane Gallery London
Massimo De Carlo Milan, London
Galerie Eigen + Art Berlin, Leipzig
Richard L. Feigen & Co. New York
Konrad Fischer Galerie Dusseldorf, Berlin
Foksal Gallery Foundation Warsaw
Galeria Fortes Vilaça São Paulo
Fraenkel Gallery San Francisco
Stephen Friedman Gallery London
Frith Street Gallery London
Gagosian Gallery New York, Beverly Hills, London, Hong Kong, Paris, Rome, Athens, Geneva
Galleria dello Scudo Verona
Annet Gelink Gallery Amsterdam
Gerhardsen Gerner Berlin, Oslo
Gladstone Gallery New York, Brussels
Galerie Gmurzynska Zug, Zurich, St. Moritz
Galería Elvira González Madrid
Marian Goodman Gallery New York, Paris
Goodman Gallery Johannesburg, Woodstock, Cape Town
Galerie Bärbel Grässlin Frankfurt am Main
Richard Gray Gallery Chicago, New York
Howard Greenberg Gallery New York
Greene Naftali Gallery New York
Galerie Karsten Greve St. Moritz, Cologne, Paris
Cristina Guerra Contemporary Art Lisbon
Galerie Michael Haas Berlin
Hauser & Wirth Zurich, London, New York
Hazlitt Holland-Hibbert London
Galerie Max Hetzler Berlin
Edwynn Houk Gallery New York, Zurich,
Leonard Hutton Galleries New York
Jablonka Galerie Cologne, Hürth
Bernard Jacobson Gallery London, New York
Alison Jacques Gallery London
Galerie Martin Janda Vienna
Catriona Jeffries Gallery Vancouver
Annely Juda Fine Art London
Georg Kargl Fine Arts Vienna
Sean Kelly Gallery New York
Anton Kern Gallery New York
Kewenig Galerie Berlin, Palma de Mallorca
Galerie Peter Kilchmann Zurich
David Kordansky Gallery Los Angeles
Tomio Koyama Gallery Tokyo, Kyoto, Singapore
Andrew Kreps Gallery New York
Galerie Krinzinger Vienna
Kukje Gallery Seoul, New York
Simon Lee Gallery London, Hong Kong
Galerie Gebr. Lehmann Berlin, Dresden
Lehmann Maupin New York, Hong Kong
Galerie Lelong Paris, New York, Zurich
Dominique Lévy Gallery New York
Galerie Gisèle Linder Basel
Lisson Gallery London, Milan
Galerie Löhrl Mönchengladbach
Luhring Augustine New York
Jörg Maass Kunsthandel Berlin
Matthew Marks Gallery New York, Los Angeles
Marlborough Fine Art London, New York, Barcelona, Madrid, Monte Carlo Vitacura/Santiago
Barbara Mathes Gallery New York
Galerie Hans Mayer Dusseldorf
McCaffrey Fine Art New York
Galerie Greta Meert Brussels
Anthony Meier Fine Arts San Francisco
Galerie Urs Meile, Beijing-Lucerne Lucerne, Beijing
Meyer Riegger Karlsruhe, Berlin
Galleria Massimo Minini Brescia
Mitchell-Innes & Nash New York
Stuart Shave / Modern Art London
The Modern Institute / Toby Webster Glasgow
Moeller Fine Art New York
Jan Mot Brussels, México D.F.
Galerie Mark Müller Zurich
Galerie Vera Munro Hamburg
Galerie nächst St. Stephan - Rosemarie Schwarzwälder Vienna
Galerie Nagel Draxler Berlin, Cologne
Edward Tyler Nahem Fine Art New York
Helly Nahmad Gallery New York
Nature Morte New Delhi, Gurgaon, Berlin
Galerie Nelson-Freeman Paris
neugerriemschneider Berlin
Galleria Franco Noero Torino
David Nolan Gallery New York
Galerie Nordenhake Berlin, Stockholm
Galerie Georg Nothelfer Berlin
Galerie Nathalie Obadia Paris, Brussels
Pace Gallery New York, Beijing, London
Galerie Alice Pauli Lausanne
Galerie Perrotin Paris, Hong Kong, New York
Friedrich Petzel Gallery New York
Galerie Francesca Pia Zurich
Galerija Gregor Podnar Berlin, Ljubljana
Galería Joan Prats Barcelona
Galerie Eva Presenhuber Zurich
Galeria ProjecteSD Barcelona
Galleria Raucci / Santamaria Naples
Almine Rech Gallery Paris, Brussels
Regen Projects Los Angeles
Galerie Denise René Paris
Anthony Reynolds Gallery London
Galleri Riis Oslo, Stockholm
Galerie Thaddaeus Ropac Salzburg, Paris
Andrea Rosen Gallery New York
Galerie Rüdiger Schöttle Munich
Galerie Thomas Schulte Berlin
Galerie Nathalie Seroussi Paris
ShanghART Shanghai, Beijing, Singapore
Sikkema Jenkins & Co. New York
Bruce Silverstein New York
Skarstedt Gallery New York, London
Skopia P.-H. Jaccaud Geneva
Sperone Westwater New York
Sprüth Magers Berlin London Berlin, London
Galerie St. Etienne New York
Galeria Luisa Strina São Paulo
Galerie Micheline Szwajcer Antwerp
Timothy Taylor Gallery London
Galleria Tega Milan, Pietrasanta
Galerie Daniel Templon Paris
Galerie Tschudi Zuoz/Engadin
Tucci Russo Studio per l'Arte Contemporanea Torre Pellice /Torino
Galerie Bob van Orsouw Zurich
Annemarie Verna Galerie Zurich
Vitamin Creative Space Guangzhou, Beijing
Waddington Custot Galleries London
Galleri Nicolai Wallner Kopenhagen
Washburn Gallery New York
Galerie Barbara Weiss Berlin
Michael Werner New York, London
White Cube London, Hong Kong, São Paulo
Galerie Jocelyn Wolff Paris
Galerie Susanne Zander Cologne
Galerie Thomas Zander Cologne
David Zwirner New York, London
Brooke Alexander New York
Niels Borch Jensen Editions Copenhagen
Alan Cristea Gallery London
Crown Point Press San Francisco
Atelier-Editions Fanal Basel
Gemini G.E.L. LLC Los Angeles
Helga Maria Klosterfelde Edition Hamburg
Lelong Editions Paris, New York, Zurich
mfc-michèle didier Brussels, Paris
Polígrafa Obra Gráfica, S.L. Barcelona
STPI - Singapore Tyler Print Institute Singapore
bitforms gallery New York
Borzo modern & contemporary art Amsterdam
Leo Castelli Gallery New York
Galeria Pedro Cera Lisbon
Cherry and Martin Los Angeles
Marc Foxx Gallery Los Angeles
Freymond-Guth Fine Arts Zurich
Alexander Gray Associates New York
Proyectos Monclova Mexico City
Galeria Plan B Cluj, Berlin
Galerie Pietro Spartà Chagny
Vistamare, Benedetta Spaletti SAS Pescara
Shane Campbell Gallery Chicago
Campoli Presti London, Paris
Meessen De Clercq Brussels
Melas Papadopoulos Athens
mother's tankstation Dublin
Overduin and Kite Los Angeles
Silverlens Makati City/ Manila, Singapore
Jessica Silverman Gallery San Francisco
Stevenson Cape Town, Johannesburg
Galerie Hubert Winter Vienn
More of Today's News from BLOUIN ARTINFO:
SUBSCRIBE TO & FOLLOW CULTURE SHIFT
Every Friday, HuffPost's Culture Shift newsletter helps you figure out which books you should read, art you should check out, movies you should watch and music should listen to. Learn more