Dresden's Museum of Military History has existed in a variety of incarnations over the years, each mirroring the successive regime that shaped its image. Established in 1897 in a stately neoclassical building that once housed an arsenal, the museum became a celebration of German military might under the Nazis. Its location outside the historic center of Dresden allowed the building to survive the Allied bombing campaign at the end of World War II; thereafter it proudly displayed Communist tanks and submarines under East German rule. In 1989, Germany's Bundeswehr -- or Federal Defense Force -- was unsure how the museum would fit into the newly unified German state, deciding to simply shut it down.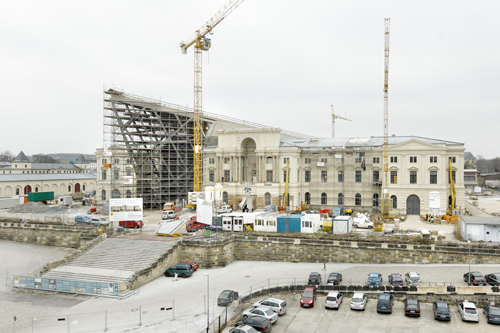 Dresden's Museum of Military History / Courtesy BitterBredt
Then, in 2001, an ambitious new project was launched, with a difference: it was reimagined as not a military museum but a military history museum, whose new exhibits would require the addition of more space. The institution launched a competition to design the extension, and eventually chose architect Daniel Libeskind. This came as something of a surprise, not only because he was the architect who designed Berlin's much-praised Jewish Museum, which opened that same year as a monument to the ineffable tragedy of the Holocaust, but because his proposed extension flouted all of the parameters of the competition. Instead of preserving the War Museum's façade and adding an extension to the rear, as the institution had requested, Libeskind suggested a bold interruption into the building's symmetry: a massive, five-story, glass-and-steel wedge to be inserted at an angle into the center of the building. It points toward the direction from which American planes arrived when they engaged in some of the most destructive bombing of the Second World War.
According to Colonel Hans-Hubertus Mack, a fourth-generation military officer who heads the museum project, Libeskind's proposal was chosen to symbolize a break with the country's past. Mack told the New Yorker's George Packer in February that "We have a classical building, and an arrow shot at that building, which makes clear that there is something different besides chronology." The extension adds 4,000 square meters to the arsenal's original 10,000. While the original portion of the building will lead visitors through a chronological look at German wars -- including the museum's classic stand-bys that military history buffs swoon over, such as tanks and a V-1 rocket -- Liebskind's wedge will provide a thematic look at the effects of war, seen through an anthropological and sociological lens.
A variety of themes will come into play, including fashion, group psychology, and even animal rights (there will be a video of the harrowing effects of poison gas tested on a cat). Some highlights of the new exhibits include the diary of a Jewish World War I veteran who was murdered on Kristallnacht and a Bible with a bullet hole in it that a Greek Orthodox priest held to his chest when he was shot by German soldiers during World War II.
The museum is slated to reopen in fall 2011, and the radical design has not gone over easily with many Dresden residents, whose city is better known for painstaking restorations of its past than for contemporary architectural styles. The historic city center was reconstructed at great expense, including the Frauenkirche, or Church of our Lady, the city's Baroque-style Lutheran cathedral, which was re-consecrated in 2005. When the Albertinum, which houses the city's fine arts and sculpture museums, was flooded by the Elbe River in 2002, the building was modernized but its neo-Renaissance style was carefully respected. The Museum of Military History has certainly taken a different tack, one that has dismayed those who are nostalgic for pre-World War II Germany. But, as Libeskind commented to the German magazine Der Spiegel earlier this year, "Sentimentality is not a foundation on which you can build a new city."
SUBSCRIBE TO & FOLLOW CULTURE SHIFT
Every Friday, HuffPost's Culture Shift newsletter helps you figure out which books you should read, art you should check out, movies you should watch and music should listen to. Learn more