ARTINFO presents a guide to the most interesting gallery openings in New York each week.
After glitzy, bustling openings during Gallery Week last week, New York galleries offer an array of under-the-radar shows this week. Invisible-Exports, a rising power on the Lower East Side, is showing work about violence, while nearby Salon 94 shows T-shirts that artist Richard Prince attacks with paint. (One of Prince's Nurse paintings is the top lot at Phillips' contemporary-art auction on Thursday, aiming to continue the market tear that began with Christie's record Johns sale and continued Wednesday night with the sale of a $32.6 million Warhol at Sotheby's). Also on offer, an ambitious group show out in New Jersey, a breathtaking mess of an exhibition by Bjarne Melgaard at Chelsea's Greene Naftali, and a hulking show of art about resurrection (artistic and otherwise) at SoHo's Ronald Feldman.
Visit ARTINFO.com for more detailed gallery previews and to see the rest of our New York gallery opening picks.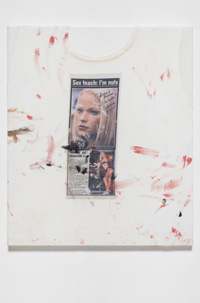 Richard Prince, "T-Shirt Paintings: Hippie Punk"
Salon 94 Bowery, 243 Bowery
Opening Saturday, May 15, 6-8 p.m.
"Tiffany Paintings," Prince's new show at Gagosian uptown, appears to be the work of an artist that has run out of ideas. But Gallerist Jeanne Greenberg Rohatyn is offering up a little-known section of Prince's work in her new Bowery space: paintings the artist has made for years on stretched T-shirts, which borrow imagery from some of his most famous series and could provide a chance to remember his initial appeal. If nothing else, it offers a chance to see the new Salon 94 (which is also currently exhibiting fashion designer Rick Owens' new furniture collection at its Upper East Side location) before it is renovated this summer.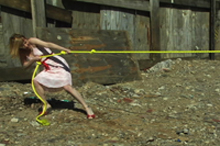 "Escape from New York"
24 Van Houten Street, Paterson, New Jersey,
Opening Saturday, May 15, 3-9 p.m.
In 1776, George Washington bravely led the fledgling Continental Army out of New York into New Jersey. Nearly 234 years later, curator Olympia Lambert has launched a similarly valiant project, bringing work by a scrappy band of 43 emerging artists to the cavernous factory building in Paterson, New Jersey. Expect rising talents like Kate Gilmore and the Bruce High Quality Foundation, alongside expert marksman William Powhida (of New Museum Scandal fame) and conceptual intelligence expert Jennifer Dalton.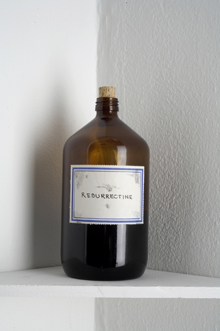 "Resurrectine"
Ronald Feldman Fine Arts (31 Mercer Street)
Opening Saturday, May 15, 6-8 p.m.
Ronald Feldman has crafted a well-balanced mixture for this show, setting young talents like technology-art master Cory Arcangel and sound-suit maven Nick Cave alongside established figures like Terry Fox and Hannah Wilke. Also included are Leon Golub and William Pope.L: ideal inclusions for fans seeking more of their life-giving art, after seeing their current respective shows at the Drawing Center and Mitchell-Innes & Nash.
Visit ARTINFO.com for art gallery guides and latest in art news and luxury trends from around the world.