ARTINFO presents a guide to the most interesting gallery openings in New York each week.
The largest and most spectacular art events of the season are over. The Whitney Biennial has closed, and Marina Abramovic has left her post in MoMA's atrium. However, less-hyped pleasures remain, like a miniature Lee Bontecou retrospective at MoMA and a series of Miranda July sculptures in Union Square. It is a perfect time to branch out and visit the city's galleries. (ARTINFO says this every week, but really means it this time.) Openings this week is brimming with possibility, not least because a new show at Canada carries with it a requisite, sublime trip to the Chinatown Ice Cream Factory.
Visit ARTINFO.com for more detailed gallery previews and to see the rest of our New York gallery opening picks.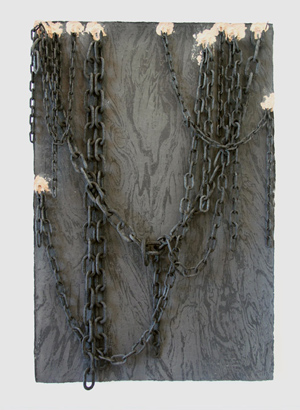 Jim Hodges, "New Work"
Dieu Donne, 315 West 36th Street
Opening Thursday, June 3, 6-8 p.m.
Work by this master of materials has been appearing all over New York recently. His stained and mirrored glass wonders were paired with Felix Gonzalez-Torres' work at the Flag Foundation last year (which was perhaps the most beautiful show of the season), and a six-foot-wide rose made of tape and tar paper dominated the recent flower-themed show at CRG (his former gallery). These new works all use handmade paper, a medium he mastered during a 2002 residency at Dieu Donne.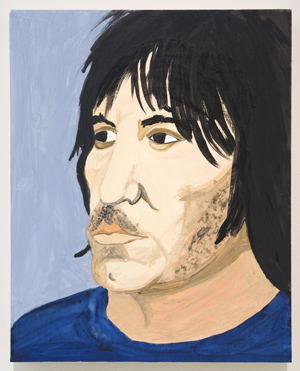 Rudy Shepard, "Falling Together"
Mixed Greens, 531 West 26th Street
Opening Thursday, June 3, 6-8 p.m.
Rudy Shepard could be the life-affirming version of Elizabeth Peyton. Like Peyton, Shepard paints portraits of intimates (his girlfriend, his son) and musicians (Kurt Cobain, Ian Curtis, Sun Ra), but he replaces Peyton's cool, blase gaze with wide-eyed love. He appears a jumbled, slightly crazed savant compared to Peyton's withdrawn, androgynous rock star. And another welcome difference: Shepard paints with a sneaking humor.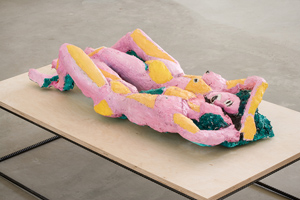 "Homunculi"
Canada Gallery, 55 Chrystie Street
Opening Friday, June 4, 6-8:30 p.m.
Writer and artist Trinie Dalton is at the helm of this show, which includes four artists who bring an expressionist verve to the human figure. Matt Greene is a former Deitch (now three days into his new job at MOCA) favorite . Unless heavy impasto is your obsession, you're unlikely to find Allison Schulnik's mutant beings similarly sexy, but the colors of Ruby Neri's sun-blasted sculptures may do the trick. Meanwhile, Matthew Ronay's pieces live in the realm of the found-object assemblage. This one could get rowdy.
Visit ARTINFO.com for art gallery guides and latest in art news and luxury trends from around the world.
Follow ARTINFO on Foursquare to get more insider tips on New York's art and culture scenes.
SUBSCRIBE TO & FOLLOW THE MORNING EMAIL
Start your workday the right way with the news that matters most. Learn more