London-- As the powerful tide of the Arab Spring continues to wash over countries like Syria and Bahrain, the West has been cheering it along. But when the rhetoric of Mideast revolution appears at home it can be a different story.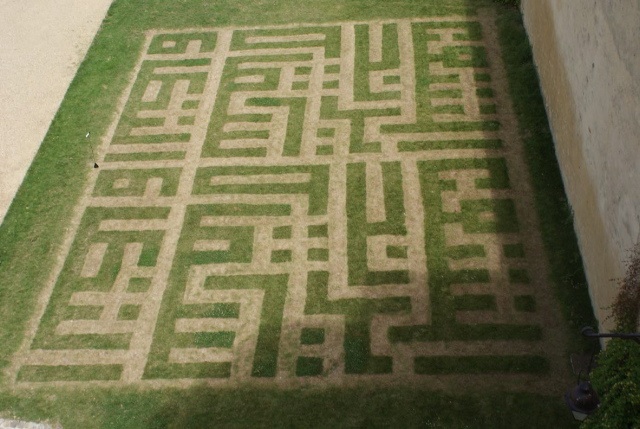 Moataz Nasr's "The Maze," 2011, green grass, approx. 709 x 551 in / Courtesy the artist and Selma Feriani Gallery
This week London's Westminster council abruptly called off Egyptian artist Moataz Nasr's plan to cut the Kufic inscription "The people want the fall of the regime" -- a chant of Arab Spring demonstrators -- into a grass lawn at Mayfair's Hanover Square, claiming the protests were still too raw. Entitled "The Maze," the piece was to supposed to remain for four weeks as part of a solo show of Nasr's work at both Salma Ferriani Gallery and the Farm Street Church of the Immaculate Conception, which is opening next week.
Gallerist Salma Ferriani told ARTINFO UK that she got in touch with Westminster council last June. She sent them a proposal, and met one of the council's representatives, Toby Cuthbertson. In an email sent to Ferriani on June 7 (and viewed by ARTINFO), Cuthberston wrote: "I spoke to our parks department and they were content to consider the proposal. You won't require planning permission, because unlike most instances of visual art the piece is not 'development.' The next stage is probably to have another site meeting with parks to talk about practicalities."
The meeting, however, never happened, and Ferriani's repeated emails to Westminster council remained unanswered. Two weeks ago, she was notified that one of the members of the committee had an issue with the proposal, and that the project was halted.
Councillor Robert Davis, Westminster council's Deputy Leader and cabinet member for the built environment, said: "While we recognize the huge significance of recent and ongoing events in the Arab world, we feel that it is too soon to have a commemorative work of art relating to them. If Mr. Nasr wants to submit an alternative application for the city of sculpture, we are more than happy to consider it."
"The artist is devastated," said Ferriani. "This project was done in France, it was in Gothenburg two weeks ago, and next month it will be in front of the Louvre, so why not London? I don't see this piece as political. It's a social, aesthetic maze, but I get that, for them, it was too political and too related to the Arab Spring."
This is surprising considering that London mayor Boris Johnson has recently shown great support for art and culture from the Middle East and North Africa, particularly with the citywide Shubbak festival, held last summer, which celebrated "contemporary culture from across the Arab World." Several of Shubbak's projects addressed the Arab Spring, including the exhibition "From Facebook to Nassbook," and talks held at the British Museum.
Nasr is the founder of nonprofit organization 1718, located in Old Cairo. The rest of his solo presentation, which includes textiles inspired by his practice as a Sufi, will open on October 6 as planned.
SUBSCRIBE AND FOLLOW
Get top stories and blog posts emailed to me each day. Newsletters may offer personalized content or advertisements.
Learn more