The massive exhibition "Claude Monet, 1840-1926" at the Grand Palais -- the first of its kind in Paris in 30 years -- has been a huge success. Online tickets long ago sold out, with visitors braving the cold to wait up to six hours in line (half of the daily tickets are reserved for in-person purchases). Now the Grand Palais has announced that the exhibition will be open 24 hours a day for its finale this weekend.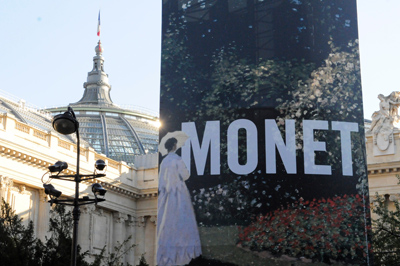 The Monet exhibition has been an immensely popular draw at Paris's Grand Palais. / Photo by Nicolai Hartvig
Like what you see? Sign up for ARTINFO's daily newsletter to get the latest on the market, emerging artists, auctions, galleries, museums, and more.
The Réunion Nationale des Musées, the organization of national museums in France, said that the Monet show averages 7,000 visitors a day and estimates that the total number of visitors will reach over 800,000 by the end of the run. This would make it more heavily visited than "Picasso et les Maîtres," which had a total of 784,000 visitors at the Grand Palais in 2008. The Picasso exhibition was the first time that the Grand Palais tried nighttime openings, and even slots in the wee hours sold out, with 30,000 people seeing the show during the extended hours.
The famous Tutankhamun exhibition remains the only show in France to have broken the one-million visitor mark. It totaled 1.2 million visitors in 1967, and benefited from being open two months longer than either the Picasso or Monet shows (though this was at a time when travel was more difficult and expensive).
The Claude Monet show already had its hours extended to 11 p.m. during the winter holidays. But given that many of the works must be returned to the institutions that loaned them for the occasion, it cannot be extended beyond its current closing date of January 24. Attendance was temporarily boosted on November 4 when employees let visitors in for free, refusing to collect entrance fees, during a union demonstration to protest the Ministry of Culture's reductions of museum staff.
A much-publicized dispute between a prominent Monet museum and the Grand Palais seems to have done nothing to lessen the show's appeal. The Musée Marmottan, a private institution, refused to loan any works from its significant Monet collection for the show, putting on its own Monet exhibition instead. This meant that the work that gave its name to the Impressionist movement, "Impression, Soleil Levant," is absent from the Grand Palais. In an interview with ARTINFO France, Guy Cogeval, director of the Musée d'Orsay and curator of the Grand Palais show, was clearly annoyed by the refusal, but declared the omission of "Impression, Soleil Levant" to be insignificant, as it was "one of Monet's ugliest works."
-Nicolai Hartvig, ARTINFO France
Sign up for ARTINFO's Daily Arts Digest: www.artinfo.com/newsletter/
Follow ARTINFO on Tumblr: 3rdofmay.tumblr.com/
Follow ARTINFO on Foursquare: foursquare.com/artinfo/