In 1921, Guccio Gucci opened a small leather goods shop in Florence with the intention of bringing to Italy the luxury aesthetic he witnessed while working in the Savoy Hotel in London. Since then, his iconic double G logo has become recognizable around the globe, and on September 28, the Gucci Museo opens in Florence, culminating a year of celebrations marking the venerable House of Gucci's 90th anniversary.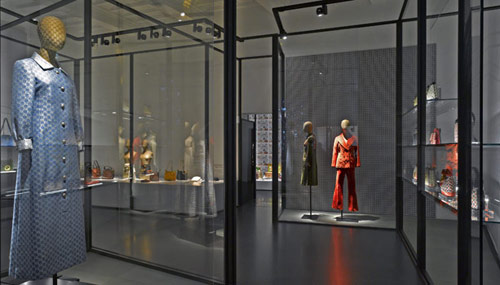 The "Logomania" room of the newly opened Gucci Museum in Florence
/ Courtesy of Richard Bryant & Gucci
"As Gucci turns 90 this year, I felt it was the right moment to inaugurate our own space, where hidden treasures would be open to public viewing for the first time," said Gucci creative director Frida Giannini, who conceived the idea for a Gucci museum. "In this way the Gucci Museo will both conserve and celebrate the most significant moments in the history of the House, providing an official account of its origins, evolution and cultural influence."
Housed inside the historic Palazzo della Mercanzia, which is located in Florence's Piazza Signoria, the three-floor Gucci Museo spans approximately 5,626 square feet. Mannequins covered in the Gucci monogram will don the garments, while a private basement area will hold the Gucci archive, catalogued ready-to-wear, accessories, objects, documents, and photographs from the company's history.
On the ground floor, an exhibition of the trunks, suitcases, accessories, and articles inspired by Gucci's work as a porter at the Savoy -- which also made the fashion house famous in the '50s, '60s, and '70s -- fill a travel-themed room. Continue to the first floor and find "Flora World," an exhibition of items bearing the floral motif originally created for Grace Kelly as a scarf in 1966. Next, venture to "Handbags," a display of craftsmanship of the coveted accessory as it has endured over the years. From there, enter "Evening," which showcases the fashion house's stunning gowns, many of which were worn red carpets throughout history. Clutches and rare valuables will be on view in the last section, "Precious."
Also on the first floor is a contemporary art space that will exhibit works by selected artists in collaboration with the Pinault Foundation, while an adjacent room will run video installations and film screenings that Gucci has helped restore and produce.
On the second floor, "Logomania," an exhibition of items from Gucci Museo's permanent collection, will take visitors through the history of Gucci's double G monogram. The Gucci Museo ends with "Lifestyle" and "Sport" themes, chronicling the house's leisure products.
"Our aim has been to create a destination experience where people can appreciate and enjoy our history, but at the same time understand how innovative and alive Gucci is today," said Gucci president and CEO Patrizio di Marco.
VIPs like Anna Wintour, Charlotte Casiraghi, and Debbie Harry attended a private dinner to inaugurate the museum Monday night during Milan Fashion Week in Florence's Palazzo Vecchio. But don't worry, the public will also get a special treat when the museum officially opens to on Wednesday: a live performance from Harry's legendary New York band Blondie.
-Ann Binlot, ARTINFO

More of Today's News from ARTINFO:
Did Bob Dylan Rip Off Classic Photos for His Gagosian Show? See the Evidence

See Contemporary Art Lay Siege to a French Medieval Fortress in a New Outdoor Sculpture Show
"Not an Aesthetic, But an Attitude": Artist Deborah Brown on the Future of Bushwick's Art Scene
Ben Stiller and David Zwirner Exult as Christie's Star-Packed "Artists for Haiti" Sale Tops $13 Million
Like what you see? Sign up for ARTINFO's daily newsletter to get the latest on the market, emerging artists, auctions, galleries, museums, and more.
SUBSCRIBE TO & FOLLOW CULTURE SHIFT
Level up. Read THIS and be the most interesting person at your dinner party. Learn more