In case you missed it, Ann Liv Young, the performance artist who spilled pee on herself at a P.S.1 performance earlier this year, is plotting a return. It's a solid publicity ploy, but she has a lot to compete with in New York: a magisterial Rafael Ferrer retrospective for instance, and the conclusion of "Work of Art," which lives on only as a sad show at the Brooklyn Museum. That aside, the contemporary art world is beginning to awake from the summer doldrums, and Modern Painters senior editor Scott Indrisek has picked seven shows that are worth a visit. In addition, the Israel Museum has unveiled a new expansion, and ARTINFO's Sarah Douglas has interviewed its pioneering director, James Snyder. She spoke with gallerist James Cohan as well, about his new market gambit: an online art fair. In any sense, here are three shows for this week.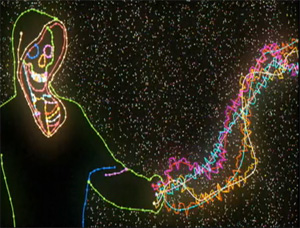 Bruno Dicolla's "Return as an Animal" / Courtesy Louis V.E.S.P.
"Aboveground Animation"
Louis V.E.S.P., 140 Jackson Street
Friday, August 20, reception at 7 p.m., screening at 8 p.m., $5 suggest donation
louisvesp.com
Though this gallery's name looks like that of a high-end cognac, it is actually a scrappy new gallery located just east of the BQE, in that strange land somewhere between Williamsburg and Greenpoint. Its organizers have lined up a hearty offering of animated shorts from artists like Martha Colburn, Amy Lockhart, Seth Scriver, Lauren Gregory, and Barry Doupe, whose work inhabits a "ritualized and dream-like world constructed in 3D landscapes," according to the gallery.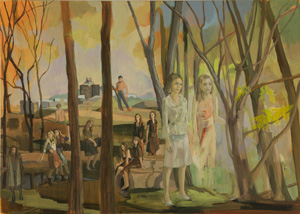 Vera Iliatova's "Rules and Games," 2010 / Courtesy of Monya Rowe Gallery
"New Paintings"
Staley/Wise Gallery, 560 Broadway
Opening Saturday, August 21, 6-8 p.m.
staleywise.com
Staley/Wise typically shows photography in its upper-floor SoHo home, but this weekend the gallery will host a show of paintings, all made in the last year. There will be 18 artists picked by Renee Bovenzi, ranging from Greg Lindquist -- whose cityscapes bring a Morandi-esque blur to subjects that recall Rackstraw Downes -- to abstractionist Wendy White, whose paintings have been popping up around town quite frequently this year. Gina Magid, Erik Benson, and Ariel Dill will also be among the artists with work on view.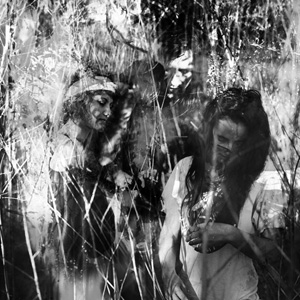 Metal Rogue / Photo by Lemule Barbour
"Paradise Now!"
White Slab Palace, 77 Delancey Street
Saturday, August 21, 9 p.m.-12 a.m.
opalnest.com
Call ARTINFO lazy, but we want to let the press release for this one-night event sing a little: "In the middle of this sweltering madness, what could be better than falling into an ocean of ambient droned-out beats, synthed cords, electro-acoustics with improvised soundscapes and hallucinated visuals?" Nothing, we suppose. Except, perhaps enjoying a White Slab burger and beer with that music, provided by -- among others -- L.A. "ecstatic jazz" outfit Metal Rouge and New Zealander Sam Hamilton, who will present something called "mystic futuristic fun vibes."
SUBSCRIBE TO & FOLLOW CULTURE SHIFT
Every Friday, HuffPost's Culture Shift newsletter helps you figure out which books you should read, art you should check out, movies you should watch and music should listen to. Learn more