ARTINFO presents a guide to the most interesting gallery openings and art events in New York each week.
Artworks are having a tough time these days all around the world! A racy work involving Jesus was smashed up, Ai Weiwei's Tate Modern installation was cordoned off, and two Parisian museums are fighting over a Monet.
The art market, at least, is humming, with stellar sales at Christie's and Sotheby's (helped along by some star power) and positive reports - and booths! - out of Frieze. And there is good news on the horizon: a new art database is helping restitute work stolen by the Nazis, and Michael Jackson fans have some new images of their hero to examine. Even Serbia, hardly a hot bed of contemporary art, is generating some serious buzz.
There is, in other words, a lot of great ARTINFO content to read. But our focus here are this week's gallery opening picks. Forward!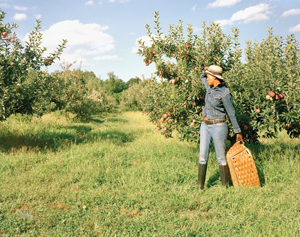 Xaviera Simmons's "Day," 2008 / Courtesy the Studio Museum
Xaviera Simmons
Goethe-Institut Wyoming Building (5 East 3rd Street)
Wednesday, October 19, 5:30-9 p.m., and Saturday, October 23, 2-5:45 p.m.
studiomuseum.org
"Simmons, as an artist, doubles down," Adam Pendleton, no slouch in the art department himself, wrote in praise of the Brooklyn-based photographer last year. Fresh off a starring role in the latest edition of MoMA P.S.1's "Greater New York," Simmons is hosting a series of "micro-residencies" at a gallery in the East Village, part of a collaboration between the Goethe-Institut and the Studio Museum of Harlem. The space is outfitted with a slide projector, a PA system, and a copy machine, among other tools, that will allow her to create work with a team of collaborators -- including astrologers, surfers, filmmakers, and artists -- on the fly.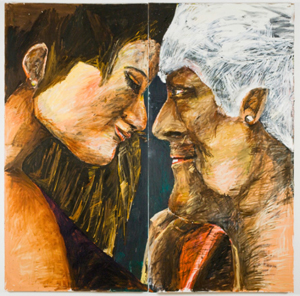 Matthew Chambers's "As of this Fruit," 2010 / Courtesy New York Untitled
Matthew Chambers
Untitled (30 Orchard Street)
Opening Friday, October 22, 6-8 p.m.
nyuntitled.com
Rental Gallery proprietor Joel Mesler showed a trove of Chambers's gigantic paintings last year, and that must have gone well because the dealer has lined up the Los Angeles-based artist for the second show at Untitled, the luxe gallery he opened last month with Carol Cohen on Orchard Street. Chamber peddles a scrawled, hard-wrought form of figuration with a palette that leans toward the decrepit: think Alice Neel, if she was painting with a broken arm. It makes for oddly alluring art.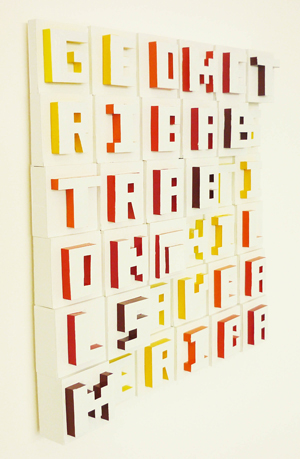 Chris Caccamise's "Geometric Abstraction Will Save America" 2010 / Courtesy Eleven Rivington, New York
Chris Caccamise
Eleven Rivington (11 Rivington Street)
Opening Saturday, October 23, 6-8 p.m.
elevenrivington.com
The once-young Lower East Side gallery district is quickly maturing: neighborhood galleries are beginning to welcome artists back for sophomore efforts. The latest to win a second show in the neighborhood is the Brooklyn-based Caccamise, whose paper constructions of phrases first appeared at Eleven Rivington in early 2008. Definite crowd pleasers (nothing wrong with that), the works range from twists on familiar sayings, "I only have eye for you," one reads, to more deadpan irony-laced expressions: "Communication Breakdown," for instance.
-Andrew Russeth
Visit ARTINFO.com to see the rest of our New York gallery opening and art event picks and to get the latest in art news and culture trends from around the world.
Follow ARTINFO on Foursquare: http://foursquare.com/artinfo
FOLLOW HUFFPOST