THE BLOG
NEW YORK: Can't-Miss Gallery Openings This Week
ARTINFO presents a guide to the most interesting gallery openings and art events in New York each week.
Big news on the home front! ARTINFO has a new newsletter: it is daily -- and beautiful. Sign up today.
Big news in the larger art world this week, as well! An aggrieved Warhol collector has given up his fight against the Pop artist's foundation, the Venice Biennale received a name (and a theme), and FIAC closed with news of buoyant sales. Meanwhile, Cyprien Gaillard took home the prestigious Duchamp prize, and artists joined forces with Christie's executives to fight Prop 8 with -- what else? -- an art auction. Picking the most surprising news of the week is considerably trickier, with a new contemporary-art-flavored Houdini show battling with the launch of new State Department-initiated artist-diplomat program for that honor.
But enough of the news. On to this week's (blockbuster-filled) openings!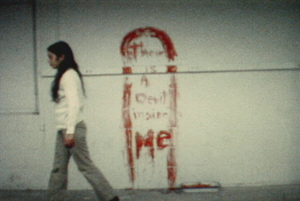 A film still from Ana Mendieta's "Untitled (Blood Sign #1)," 1974 / © The Estate of Ana Mendieta Collection, Courtesy Galerie Lelong, New York

Ana Mendieta
"Documentation and Artwork, 1972-1985"
Galerie Lelong (528 West 26th Street)
Opening Thursday, October 28
galerielelong.com
What would the recent canonization of performance art have looked like if Ana Mendieta -- who died in 1985, at the age of 36 -- were alive to participate in it? Just two years younger than that movement's mascot, Marina Abramovic, Mendieta fled Cuba early in her life, settling in Iowa. Like Abramovic, she started as a painter, but the parallels end there: while the Belgrade-born star went on to conceive work that (with a few exceptions) was designed to operate inside gallery walls, Mendieta often staged her performative actions outdoors, imprinting her body on a beach and snapping a photo, or burying herself in mud and posing for one. This show, Lelong's eight posthumous show of her work, includes material from her archives alongside newly restored films.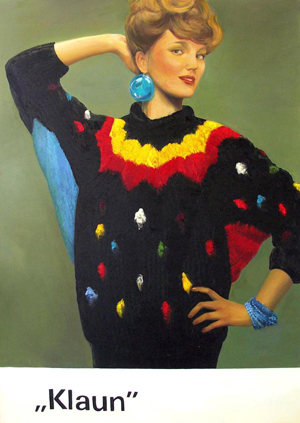 Paulina Olowska's "Klaun" (2010) is on view at Metro Pictures / Courtesy of the artist, Metro Pictures

Paulina Olowska
"Applied Fantastic"
Metro Pictures (519 West 24th Street)
Oopening Thursday, October 28
metropicturesgallery.com
For her second show at Metro Pictures, this Polish artist shifts her focus from the graphic design of Cold War propaganda to the knitting patterns of Cold War sweaters, in new paintings that are based on decades-old Polish postcards bearing designs for the garments. Thanks to experts she hired in Poland, the sweaters will also be on display, sporting designs that range from Mary Heilmann-style controlled masses of color to intricate, hard-edged Tomma Abts-esque abstractions.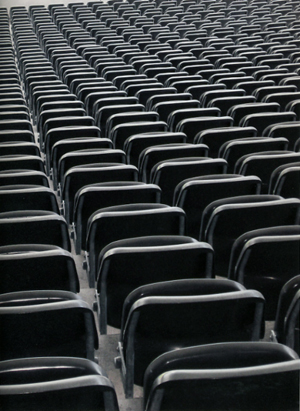 Collier Schorr's "Olympic Uniform (A Trip to Berlin)," 2008 / Courtesy the of artist, 303 Gallery

Collier Schorr
"Journals & Notebooks"
303 Gallery (547 West 21st Street)
Opening Friday, October 29
303gallery.com
Collier Schorr began at 303 not as an artist but an intern in the 1980s -- one of her first jobs was to guard a Jeff Koons basketball-filled fish tank, a recent New York magazine profile revealed. In this new show, the precision-minded conceptual photographer is continuing her exploration of life in the German town of Schwäbisch Gmünd, photographing the female figure, which, a press release says, "harkens both end of the War, the end of German History and renewal." There are more immediate, straightforward works, too: a small banner at the entrance of the show will greet visitors with this news: "The Fucking War Is Over."
-Andrew Russeth
Visit ARTINFO.com to see the rest of our New York gallery opening and art event picks, to sign up for our daily arts digest email, and to get the latest in art news and culture trends from around the world.
Follow ARTINFO on Foursquare: http://foursquare.com/artinfo