The startling thing about the images in Aperture's new pair of Paul Strand shows is that as much as they represent, and have come to define, early, straightforward portraiture and landscape photography, they still have the power to disturb. They raise troubling questions about the medium with which they were made, and its potential to be rapaciously voyeuristic, to seem falsely objective, and to close down perceived truths about other cultures.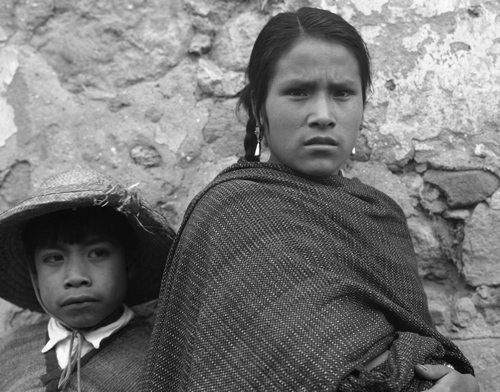 Paul Strand's "Landscape, Saltillo," 1932 / Courtesy Aperture Foundation
"Paul Strand in Mexico," up at Aperture's Chelsea gallery through November 13, brings together over a hundred works by Strand (many of them previously unpublished), along with documents and ephemera, which make up only a part of the massive and beautiful monograph printed under the same name that chronicles all of Strand's work from his 1932-34 and his 1966 journeys to the country.
Meanwhile, at the Bronx Museum of the Arts, Aperture is adding to its celebrations of the 100th anniversary of the Mexican Revolution and the 200th anniversary of the Mexican Independence Movement with a satellite showing of 20 gravure prints from Strand's 1967 edition of "The Mexican Portfolio." This show, now open, will run through January 2, 2011.
But what is it about Paul Strand's photographs that can make one feel uncomfortable, especially given that Strand in his youth was so smitten with the blurry solace served up by his romantic Pictorialist predecessors? Understanding that his first photography teacher, at the Ethical Culture School in New York, was Lewis Hine -- whose blunt images of child laborers and impoverished immigrants are gut-wrenchingly clear and incisive -- offers a clue to Strand's transformation into a purveyor of the socially and visually unnerving
Strand once said of his photographic series that documented the worst of New York's slums (the Five Points area of the Lower East Side) that what he wanted to make were "portraits of people such as you see in New York parks and places, sitting around, without their being conscious of being photographed... I felt that one could get a quality of being through the fact that the person did not know he was being photographed... [and I wanted to capture] these people within an environment which they themselves had chosen to be in, or were in anyway."
He accomplished this with a trick camera, which caught his often gnarled or destitute subjects unawares, by means of a false second lens that allowed him to loop the functioning lens underneath his arm on bellows. Shooting subjects without their explicit consent is a constant and fraught topic of debate in the realm of photography, yet Strand's images don't seem exploitative, if anything they seem somewhat boringly or stereotypically ennobling -- with the native people's stony-faced vacant stares penetrating some unseen sun-bleached horizon.
If the images have a flaw, it is that they seem so naively hopeful. Strand was shooting Mexico's little-developed rural towns during the authoritarian rule of General Plutarco Elías Calles, under whom Mexican citizens faced an even harsher quality of life than ever before. Dropping in as the curious American ex-pat and attempting to chronicle the "essential character" of a place and people is problematic for obvious reasons.
In his introduction to the monograph, one of the show's co-curators James Krippner seems to recognize the inherent subjectivity of Strand's vision. And yet, the show's organizers appear to be banking on the fact that Strand's deep desire to challenge a picturesque vision of Mexico redeems his other essentializing impulses.
But it will certainly be interesting to see what the response of the large Mexican community surrounding the Bronx Museum -- to which Aperture is reaching out with a Family Program on September 25 -- will be to this seemingly staid and yet shockingly unsettling body of work. The Aperture show will travel to the El Paso Museum of Art, Texas, in June 2011, and then to the Palacio de Bellas Artes, Mexico City, in fall 2011. The exhibition debuted at the Patricia and Phillip Frost Art Museum, Miami, on May 26, 2010.
SUBSCRIBE TO & FOLLOW CULTURE SHIFT
Every Friday, HuffPost's Culture Shift newsletter helps you figure out which books you should read, art you should check out, movies you should watch and music should listen to. Learn more