ARTINFO toured the "Retro/Active," the El Museo del Barrio's retrospective of the Puerto Rico-born artist Rafael Ferrer, with its curator, Deborah Cullen. Despite being a mainstay of contemporary art for the past 55 years, Ferrer has never before had a career-long museum survey.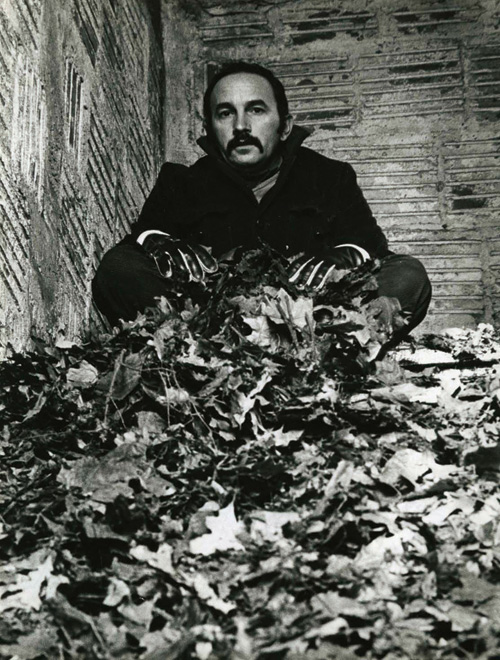 "Three Leaf Piece," December 4, 1968, at the Castelli Warehouse, New York/Photo by Ron Miyashiro, courtesy the artist
On December 4, 1968, with the help of a trio of his students from the Philadelphia College of Art, artist Rafael Ferrer scattered large piles of leaves in three contemporary art venues around New York City: the elevator of the 57th Street building housing Tibor de Nagy, Fischbach, and Dwan galleries; Leo Castelli's 77th Street gallery; and the Castelli Warehouse, a storage facility that the dealer had recently converted into an exhibition space. This guerrilla action was one of many that Ferrer performed throughout the 1960s and 1970s, and while these gestures earned Ferrer his reputation, they constitute just a sliver of the work he has produced over the past 55 years.
"Retro/Active: The Work of Rafael Ferrer," a retrospective of the artist's work at El Museo del Barrio that was organized by the museum's director of curatorial programs, Deborah Cullen, explores the full breadth of the artist's career in fascinating detail, beginning with his pivotal meetings with the Surrealists while he was on a vacation in Paris in 1954. Still in his mid-twenties, Ferrer was jolted by those early encounters to move away from his first artistic pursuit -- drumming -- and commit himself to visual art. In the more than five decades since, Ferrer has explored a panoply of visual styles, mediums, and subjects, and Cullen's show, the first museum retrospective of the artist, makes a case for Ferrer as one of the preeminent -- and perennially underappreciated -- artists of the postwar era.
Moving through periods of flirtation with Surrealism, Postminimialism, New Image painting, and other styles, Ferrer has continually refused to align himself with a single school or ideology, displaying an unwavering idiosyncrasy that may explain his marginalization in most accounts of contemporary art, which present a linear progression of styles. "He often works on an idea, puts it aside, and comes back to them later on, developing it in a different way," Cullen told ARTINFO. "He works in a spiral. It's a problem for curators, but it is a great problem to have." In the exhibition catalogue, Ferrer addresses the issue even more bluntly, telling Vincent Katz -- the son of Ferrer's longtime friend, painter Alex Katz -- that aging provides "a deeper understanding of why you simply don't fit in." To which the artist adds, "Never have, never will."
Visit ARTINFO for a visual tour through the show, ranging from Ferrer's early Surrealist experiments through his radical actions in the 1960s and '70s to his more recent large-scale paintings.
"Retro/Active: The Work of Rafael Ferrer" runs through Sunday, August 22, at El Museo del Barrio, elmuseo.org
SUBSCRIBE TO & FOLLOW CULTURE SHIFT
Every Friday, HuffPost's Culture Shift newsletter helps you figure out which books you should read, art you should check out, movies you should watch and music should listen to. Learn more