Prepare to see a slightly different side of the 20th century's most influential design movement. The objects in the upcoming Bauhaus survey "Art is Life" at London's Barbican are going to be "unfamiliar to people who think the Bauhaus is about tubular steel and gridded works," the institution's curator Catherine Ince promised ARTINFO recently.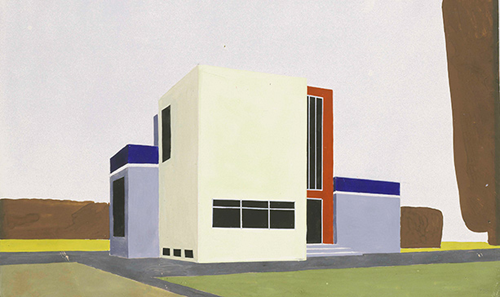 Farkus Molnar's "Design for a single-family house," 1922, tempera over pencil on paper / Photo by Markus Hawlick
Of course, there will be tubular steel. The tables and chairs Joseph Breuer designed for Wassily Kandinsky's house, functional artworks of black velvet, painted wood, and flourishes of bent metal, are going to be on view. But while the Bauhaus may be best remembered for its sleek industrial design and cult-like devotion to geometry, the focus of the 400-piece show, which touches on every era of the landmark movement, goes beyond the classroom and into their surprisingly playful personal lives. After all, "this wasn't a design movement necessarily at the outset," said Ince. "It was a school."
The insights come in the form of personal objects, including work the Bauhauslers exchanged amongst themselves as gifts. There are also photographs, the preferred means of documenting oneself and close friends, especially friends in homemade costumes during various extra-curricular activities. A film of a dinner party thrown by Walter Gropius's wife follows the maid's day of preparations, an ode to high-tech, cosmopolitan household marvels like extendable furniture and electric lights. "It gives an instant idea of how they were living, how this was completely new and modern and exciting," said Ince. "These three women are very stylishly lounging around on Breuer furniture."
Temporary walls, extending into the double-height atrium without touching the floor, provide large surfaces for projecting documentary-style films of the interiors of the masters' houses, or hanging large-scale photographs. The walls are painted not in the predictable primary colors one might expect, but the more festive colors the school's pupils and professors less famously used: pinks, golds, grays, and blues. The main role of these temporary walls, however, is to frame the vistas throughout the gallery, limiting one's view from any given angle so that the exhibition is not revealed too quickly. It's like a present that you unwrap -- a sense meant to capture the playful spirit that informed the early Bauhaus.
To see more works from "Bauhaus: Art as Life" at the Barbican, click on the slide show.
-Janelle Zara, BLOUIN ARTINFO
More of Today's News from BLOUIN ARTINFO:
Sinister Parade: Nathalie Djurberg and Hans Berg's Wicked Birds Land at the New Museum
Rising French Art Star Loris Greaud on His Pace Gallery Debut and Playing Hip-Hop for Fish
Q&A: Tony Nominee Rick Elice on Giving Wing to "Peter and the Starcatcher"
When the Maestro Went Missing: A Movie Guesses What Federico Fellini Did While AWOL in L.A.
Baz Luhrmann Will Film an "Impossible Conversation" Between Prada and Schiaparelli for the Met Ball
Like what you see? Sign up for BLOUIN ARTINFO's daily newsletter to get the latest on the market, emerging artists, auctions, galleries, museums, and more.