NEW YORK-- Elizabeth Taylor's jewelry collection is one of legend, and Christie's will be heralding the trove's mythic status as the "Crown Jewels of Hollywood" when it brings over 250 of her pieces to auction in New York this December.
"The Mike Todd Diamond Tiara," an antique diamond tiara, circa 1880; Gift from Mike Todd, 1957; estimate: $60,000-80,000 / Courtesy Christie's
Among the most notable of pieces in the collection is a 33.19-carat diamond ring -- called the "Elizabeth Taylor Diamond" -- estimated to fetch $2.5-3.5 million. The ring was given to Taylor by her then-husband Richard Burton (who was her husband twice, out of eight total marriages). Another gift from Burton is a necklace of pearls, rubies, and diamonds, arranged around a large pearl dating from the 16th century, that could go for $2-3 million.
The "Who's Afraid of Virginia Woolf" actor was not the only husband to present Taylor with diamonds. An antique diamond tiara given to her in 1957 by her third husband, Mike Todd, is also heading to the block with an estimate of $60,000-80,000.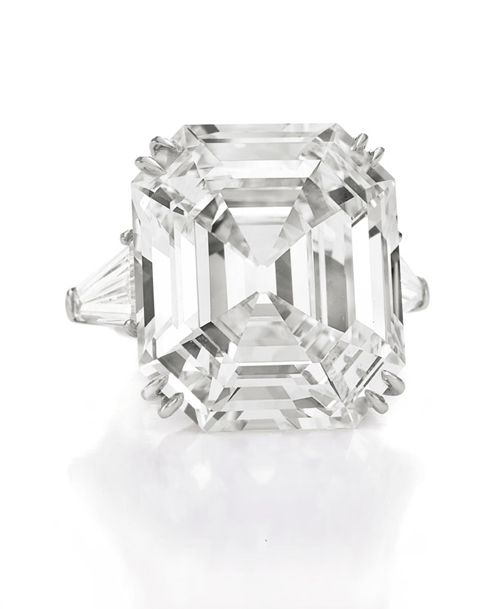 "The Elizabeth Taylor Diamond", a diamond ring of 33.19 carats; D color, VS1 clarity, potentially internally flawless, type IIa; Gift from Richard Burton; Purchased from Parke-Bernet Galleries, New York, May 1968; Estimate: $2,500,000 - 3,500,000 / Courtesy Christie's
An entire suite of emerald and diamond jewelry by Bulgari will also go up for auction. The five pieces, to be sold separately, carry estimates between $1-1.5 million for the necklace and $150,000-200,000 for the earrings.
Before the December 13 sale, the jewels will complete a three-month tour around the world, and will be on view to the public in Los Angeles, London, Paris, Geneva, Moscow, Dubai, and Hong Kong.
Elizabeth Taylor's Jewels to be sold / Associated Press
-Shane Ferro, ARTINFO

More of Today's News from ARTINFO:
You Want a Piece of Me?: Damian Hirst's Company OKs Sale of Partial Works at Phillips de Pury
Photographer Charlotte Dumas Tells the Story Behind Her Portraits of 9/11 Rescue Dogs
Chronicling a Decade of Harper's Bazaar Photography
A "Terrible Beauty" Is Born: Thoughts on the First Edition of Ireland's Dublin Contemporary Art Festival
See Classic Prouve Pieces, Reinterpreted -- With an Attitude

Like what you see? Sign up for ARTINFO's daily newsletter to get the latest on the market, emerging artists, auctions, galleries, museums, and more.
SUBSCRIBE TO & FOLLOW CULTURE SHIFT
Level up. Read THIS and be the most interesting person at your dinner party. Learn more