While World War II devastated the Japan's infrastructure, the '50s and '60s were a time of transformation in the city of Tokyo, creating a path for new generations of artists and intellectuals and establishing the city as an international epicenter for the arts. On a massive scale, MoMA's "Tokyo 1955-1970: A New Avant-Garde" chronicles the architecture, design, and fine arts movements that have launched the careers of art stars like Yayoi Kusama, Nam June Paik, Yoko Ono, and others.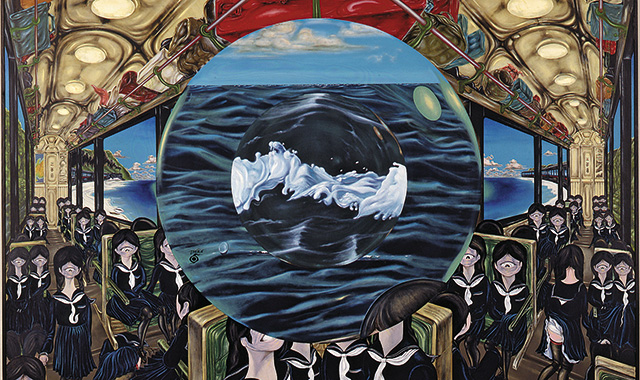 Nakamura Hiroshi, "Circular Train A (Telescope Train)," 1968, oil on canvas / Courtesy Museum of Contemporary Art Tokyo
The exhibition comes on the heels of smaller MoMA exhibitions covering similar ground, such as "The New Japanese Painting and Sculpture (1965)" and "New Japanese Photography (1974)." "A New Avant Garde" includes works from MoMA's Japanese collection, and over 100 works loaned from public and private collections in Japan and the U.S. The painting, sculpture, photography, drawing, graphic design, architectural renderings, video, and documentary works together make a total of 200 pieces on view from 60 artists and art collectives.
Given the scope of the show, MoMA elected to organize it around some of the most significant movements of the era. The show begins with "Metabolism," an architectural initiative led by young architects like Kenzo Tange and Kisho Kurokawa to revitalize the urban landscape with large-scale, expandable structures. The following section is dominated by the socially conscious "reportage painting" documenting trauma felt by the region following the war. Pieces like Kikuji Yamashita's "Totems (Oto otemu)" (1951) and Tatsuo Ikeda's "Arm (Ude)" (1953) show a radical shift towards abstraction, one that was heavily influenced by the Surrealism that first became prevalent during the 1930s.
The Gutai Art Association (which was recently given a retrospective at the New York gallery Hauser & Wirth) and the Sogetsu Art Center are covered in another section of the show, which focuses on the actions of the interdisciplinary art collective as well as the history of the institution that brought American artists like John Cage, Merce Cunningham, and Robert Rauschenberg to the city.
The timeline of the works covered in the show is available in great detail on an interactive website, which allows viewers to better explore the context of sculptural movements such as Mono-ha and artists like Daido Moriyama by clicking through the years and sections of Tokyo comprised in the show. MoMA has also put together a performance program and concurrent film schedule, which includes contemporary artists and artist groups Contact Gonzo, Eiko and Koma, Ei Arakawa, and Trajal Harrell - bringing Japan's post-war art scene full circle.
More of Today's News from BLOUIN ARTINFO:
Tokyo 1955–1970: A New Avant-Garde
FOLLOW HUFFPOST