Virginia Museum Launches "Augmented Reality" Picasso Shows in New York, Philadelphia, D.C., Starbucks
The Virginia Museum of Fine Arts unveils its much-anticipated "Picasso: Masterpieces from the Musée National Picasso, Paris" show on February 19. But art fans on the East Coast may not even have to make the trip down to Richmond to see the blockbuster. That's because Picasso just zoomed into the "augmented reality" age: Virtual versions of the exhibition will open at locations in New York, Philadelphia, and Washington, D.C., not to mention at all 33 Richmond-area Starbucks.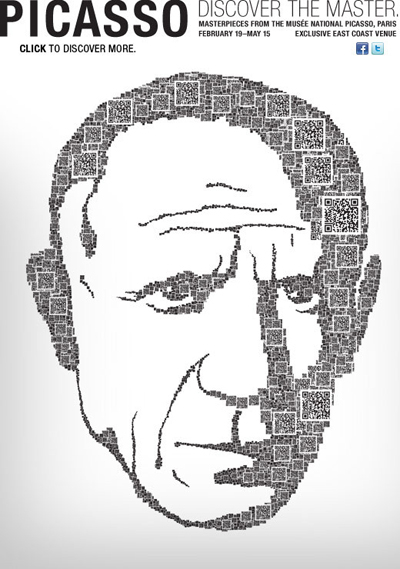 To highlight the "augmented reality" aspect of an upcoming Picasso show, one exhibition poster renders the artist in QR codes.
Courtesy Virginia Museum of Fine Arts
The initiative comes courtesy of the Martin Agency, a Richmond-based advertising company which counts Microsoft, Morgan Stanley, and Walmart among its clients. The firm teamed up with the VMFA to juice the exhibition of works by the modernist master with some Internet-age marketing savvy.
For readers who have not yet caught up with the future, "augmented reality" refers to technological wizardry that allows one to view virtual objects in real space, in this case, via the smartphone "reality browser" app Layar. In Philadelphia, for instance, the Martin Agency has rented out a large vacant store on South Street. Visitors can use their phone to scan a QR code (one of those blocky new bar codes that are showing up everywhere these days), which in turn transforms the space into a virtual version of the VMFA show when viewed on the phone's screen.
Like what you see? Sign up for ARTINFO's daily newsletter to get the latest on the market, emerging artists, auctions, galleries, museums, and more.
In D.C., New York, and Richmond, the Martin Agency will set up Layar versions of Picasso works at 22 separate coordinates; if your phone detects that you are in one of these locations, the app will enable you to see a work from the Musée National Picasso collection, hung in virtual space on the surrounding buildings. (From the looks of the promo for the New York version of this augmented reality walking tour through SoHo, the coordinates are organized to form the outline of a bull's head when traced on a map.)
Art fans who are in Richmond but don't want to pay the $20 to get into the VFMA can simply stop by any area Starbucks, which will have Picasso QR codes at the ready, enabling visitors to the fast-food coffee outlets to peruse "augmented reality" Cubism even as they get their caffeine fix.
The ads cooked up to promote the VFMA's Picasso exhibition place the show's technological promo front-and-center: The exhibition poster depicts the Spanish artist's face composed entirely of QR codes. A version of this image is set to be blown up and painted across the side of a building at the corner of Grand and Wooster Streets in New York.
Is all this technological wizardry a little bit of a distraction from the art at the heart of the show itself? The Martin Agency's Keith Cartwright doesn't think so. "Just as Picasso once took found objects -- bicycle handlebars, etc. -- and brought them together to create works of art, we were able to take something technologically functional, QR codes, and use them as building blocks to create something arresting and beautiful," he declares in the VMFA's press release.
As for the actual exhibition, it sounds pretty good as well. Featuring 176 pieces from Picasso's personal collection, ranging from the "Blue Period" through to his late works, the show is curated by Musée National Picasso chairwoman Anne Baldassari. The associated technological gimmickry, however, seems unlikely to quell concerns expressed in Baldassari's native Paris that she has been abdicating the museum's more scholarly functions, loaning out the museum's art for cash while snubbing more important Picasso exhibitions.
-ARTINFO, ARTINFO
More of Today's News from ARTINFO:
Raid of Moscow Gambling Den Uncovers $5 Million Rembrandt and Picasso Stash
Putting Prince William on a Pedestal: A Q&A With Jennifer Rubell on Her Royal Wedding Art
Work of Art," Meet "Project Runway": Art Crowd Turns Out for Cynthia Rowley Fall 2011 Fashion Week Show
In Watts, Art Can Lead the Way to Rebuild Community
Shutterbugs Invade Musée d'Orsay to Protest No-Photo Policy -- By Taking Photographs
Like what you see? Sign up for ARTINFO's daily newsletter to get the latest on the market, emerging artists, auctions, galleries, museums, and more.

Follow ARTINFO on Twitter: www.twitter.com/artinfodotcom