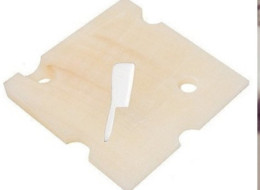 Some people are impossible to shop for. From the person who has everything to the recipient with discriminating taste, holiday shopping can be downright stressful. Over at Artlog, we've compiled a list of unique gifts from our favorite museum stores and art websites, and the best part is, they're all online!
Support the arts with gifts from the museum stores at the Whitney, the New Museum, the Tate, or MoMA. For the aspiring collector, pick up prints at 20x200, Little Collector, Artspace and functional art objects at GREY AREA.
12 Fabulous Gifts for Art Lovers
Grey Area sells art and art objects from emerging and established artists. Spice up your wall with Vadis Turner's Wax Paper Lingerie or wear her Stitched Gloves out on the town. Vadis Turner, Left to right: Stitched Gloves, Jeweled Organs, and Wax Paper Lingerie, Grey Area

Find your new favorite artist or designer at RISD Works. All products are designed by RISD alumni and faculty, like this limited edition Screw Table. Ekin Varon, Screw Table, $1,950 at Rhode Island School of Design (RISD)

Need to let someone down easy? Pick up a Break Up Letter Handkerchief at the New Museum store. Atypyk, Break Up Letter Handkerchief, $22 at the New Museum

The Whitney has a great selection of affordable stocking stuffers. Channel Man Ray's Rayographs with this solar print paper. Solar print paper, $7.95 at the Whitney

Enjoy the chicest picnic in the park with this luxe picnic set from the Neue Gallery. R. Horn and Josef Hoffmann, Viennese Picnic Set, $680 at the Neue Galerie.

It's holiday party season! Entertain your guests with this swiss cheese-shaped Onyx Cheese Board from the Museum of Arts and Design. Ricardo Espino, Onyx Cheese Board and Knife, $118 at the Museum of Arts and Design.

For the young art lover in your home, pick up a copy of I'd Like the Goo-Gen-Heim at the Guggenheim store. This classic book is the perfect introduction to modern art for your tot. A.C. Hollingsworth, I'd Like the Goo-Gen-Heim, $14.95 at the Guggenheim

A tape-shaped tape dispenser. Need we say more? J-Me, Tape Dispenser White, £12.95 at the Tate

20x200 makes print shopping easy with their holiday gift guide for people of all tastes. This one's for the 'word nerd' in your life. Austin Kleon, How To Be Cool, $20-$200 at 20×200

Destroy inferior art with this Andy Attacks print from Little Collector. Jim Riswold, Andy Attacks, $40-$250 at Little Collector

Score prints from artists like Jenny Holzer, Richard Prince, and Mickalene Thomas on Artspace. Or, be whisked away to a winter wonderland with Rebekka Guðleifsdóttir's Icelandic Barbie. Rebekka Guðleifsdóttir, Icelandic Barbie, $100-$1550 on Artspace

And to round out the bunch, one more piece from our sister site Grey Area. Keep dry with Ed Ruscha's Rusha Towel. Ed Ruscha, Ruscha Towel, $95 at Grey Area Still stumped? There are tons of other great gifts out there! Check out the store websites for more ideas.
Follow Artlog on Twitter: www.twitter.com/artlog