The common end-of-year exercise of the Top Ten List is so widespread in part because it's fun to look back and tie a bow around the year gone by, and in part because we know it's fun for you to compare notes. Recalling what we saw is not a mere gratuitous exercise in memory, it is an essential tool by which we interpret what we experienced and lend it meaning.
This being our first full calendar year covering the Western U.S. we decided to select three sets of them, one group for the Southwest region, one for the Northwest region, and one for Southern California. For each exhibition we have republished the article about it as it originally appeared in the Visual Art Source Weekly Newsletter. This first list includes shows that appeared in Texas, New Mexico and Arizona.
Reviewing over 300 exhibitions that our editors and writers selected each week there were naturally shows that fairly jumped out at us. Their sheer visual strength, emotional authority, conceptual wit, and aesthetic authenticity serve as the guidelines by which we and our contributors separate top shows from also rans. When we took our second and third looks back to settle on the best of these best, one of the key elements of a good season became obvious: There were a number of exhibitions that did not quite make the final list yet were very difficult to leave off.
So, yes, the bad economy continues to impact the overall art market as well as the ability of museums and other non-profits to present the volume of shows we had grown accustomed to. But if anything these challenges push the urgency of strong aesthetic statements. Artists have become more invested in their work, and curators in their themes. And we think that so many of their statements have been compelling.
- Bill Lasarow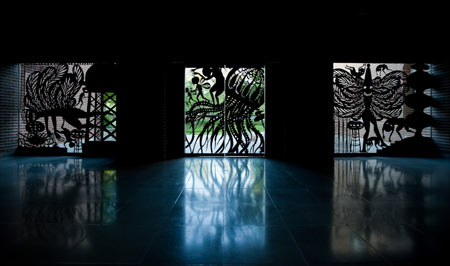 Andrea Dezsö, "Sometimes in My Dreams I Fly," 2010, at Rice University Art Gallery. Photo: Nash Baker.
10. . . .
Rice University Art Gallery
Houston, Texas
Romanian native Andrea Dezsö is known for her one-of-a-kind "tunnel books," intricate, miniature, handmade books made of stacked layers of paper that depict three-dimensional scenes of fantasy and science fiction. Rice Gallery asked Deszö if she'd be interested in going large-scale for the gallery's summer window installation, and the result is "Sometimes In My Dreams I Fly," a spectacular self-contained alien world.
 
The gallery windows have been blacked out, except for openings of various sizes that act as portals into Dezsö's underground landscapes. She describes her world as "lunar," but organic life exists on this moon. The cave-like interiors are populated by insect and humanoid characters with names like "Dome Brain Man," "Pumpkin Teeth" and "Quatro Dexterous Leaf-Brained Man." "Space Jelly Fish" and "Pumpkintoothed Doubleheaded Bipeds" float around architectural elements that resemble power lines, water towers, oil derricks and landmarks like Seattle's Space Needle. Layers of Formica board, some even 10 layers deep and carefully lighted, create an effect of endless depth.
-- Troy Schultze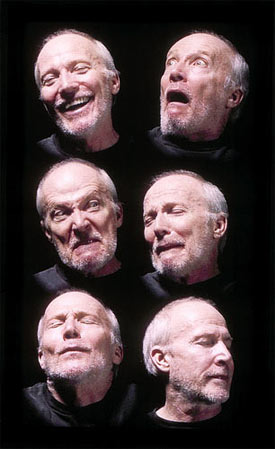 Bill Viola, "Six Heads," video, at Conduit Gallery in Dallas.
9. . . .
Conduit Gallery
Dallas, Texas  
Eight video or video-related pieces coalesce in "The Second Program: Art Beyond the Frame," a taut and focused exhibition curated by Dallas art writer Charles Dee Mitchell. The exhibition bears a conservative yet impressive formalism. It offers a strain of video that amounts to painting that moves. The one borderline exception is Luke Murphy's "The Longest Painting of Death," is a mid-sized projection of ochre and green colored lines, and is ironically based on Albert Pinkham Ryder's painting "The Race Track (Death on a Pale Horse)." For the piece, the artist scanned and then developed a special software program that stretches the pixels of the scanned image across a one-mile span that is traversed in 2 minutes and 11.2 seconds, the average speed of Secretariat.
Also mitigating any sense of non-traditional media is the fact that all works hang or are projected on the wall in simple and straightforward fashion. For example, Matthew Day Jackson's "Little Boy and Fat Man" is a two-channel video showing the two bombs dropped respectively on Hiroshima and Nagasaki in Japan at the end of World War II. They hover in a downward position in mid-air. As artist in residence at MIT, Day Jackson shot facsimiles of the bombs inside the wind tunnel on campus that measures torque. David Askevold's "Sixteen Candles" (1990-91) is a single channel video projected on the wall. It consists of a close-up view onto a slowly rotating candelabra with sixteen disappearing candles, each of which represents a year of Askevold's deceased son's life. With the wrinkly vestiges of VHS (it was later shot through DVD), the rippling surface of this dark video lasts eleven minutes, just along enough for each candle to melt.
"The Second Program" may not embrace spectacle or innovative media, but rewards us nonetheless in its quietly ruminative, viz. painterly, sensibility.
 
-- Charissa Terranova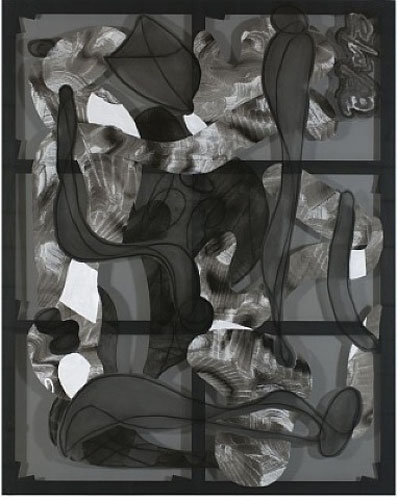 Christian Bonnefoi, "urekaVIII-8, m/m," 2010, mixed media, 98 1⁄2 x 78 3⁄4", at Riva Yares Gallery.
8. . . .
Riva Yares Gallery
Scottsdale, Arizona
The organic forms in Christian Bonnefoi's mixed media works seem to pop off the surface when viewed from a distance, yet adhere to the artist's canvas when viewed close. Another artist might leave the viewer in a cloud, but French artist Bonnefoi imbues a frankness into his work that turns out to be quite inviting. Bonnefoi exhibits six pieces from his 2009-10 "Eureka." The 6-foot-wide pieces use acrylic, cut paper and other media in collage fashion on stretched dark mesh fabric.
 
The improvisation of the pieces is joyful, despite the mostly dark paint and shadows. The interconnected pieces of cut paper seem to spring out from the mesh in sinuous forms resembling bird wings, fish, snakes, eggs and other elements of nature. Bonnefoi lets the viewer in on his trick: under the see-through mesh are window-pane-like stretchers. All ingredients work together - even the white walls of the gallery - to reveal shadows and depth. It's as if the forms jump through the windowpanes to revel in the essence of painting.
 
-- Deborah Ross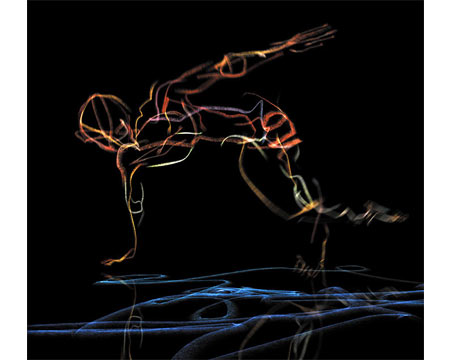 Bill T. Jones and OpenEnded Group, "After Ghostcatching" (still), 2010, Virtual Dance for stereoscopic display, at SITE Santa Fe.
7. . . .
SITE Santa Fe
Santa Fe, New Mexico
"The Dissolve" surveys an emerging, yet historically-rooted, impulse within contemporary artistic practice. Offering contemporary animation as a point where "the homespun meets the high-tech," this Eighth International Biennial is a fully moving-image-driven edition of SITE's lauded program. The idea here is how the human body plays a role in countering the dehumanizing agencies inherent in contemporary modes of vision. Implementing an exhibition design greatly assisted by collaboration with architect David Adjaye, co-curators Sarah Lewis and Daniel Belasco present a selection of twenty-six contemporary works. Standout recent pieces result from new commissions by Bill T. Jones, in partnership with OpenEnded Group, and Mary Reid Kelly. The new works are constellated with four historical animations that trace the lineage of what the exhibition's catalogue essay terms a "collective, yet uncoordinated aesthetic."
Departing from the content-driven principles of previous Biennials organized by such renowned curators as Francesco Bonami, Dave Hickey, Rosa Martinez, and Robert Storr, "The Dissolve" is distinctly process-oriented. Traces of the hand embed themselves within the preserve of time-based media, and animation is used to reanimate discarded technologies. Establishing a consonance between these artists' exploration of time and its own presentation of history, the exhibition is zoned into three discrete environments that recapitulate film's technical development over the course of the twentieth century. Color-coded according the additive primary hues of digital reproduction, Adjaye's expertly-realized design leads us through the shadow-suffused private spaces of the nickelodeon (blue), the enveloping, communal experience of the cinema (green), and the primacy of solitary viewing in our post-cinematic encounters with web-based video (red).
-- Alex Ross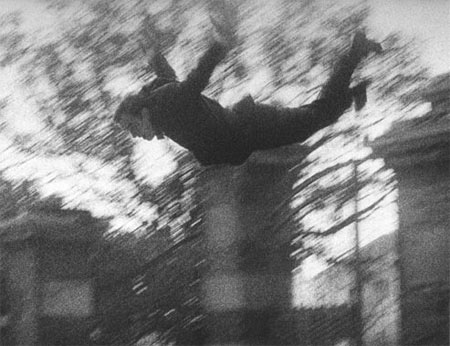 Yves Klein, "Le saut dans le vide (The Leap into the Void)," artistic action, silver gelatin print, 10 3/4 x 13 7/8", at The Menil Collection.
Photo: Harry Shunk-John Kender. © Yves Klein, ADAGP, Paris Photo: Shunk-Kender © Roy Lichtenstein Foundation
6. . . .
The Menil Collection
Houston, Texas
The somewhat tongue-in-cheek "First Manifesto of Nouveau Realism" included statements like, "If one succeeds at reintegrating oneself with the real, one achieves transcendence, which is emotion, sentiment, and finally, poetry." Striving passionately to put the "re" back in realism, artists like Yves Klein, Jean Tinguely and Niki de Saint Phalle suggested that by integrating real objects and other discarded and perhaps useless materials into artistic objects, and thus altering their intended purpose, an increasingly industrial and consumer-based culture could be momentarily altered.
Using the tools of industry and violence, the Nouveau Realistes constructed intricate, performance-driven works like Klein's "Sunday, the Newspaper of a Single Day," which offered shamelessly self-promoting stories about avant-garde artists, specifically Klein as well as his photo-series "The Leap into the Void," in which the showman-artist was captured supposedly in mid-air hurling himself off a Parisian rooftop. That series is the heart of this delightful exhibit, from which its title, "Leaps into the Void" derives. It effectively captures the desperate, passionate and yes, hilariously delusional essence of the creative impulse.
-- Troy Schultze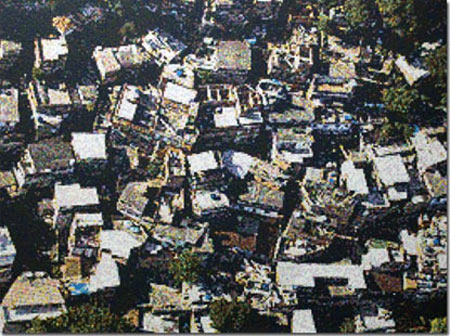 William Betts, "Favela," 2009, acrylic on canvas, 36 x 48", at Holly Johnson Gallery.
5. . . .
Holly Johnson Gallery
Dallas, Texas
William Betts rethinks the acting of making a painting.  His "making" is hands off and, because of technological mediation, several cycles removed.  Using a large computerized painting machine, Betts makes pointillist painterly images based on photographs of highways, cities, and interiors of package stores downloaded from the Internet. With Betts' painting machine, the surveillance camera, and the photographic still, machine meets machine meets machine. They are, for the most part, images taken surreptitiously by cameras - surveillance shots stolen twice over, first by the camera and then by Betts. "Skinhead" (2006) shows a man taking a bottle from a crowded shelf in a small package store. Tiny round globs of paint render a space distorted and bowed by the fisheye lens of the surveillance camera mounted in the corner of a small mart. The thousands of perfectly circular little dots that make up disarticulate abstraction up close, and articulate forms from afar, place Betts in a lineage of painters which includes Georges-Pierre Seurat, Paul Signac, Roy Lichtenstein, and Chuck Close.
While stealth courses through all of the paintings, Betts did not, in fact, steal the images.  Betts gained permission from the Texas Department of Transportation for satellite shots of highways, which are the basis of "US54 Hondo Pass, El Paso, Tx, November 15, 2006, 6:12pm" and "I-10 and Los Mochis, El Paso, Texas, May 31, 2007, 6:09 pm."  While all of the work in this show is a visual delight, the most conceptually provocative are the three photographs of Amber, which, unlike the pilfered or borrowed images, were staged - but look caught on the sly.  Black, white, and grainy, "Amber, 03/19/04, 20:30:45," "Amber, 03/19/04, 22:25:12," and "Amber, 03/19/04, 22:31:04" show a naked woman in a hotel room presumably anticipating or post-coitus. They bring to mind the ambivalent voyeurism aroused by French artist Sophie Calle's photo-conceptualism. While remaining focused on the parameters set by the algorithm of the machine, Betts has opened up to new ideas and form in this fantastic body of work.
-- Charissa Terranova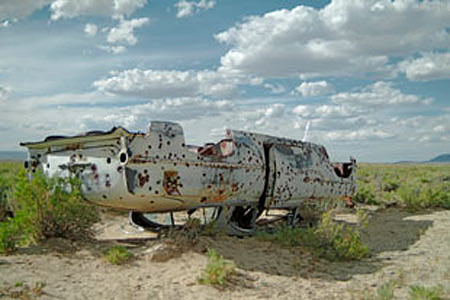 Martin Stupich, "Pontiac Overturned and Shot Up," 2003, digital pigment injet on fine art paper, 17 x 22", at 222 Shelby Street Gallery.
4. . . .
222 Shelby Street Gallery
Santa Fe, New Mexico
Tom Tavelli might well call his gallery the Place Where Western Stereotypes are Challenged. His crew of Wyoming artists, including Santa Fean transplant Pat Kikut, tend toward kitsch as a tool in their arsenal that razes overly romanticized views of the West -- a West they know from daily life. Yet their kitsch hearkens to a well-used, chipped, and beloved cookie jar that represents all that is familiar. And while there is nothing kitschy about Martin Stupich's industrial landscapes, there lingers in them the same sense of the mostly overlooked mundane that he shares with other gallery artists.
"Red Desert: History of a Place" was released as a book edited by Annie Proulx, and features, alongside Stupich's photographs, essays by scientists and scholars about an ungodly place that is the epitome of non-inhabitability, yet hides its own deceptively delicate living systems. Bisected by Interstate 80, the Red Desert is an alkaline hell that hosts ghost towns, abandoned railroad tracks, and bubbling mud holes. There is little potable water or vegetation; even the boulders seem to be trying to escape ("Rocks Migrating Down Wash in Canyon at Haystacks Buttes, Sweetwater County, WY"). Stupich depicts this vast track of our West with love and respect; at the same time there's no getting around the heat, the stink, or the danger that this place holds near to its chest like a poker player bidding to his death.
-- Kathryn M Davis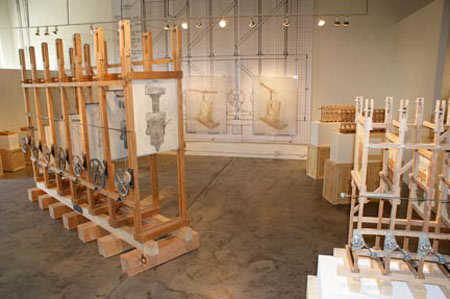 Yozo Suzuki, "Gambit: An Opening Move" (installation view), 2010, mixed media, at Linda Durham Contemporary.
3. . . .
Linda Durham Contemporary
Santa Fe, New Mexico
The art of Yozo Suzuki communicates a rapt fascination with the logic of time. Over the course of his past exhibitions this focus has been filtered through an examination of photography's discontinuous relation to the real. He subjects a broad array of current and classical source imagery to processes that merge the visual asperities of inkjet photo-transfers and the archaic allure of gold and silver leaf.
Challenging the integrity of the photograph as an archive of identity, his hybridizing technique alludes to both contemporary manufacture and traditional craftsmanship. These strategies underline the multiple mediations to which he subjects  images in order to undercut the reflexive assumption in most viewers that today's easily accessed visual information is some form virtual readymade. Stressing the ambiguity of temporal locations, the objects depicted may be at once older and newer than they appear.
-- Alex Ross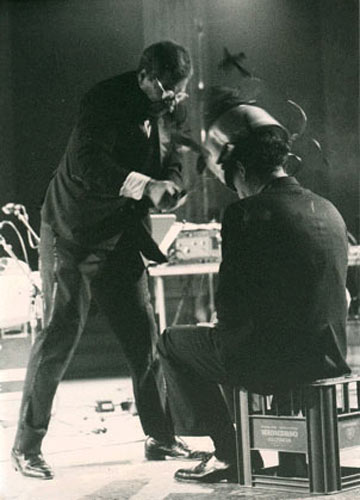 Benjamin Patterson's restaging of Nam June Paik's "One for Violin," 1962.
Benjamin Patterson and Peter Kotik, SEM-Ensemble performing at the Akademie der Bildenden Kunst, Vienna, June 1992.
Courtesy the artist. Photo: Wolfgang Traeger.
2. . . .
Contemporary Arts Museum Houston
Houston, Texas
We get in on the Fluxus after-party with an overdue survey of the work of Benjamin Patterson, one of the movement's less-lionized guerrillas. Patterson helped pioneer experimental music and sound performance in New York in the early 1960s, and developed his own esoteric visual language, which took the form of direction poems published in illustrated booklets, densely geometric musical scores, and playable sculptures. The composer of Fluxus standards "Paper Piece" and "Lick Piece," he could undermine the tyranny of the art marketplace as handily as Fluxus's biggest stars. The too-brief video and audio snippets on display reverberate with a madcap joy.
But as the assemblages he began making in the late '80s (after a 20-year hiatus) indicate, the mischievously rudimentary nature of his Fluxus-era creations offered only a tiny window into a deeply complex thinker who has a penchant for rejigging systems. His more recent sculptures and collages have lost some of his generation's galvanizing distaste for authority while retaining its scavenger aesthetic, but except for a few didactic critiques of commercial culture, this show will reward close study.
Appropriately, the "Old Chinese Proverb" he spells out with plastic magnetic alphabet letters in one of his desk sculptures ends with the phrase: "I do and I understand." It's both the thread that runs through Patterson's body of work, and a timeless instruction to the viewer.
-- Elaine Wolff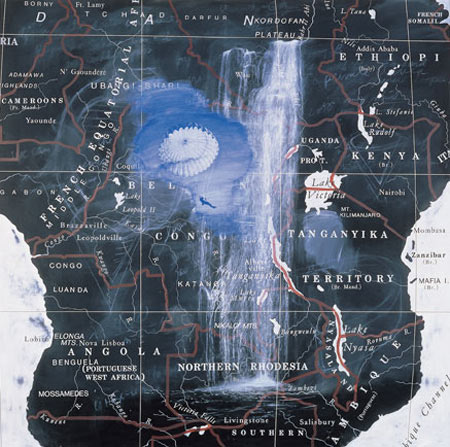 Vernon Fisher, "Private Africa," 1995, oil on blackboard slating on wood, 92 7/8 x 93 9/16", at The Modern Art Museum of Fort Worth.
And our pick for #1. . . .
The Modern Art Museum of Fort Worth
Fort Worth, Texas
Conceptual art can lean so terribly far into our own cranial turf that there's little on the "outside" for our imaginations to work upon.  Consequently, the work of Vernon Fisher is the surprise in the Cracker Jack box; it's visually splendid. In fact, it offers an absolute embarrassment of riches for our active imaginations to plunder. His show, "K-Mart Conceptualism," offers us a series of works displaying dexterous montages of television, cold war and pop iconography that, taken together, make for both an interesting visual experience and a frisky, cerebral thrill.
Fisher uses text in a highly effective manner to -- pardon the pun -- punctuate his art. And, unlike many artists who simply decide it might be hip to incorporate it into their work, Fisher owns it.  He utilizes narrative with a sense of humor and a swagger that makes it engaging. Everything from radio dial-in chit chat to an onanistic exploration of (apparently) a widely held infatuation for the young Annette Funicello on the Mickey Mouse Show becomes fodder for capturing our attention as surely as a bracelet circles a wrist. It's mischievous in a boyish way, but it also shoves us squarely into the American mindset from which many of us sprang -- and that, of course, is emotionally compelling. It's the solipsistic wave of recognition in which we all feel most at home. It's snug as moon pies and Kool-Aid -- but with a decidedly quirky edge.
-- Patricia Mora
ArtScene and Visual Art Source are the in print and online resources to fine art galleries and museums in Southern California and the Western United States. Visit us online or pick up a copy for complete listings of art venues and editorial Reviews, Recommendations and Previews of the best current exhibitions. Be sure to visit our Openings Calendar page so you can plan visits to the latest exhibitions--of wherever you may be in the Western States.
Want to opt-in for a free subscription to stay current every day on our Weekly Newsletter, as well as new shows, events and (if you are an artist) artists' calls? It's easy.
FOLLOW HUFFPOST