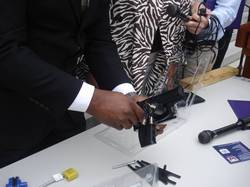 In the United States, every eight minutes a child gets access to a firearm. In fact, according to the CDC and the Federal Bureau of Statistics, more than 3,000 children die from firearm deaths annually.

Yet, Michigander William McMurray is dedicated to making a difference within his community by preventing children from dying after accessing firearms.
His passion started many years ago. When McMurray was young man, he befriended a kid named Adonis Tillman. McMurray became a mentor to Tillman who did not have a father-figure in his life. Then, one day Tillman found his mother's gun and shot himself in the head. He later died.
After dealing with this experience, McMurray decided to invent the RAC, a security, storage, anti-theft, and safety system to prevent children from dying after accessing firearms.
The RAC not only prevents usage of firearms, but it also prevents unauthorized usage of tools, generators, and machinery. It is an approved firearm safety device in California, and is used by more than 50 law enforcement agencies nationwide. McMurray has received five U.S. Patents for the RAC and has sold more 50,000 units since he started manufacturing the product.
McMurray says he is dedicated to making a difference in the community with this product. In fact, he has given away more than 7,000 units to residents in Detroit, Washington, and Alabama with the help of donations from corporate partners. Some of his past sponsors have been Motor City Casino & Hotel, DTE Energy Foundation, Southern Company, Alabama Power, Flagstar Bank, and others.
Along with education and preventive workshops, Detroit police officials say the RAC has helped decrease shootings from 26 percent in 2005 to 8 percent in 2007. Most importantly, deaths within Detroit decreased by more than 78 percent within these two years.
Furthermore, the RAC has a proven track record. The United States Secret Service, the Defense Department, the LAPD, Halliburton, Illitch Holdings, Volusia County Sheriff, and Detroit Police all use the RAC.
McMurray dedicated to making a difference within the community by seeking government funding to distribute the RACs; to help fund the "Protect our Children for Life" National Campaign; and to also establish legislation to make "RAC" the standard for firearm shooting prevention within the United States.
FOLLOW HUFFPOST