On the heels of particularly brutal, icy, long winter, as spring was slow to show its face, nothing was as welcome as an escape to a warmer, happier place. When presented with an invitation to visit Grand Bahama Island, one of the 700 islands that make up the Bahamas, along with a handful of other journalists, AskMen's managing editor, Emma McKay, started packing her beach bag without hesitation. She put together the following list of things to do while there.
Disclosure: Emma was invited as a guest of the Bahamian Ministry of Tourism and the Grand Lucayan Resort.
WHERE TO STAY: The Grand Lucayan
The Grand Lucayan resort is located near Freeport, approximately 15 minutes from the airport. The expansive property also includes the massive Breakers Cay hotel, which resembles a cruise ship. The recently renovated rooms are clean and comfortable, and reasonably priced. There are several restaurants on the premises, including Churchill's, a fine dining restaurant overseen by Michelin-starred chef Gianfranco Chiarini, with a reputation that extends far beyond the resort.
While you're there: Ask a gardener to cut a coconut for you, then sip it as you lounge by the beach.
Pro tip: Stock up on drinks at the duty-free across the street and keep them cool in your mini-fridge. The bars on the resort close relatively early. If you're looking for an all-inclusive, check out Memories next door.
WHAT TO DO: UNEXSO Dolphin Encounter
The trainer, feeling generous, got one of the dolphins to give me a hug. I was nervous and excited as the creature shimmied up to me, flippers extended, for a squeeze I won't soon forget.
While you're there: Slather on sunscreen, and bring a hat and sunglasses. Don't bring your camera anywhere near the water if it's not totally waterproof, because there's a 100% chance you're going to get splashed!
Pro tip: Carry money for tips. I passed through a bird sanctuary on my way back to the boat home, and got to hold a parrot. It was cool, but then I had to scramble to find money to tip the bird handlers, the dolphin trainers and the boat driver. Be prepared.
WHAT TO DO: Jeep Safari Tour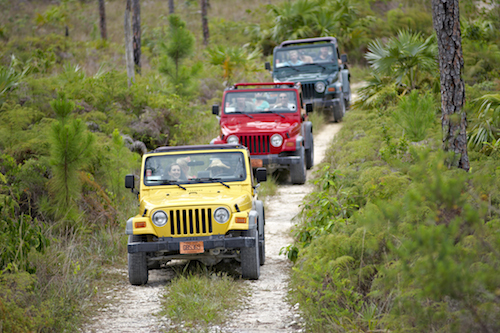 Photo credit: Bahamas Ministry of Tourism
We packed into a convoy of brightly colored jeeps to drive through the pine forests. The roads were smooth for the most part, and we pretty much had them all to ourselves. The drivers got used to driving on the left side of the road pretty quickly.
While you're there: Make a stop at the Garden Of The Groves. A tranquil retreat, these gardens are full of funny-looking ducks, strikingly colored birds, lush foliage and a couple of waterfalls. The main attraction for me in the gardens was the labyrinth - a meditative walk through it was a quiet contrast to my otherwise high-octane adventure.
Pro tip: Make sure your radio works before you head out on the road. You won't want to miss the guide's commentary on the landscapes you're driving through. Also, these are open-top jeeps, so don't forget to bring sun protection.
WHAT TO DO: Kayak Adventure Nature Tour
We entered the water at a point where the ocean and freshwater rivers merge, then paddled off down a watery path through the mangroves, a thick forest of tree-like plants rooted in the water and reaching up above our heads. The route twists and turns, and you can't always see where you're going, but there's really only one way to go. At times we lost the rest of the group and we were completely on our own in the thick of the mangroves.
While you're there: Take a walk into Grand Lucayan National Park to explore the caves. The Bahamas are home to the longest-known underwater limestone cave system in the world. You can step into the caves in this park on boardwalks that take you right over their watery basins. One cave contained a plaque explaining that it had been a gravesite, and bones were found there beneath some rocks. The bones had been removed, then were ultimately returned here.
Pro tip: Bring plenty of water with you in the kayak.
WHAT TO DO: Bahamian Brewery & Beverage Co. Tour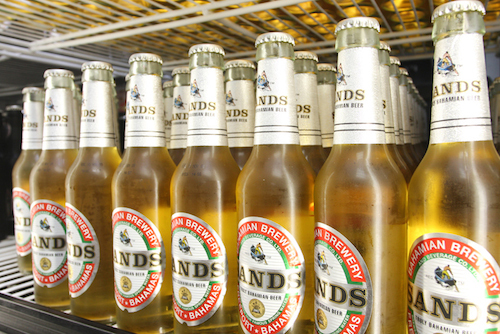 The Bahamian Brewery & Beverage Co. tour is upbeat and informative. As the tour reaches its end, you'll enter a small bar for a tasting of the Bahamian Brewery & Beverage Co.'s line. There's the high-end, full-bodied High Rock lager, Sands lager, and Sands Light (similar to Coors Light, but a little fruitier), all of which go down remarkably easily, and Bush Crack, which turned out to be a surprise hit -- the brewery has trouble keeping up with the demand for this economically priced, light-tasting 5.9% alcohol brew, which only comes in cans. There's also the Strong Back Stout, brewed to be just a little less harsh than a Guinness. One special beer, Virgil's, made exclusively for Virgil's Hotel on the island, is so premium and in-demand that glasses of it are said to be currently selling for $36.
While you're there: Stock up at the liquor store on your way out.
Pro tip: Get a taste of Virgil's on the tour if you can. There wasn't any left on the day I was there, so I'm already planning my trip back, in part for this. But I'll also return for those beautiful, light sandy beaches, and for that salty, shimmering deep blue sea.
This article was written by Emma McKay for AskMen.