The Price I'll Gladly Pay for My Kids' Education
Last week, I went school supply shopping. As I have said many, many times before, I love to shop for school supplies. This year, it cost us $343 for school supplies and uniforms for both of our boys. Most people complain about the cost of the school supplies they have to buy each year, or the amount of the supply fee they pay to the school.
I witnessed such a complaint while shopping, and have been so disturbed since that I had to write about it. While I was looking for EXPO markers, I saw this woman with three girls standing in front of the markers, complaining about the list of supplies and the fact that they had to buy supplies. All three girls looked to be between middle school and high school. All three girls and their mother were carrying purses that cost well over $1,000 and shoes that run over $200. All three girls had on T-shirts from a resort that runs an average of $10,000 a week during the low season, and were texting away on their smartphones. Now, before I tell you this, I can tell you that it is plausible that someone else, other than their mother, gave them the T-shirts, smartphones, shoes and purses, and they truly could not afford the school supplies. If that is the case, clearly I am being judgmental, but that's a conversation for another day... This is the conversation that occurred in front of the EXPO markers.
Mother: "It says you need six EXPO markers. There's no more six-packs."

Daughter: "Then get the pack of 10."

Mother: "I'm not paying $6.79 for them. Then we would be giving them four extra markers. I'm not doing that. This is just ridiculous, they can buy their own markers if they want to use them."
Friends, I am telling you, the indignance of these people has not sat well with me. I haven't written about this, in part, because I wanted to do some research on the subject. First, I know we have all heard that teachers usually buy school supplies out of their own pockets. The National School Supply & Equipment Association (now the Education Market Association) did a study last year on this very subject. Public school teachers spent $1.6 billion of their own money to buy school supplies to do their job. More than 99 percent of all public school teachers said they'd used their own funds for supplies, spending an average of $485 per person during the 2012-13 year. This is how it was broken down: $149 for school supplies, $198 for instructional materials, and $138 for "other classroom materials." (You can read more here.)
So, let me get this straight -- someone who is teaching our future leaders, doctors, lawyers, bankers, basically anyone who will be living for the next 50 years, is having to pay money to do his or her job? What if you went to the hospital and you needed, say, a shot? You pay for the syringe, medicine, alcohol pads, and the materials needed for the nurse and physician to do their job. If they told you that either a) you needed to pay a supply fee for the syringe, medicine, alcohol pads and the materials needed to perform this job or b) you had to bring the supplies, you would probably either pay the fee, or bring the supplies so that the nurse and physician could do their jobs.
I also looked at the average pay for teachers in East Baton Rouge Parish, since that is where I live and my children attend school. Starting out, teachers in East Baton Rouge make $44,500 the first year (you can find that here). Let's say, for sh*ts and giggles, that they lose 30 percent of that to taxes, and are taking home $31,150 a year. Are you really telling me that it sits well with you that they are paying almost $500 out of pocket to do their jobs?
I also broke down what it is costing me per day with spending $343 on school supplies for our two kids. So, EBR has 176 school days this upcoming year and per kid, we spent $171.50 on school supplies. This breaks down to us spending $0.97 a day for the supplies the teachers need to instruct our kids for seven hours a day. When you look at it this way, we're getting away with a steal of a deal.
I will gladly pay that any day to the teachers and educators who do a job that I, myself, cannot do. I would encourage you to gladly pay for the supplies needed to teach your children. If you have the means, I also encourage you to give a little bit extra. If the teacher needs extra glue, spend the $1 to buy an extra bottle of glue.
It's not much, but I reached around that woman complaining and picked up the 16-pack of EXPO markers. She may not think twice about the teachers doing their jobs and the supplies they need, but I can, and I will.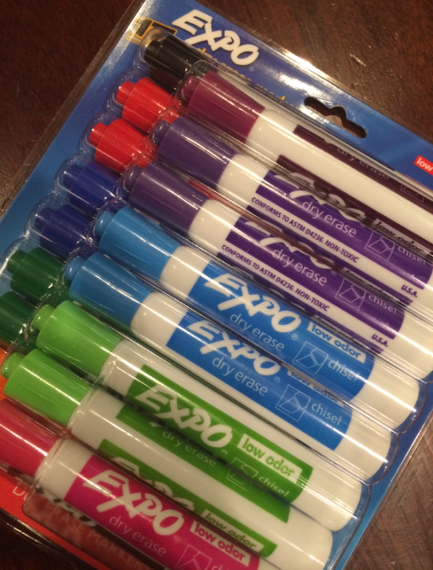 This post originally appeared on Mischief & Shenanigans.
Like Us On Facebook |

Follow Us On Twitter |

Contact HuffPost Parents

Also on HuffPost:
Secrets Your Principal Wants You To Know
By the afternoon, I can get pretty frazzled. Credit: Reader's Digest

I'm actually in the process of firing her. Legally, I can't tell you that, though, so that's why I'm sitting here quietly while you complain. Credit: Reader's Digest

What I won't tell you is that I encouraged my own daughter to pull her kids out of school to visit me during my break. Credit: Reader's Digest

"My underwear is on backward," he said. That's the problem with all this testing: We're being judged by assessments taken by kids who may have their underwear on backward. Credit: Reader's Digest

We hear about your financial problems, your nasty fights, your drinking problem. We end up knowing way too much about everybody. Credit: Reader's Digest

That's almost never the one we see at school. Credit: Reader's Digest

All kids make mistakes, and great students are often the ones most afraid to tell their parents when they screw up. Credit: Reader's Digest

...her parents inevitably say, "I don't have a problem with her at home, because I spank her." Credit: Reader's Digest

Parents who complain to me before talking to the teacher. Credit: Reader's Digest

We don't dictate to teachers; we work with them. Credit: Reader's Digest

We suspend them again and again, but it's very tough to expel a student. The truth is, they have a right to an education. Credit: Reader's Digest

It's the parents who are tough. They're constantly trying to solve their kids' problems for them. Credit: Reader's Digest

I can influence and inspire kids and adults, help work through problems, and find solutions. And every day I can pop into a classroom where something interesting is going on. What other job gives you all of that? Credit: Reader's Digest

We know what a seventh-grader can do, and we know what an adult with an engineering degree can do, so please don't do your child's work for him. Kids need to make mistakes and struggle through things; it's how they learn. Credit: Reader's Digest

One minute you're mopping up vomit, the next you're in a special ed meeting, and the next you're dealing with two kids who got in a fight. Then you shovel snow off the sidewalk in front of school, you meet with teachers to decide whether to change the language arts curriculum, and you play basketball with a group of kids. And that's just in the first two hours. Credit: Reader's Digest

If you have something to talk to me about, come by my office during the day or even better, make an appointment. Credit: Reader's Digest

Think of it as a lesson: In school, as in life, sometimes you have to learn to deal with things you don't like. Credit: Reader's Digest

I just let them sit there in agony while I keep working. It gives them a chance to calm down and de-escalate. Try it at home; it works. Credit: Reader's Digest

The truth is, we're not the leftovers, and this is what most of us wanted to do. I had been accepted to law school, but I chose this. Credit: Reader's Digest

What we really value is hard work. Credit: Reader's Digest

...working crazy hours and neglecting their children. Then a lot of them try to make up for that by coming to their child's rescue when there's an issue with a teacher, coming in here and hollering at us. Credit: Reader's Digest

You have to be an expert on everything, sometimes in the same 20 minutes. Credit: Reader's Digest
Enjoy reading this article? Read more selections from the best of HuffPost in Huffington Magazine.
Follow Audrey Hayworth on Twitter: www.twitter.com/HayworthAudrey