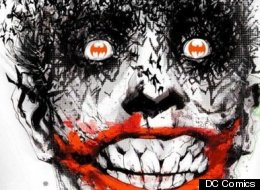 On June 5, 2012 Brian Cronin posted a slideshow of what he considered the "10 Most Iconic Comic Book Covers of All Time." I took umbrage with that description, mostly the "of all time" portion. More than anything though, when I saw the post on Twitter, my hackles raised at the reference to a TV show that hasn't been on in almost 50 years. It seemed all very out of touch with the contemporary comic book world, a place that is filled with amazing art and talent. I kind of went out of my way to tweet about how there were amazing covers to contemporary comic books, and sort of stumbled into making this list.
Eye-catching covers don't always translate into amazing interiors, or guarantee satisfying stories, but I tried to select covers that would pull you into books with stories that won't disappoint. Here are some amazing covers to comic books that are out there and readily available.
10 Amazing Contemporary Comic Book Covers
Written and illustrated by Terry Moore, the man behind the seminal book Strangers In Paradise, and also the recent book Echo, Rachel Rising is the tale of a girl who wakes up in her own grave. Moore is showcasing his unique design sense with covers that are consistently eye-catching. He also happens to be one of the best artists out there who illustrates realistic females.

When Marvel relaunched Daredevil with writer Mark Waid and artist Paolo Rivera (who has since been followed by Marcos Martin, Chris Samnee, and soon Mike Allred), readers were given a version of the Man Without Fear they hadn't seen in a while. This cover, by Chris Samnee (who also penciled the interiors) is a great example of innovative design that also offers hints of the story inside.

Drawn by series artist Gabriel Rodriguez, this cover to Locke & Key: Crown of Shadows #6 is another that has an eye-catching design while also telling you something about the story to come. I like this one so much due to its commentary on one character; Rodriguez brings an amazing level of emotion to the character's face, and if you can make me feel an emotion before I even open the book, then well done. If you're not reading this book, written by Joe Hill, then start. It is filled with emotion from every position on the spectrum. It will get under your skin and unsettle you. The plot is sort of hard to explain without ruining it, so just trust me. If you like supernatural thrillers/fantasies, seek it out.

Yuko Shimizu is the regular cover artist for The Unwritten, and I could have honestly chosen any number of her covers to feature here. They are beautiful works of art, and I'd kill to have any of them hanging on my wall. This is yet another book you should be reading. I don't have a ton of room here, but this is one of the most literary comics around. Written by Mike Carey and drawn by Peter Gross. Go forth and read my sons and daughters.

Drawn by the master, Dave Johnson, for Jason Aaron and artist Steve Dillon's Punisher MAX series, this cover is one of his gigantic library of amazing covers. He is such a reliable source of innovation and stunning visuals, and there's probably a 1 in 5 chance if you saw a cover you thought was great, it might've been his. That may be an exaggeration, but look at that cover. It makes you kind of delirious.

With the relaunch of DC comics' entire publishing roster came this title, Batman, written by Scott Snyder and illustrated by Greg Capullo. The interiors are some of the best work I've seen from Capullo, and this cover is a great demonstration of his work. Snyder's Batman is perfectly paired with Capullo's style, so go check it out.

Speaking of the DC relaunch, it had JH Williams III performing as both writer and artist for this Batwoman series. He did this cover, and was originally working in conjunction with Amy Reeder on interiors, but it has since been announced she won't be penciling the book any longer. This cover, by J.H. Williams III is yet another image I would not hesitate to hang on my wall. The interiors are just as unbelievable and breathtaking. Read this series, along with the first Batwoman series with Williams III as artist, Batwoman: Elegy, written by Greg Rucka.

This cover nearly blew my face around to the back side of my head. Illustrated by the artist Jock, this cover immediately became one of my favorites. It's from yet another Batman series written by Scott Snyder (with interiors by both Jock and Francesco Francavilla, whose work is phenomenal as well), this image is a great representation of how well the Bat-Family is being handled right now.

The cover to the final issue of one of the greatest contemporary comic series to be published. Illustrated by Massimo Carneval, this image stuck with me, and was a perfect place to start my emotional ride into this issue. Written by Brian K. Vaughan and illustrated by Pia Guerra, Y: the Last Man is a must-read. When everything with a Y chromosome dies, all but one man and his money, the world descends into chaos. When someone tells me they want to read comics I'll ask them what they like, then almost always recommend reading this.

Drawn by Tony Moore, co-creator and the series' original interior artist, this cover is without a doubt in my Top 5 Favorite list. For a book that is about to reach the 100th issue milestone, I think it's a big deal that the ninth book they ever put out is still so fresh in my mind. I doubt I have to say too much more about The Walking Dead. It's written by Robert Kirkman and drawn by Charlie Adlard. There's a TV show based on it, but you knew that.
Follow Austin Wilson on Twitter: www.twitter.com/austinRwilson