INFORM • INSPIRE • ENTERTAIN • EMPOWER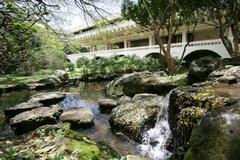 The East-West Center is an independent, nonpartisan education, research and dialogue institution based in Honolulu Hawai'i, with an office in Washington, D.C. Established by the U.S. Congress in 1960, the Center promotes better relations and understanding among the people and nations of the United States, Asia and the Pacific by bringing people together to study issues, exchange views, build expertise and develop policy options.

EWC is a public nonprofit organization with funding from the U.S. government and additional support provided by private agencies, individuals, foundations, corporations and governments in the region. The Center is overseen by a Board of Governors consisting of five members appointed by the U.S. secretary of state, five appointed by the governor of Hawai'i, five from Asia or the Pacific Islands who are elected by the full board, and three ex-officio members who include the governor of Hawai'i, the assistant U.S. secretary of state for educational and cultural affairs, and the president of the University of Hawai'i.


Follow EWC:
Home page: EastWestCenter.org
Facebook: EastWestCenter.org
Twitter: @EastWestCenter